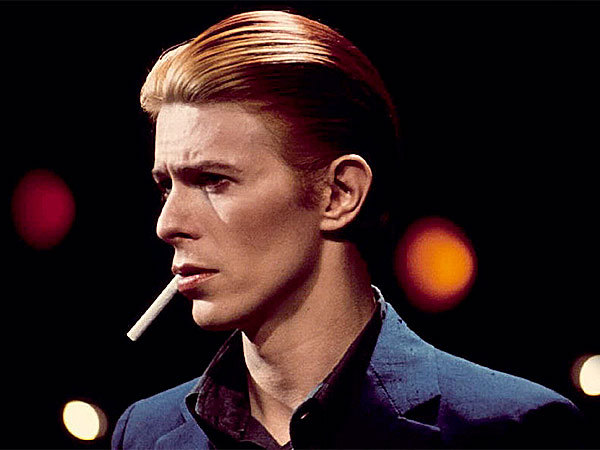 Courtesy of DavidBowie.com.
Five things to eat, drink, see, hear, and do with your Charm City weekend.
EAT
Jan. 15: Art After Hours at the BMA
The Baltimore Museum of Art, 10 Art Museum Dr. 7-10 p.m. $20-25, with cash bar. 443-573-1700. thebma.org.
Nothing says its the weekend like drinks after work on a Friday night. This weekend, the BMA is offering you the best new way to get rid of your work week, as the museum launches its all-new Art After Hours events, with an evening of eats, drinks, and activities inspired by the BMA's impressive collection. It's a hot ticket, with the party selling out just one week after it first went on sale, but it's no surprise with delicious bites from Blacksauce Kitchen (including the roasted apple, cheddar, micro green biscuit sandwich that we drool over at the JFX Farmers' Market), micro-brewed beers from the recent Woodberry addition of Waverly Brewing Company, and a mix-your-own-spicy dry rub with local condiment maker Haute Mess Kitchen. Listen to live music from The Crawdaddies, help build a giant fort (a giant fort!) made out of pillows, and browse the Imagining Home exhibit, now open in the BMA's new education center.
DRINK
Jan. 16: Rye Rocks at The Walters
The Walters Art Museum, 600 N. Charles St. 7-10 p.m. $75. 410-547-9000. thewalters.org.
Call it a comeback, but rye whiskey is all the rage these days. You might not know it, but from the 19th century through the 1970s, the spirit had a major moment in the Maryland sun with a bounty brands like Boulevard, Browne Jug, Hunter, and our still-going-strong Pikesville Rye. Vodka and rum took over in the '80s and '90s, but in recent years, thanks in part to the craft cocktail trend that has consumed our country, rye's future is once again shining bright. In fact, volume has grown 536 percent over the last half-decade. So toast to its local roots this Saturday at the second annual Rye Rocks party at The Walters, whose founders had ties to the early whiskey trade, as seen in the museum's "From Rye to Raphael" exhibit. Warm up with wintry cocktails mixed with some 12 American-made whiskeys (from Copper Fox Distillery of VA to High West Distillery of UT) and craft by 12 of the city's most beloved bartenders (from Aaron Joseph of Wit & Wisdom to Chelsea Gregoire of Pen & Quill), alongside hearty artisan fare. As the event is co-sponsored by Kevin Plank's Sagamore Spirit, you'll also get a first look at the upcoming plans for its Port Covington distillery.
SEE
Jan. 17: B'More Bowie
Creative Alliance, 3134 Eastern Ave. 7 p.m. $10-12. 410-276-1651. creativealliance.org.
If you're anything like us, or the rest of the world for
that matter, you've been listening to "Heroes" on repeat
all week long, letting that swirling guitar pull at the strings of your breaking
heart. Just days after his 69th birthday and the release of this 26th album, Blackstar,
David Bowie passed away from cancer this past Sunday, and fans came out in hoards to
show their love, grief, and tributes to Ziggy Stardust, Thin White Duke, The
Goblin King. This weekend, celebrate the rock icon's legacy in true Bowie fashion—with a
dance party at an all-are-welcome, outside-the-box art house, the Creative
Alliance. Come dressed in the lightning bolts, pant suits, and hairdos of your
favorite Bowie-era and listen to local bands perform their own Bowie best, featuring Guides By Wire, Home, and bandmates from Future Islands, Animal Collective, the Jennifers, and many more. But leave your sorrows at home;
he may be gone, but he'll be a hero, forever and ever.
HEAR
Jan. 15-16: Lower Dens
Ottobar, 2549 N. Howard St. 8 p.m. $13-20. 410-662-0069. theottobar.com.
Over the past year, Lower Dens has been making quite an international name for itself, with an acclaimed new album, Escape From Evil, a big tour, and frontwoman Jana Hunter speaking with everyone from Pitchfork and CNN to Cosmopolitan and the BBC about topics like gender, race, and politics. The local indie rock band's third record is robust and undeniable—a warm, aching album of echoing guitar, shadowy synth, and Hunter's inimitable voice full of hope or heartbreak, falling away in abandon or howling out in despair—and we think "Sucker's Shangri-La" is one of the best songs of 2015. See for yourself this weekend, as the Baltimore band returns home for two nights at the Ottobar. On Friday, they perform with futuristic R&B artists Chiffon and Elon, as well as electro-experimentalist Cex. On Saturday, also hear local Bmore Club artist Abdu Ali, improv jazz trio Microkingdom, and DJ Isabejja.
DO
Jan. 16-18: MLK Weekend at the Reginald F. Lewis Museum
Reginald F. Lewis Museum, 830 E. Pratt St. Sat. 11 a.m.-4 p.m. Sun. 12-5 p.m., Mon. 10 a.m.-5 p.m. $5. 443-263-1800. lewismuseum.org.
This weekend, the Reginald F. Lewis Museum devotes three full days to the life and legacy of Dr. Martin Luther King, Jr. In light of the country-wide events of the last year, there's no better time to pay homage to the civil rights leader and his calls for peace, justice, and equality. Spend your Saturday celebrating MLK's birthday (he would have been 87 on Friday) with cupcakes, craft activities, choral performances, a film screening and discussion of Profiled (a documentary about racial divide in America), and the opening of the museum's annual High School Juried Art Exhibition, featuring works by teenage students from throughout the state. There will also be a presentation of "Da Up Raise," a choreographed poem by Baltimore's Augusta Fells Savage Institute of Visual Arts, combining theater, spoken word, dance, and song aimed at understanding, healing, and hope. On Monday—Martin Luther King Jr. Day—attend one of two readings of The Meeting, a play by Jeff Stetson about an imagined conversation between MLK and Malcolm X, and stick around for afternoon films on the Civil Rights Movement. Throughout the weekend, be sure to swing by some of the many other events taking place throughout the city.