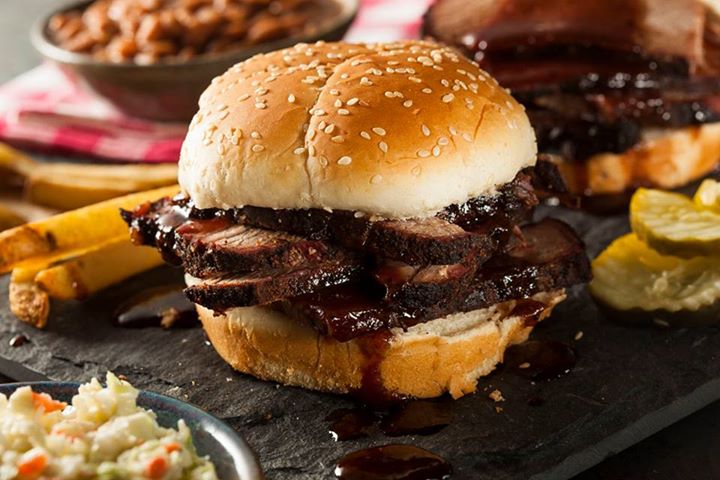 Five things to eat, drink, see, hear, and do with your Charm City weekend.
EAT
Jan. 16-17: Smokehouse BBQ in Canton
Smokehouse BBQ Restaurant & Bar, 3000 O'Donnell St. 410-675-4029. smokehousebaltimore.com
When the beloved food truck, The Smoking Swine, recently decided to settle down in Canton and hawk three of our favorite things—beer, bourbon, and BBQ—naturally we said: yes, please. And awesome. Teaming up with the digs' owners (the guys behind Stuggy's, Rye, and Bookmaker's Cocktail Club), they serve up true Texas-style BBQ classics like 15-hour-smoked brisket, short and spare ribs, and pulled pork, plus badass bites like elote street corn (the kind of cob with mayonnaise and cheese), egg rolls stuffed with pulled pork and 'Slap Yo Mama' mac-n-cheese, and Bulleit bourbon baked beans. On top of that, there are some 56 craft beers on tap and a well-stocked bar of Southern spirits. Check it out for yourself this weekend, with live music starting at 10 p.m. on Friday and Saturday night.
DRINK
Jan. 16: Purple Drank at Prince Karaoke
Metro Gallery, 1700 N Charles St. 9 p.m. Free. 410-244-0899. facebook.com
Let's be honest: We all know that deep down, somewhere inside all of us, some buried away better than others, there's a Prince fan. You sing "Raspberry Beret" in the shower. You run to "Kiss" at the gym. You pound your fist on the steering wheel and get a little too into "Purple Rain." Whatever your level of obsession—whether you're diehard or just occasionally dabble on the dance floor—now's your time to let that purple flag fly, with an all-Prince-e'rythang karaoke night this Friday in Station North. You're probably going to need some liquid courage, and lucky for you, it's only going to cost a dime—with PBR/whiskey combos for $5 and all "purple stuff" for only $3.
SEE
Jan. 15-17: Iliza Shlesinger
Baltimore Comedy Factory, 5625 O'Donnell St. Thurs. 8 p.m., Fri. 8 & 10:30 p.m., Sat. 7 & 9:30 p.m. $17-28. 410-547-7798. baltimorecomedy.com
You probably don't know her yet, but Iliza Shlesinger is one of the first comedians I've stumbled upon in awhile who actually made me laugh out loud. It was late one Wednesday night this past summer and she was making fun of some ridiculous but common behaviors of modern young women on The Tonight Show with Jimmy Fallon. The next morning, I immediately emailed the clip to all of my friends and also discovered she was the first female and youngest winner of NBC's Last Comic Standing. Do yourself a favor: Watch the whole Fallon skit, and this one, and then check out one of her three performances this weekend in Canton.
HEAR
Jan. 17: Pearl Jam Tribute Band at Rams Head
Rams Head Live, 20 Market Pl. Doors, 7 p.m. Show, 8 p.m. $12-15. ramsheadlive.com
All hail Eddie Vedder at this Saturday night show with quite possible the best Pearl Jam cover band around. Hailing from Philly, Ten slays the searing guitars, nails the growling vocals, and tries it's hardest to imitate an iota of the original '90s grunge band's brazen stage antics, minus the crowd surfing and bottle of Jack. Expect hits like "Alive," "Yellow Bedletter," "Corduroy," and, if you're lucky, some of Vedder's pretty, Into the Wild soundtrack stuff.
DO
Jan. 19: Dr. Martin Luther King Jr. Parade
Martin Luther King, Jr. Blvd. & Eutaw St. 12-2 p.m. Free. 410-752-8632. promotionsandarts.org.
Baltimore's 15th annual MLK parade celebrates the life and legacy of Dr. King, as well as the individuals and organizations that continue to spread his message, like Nelson Mandela and the NAACP. Drawing some 25,000 spectators, the festivities kick off at noon, with more than 50 participants including Mayor Stephanie Rawlings-Blake, local bands, color guards, dance squads, civil organizations, and lively, colorful floats.