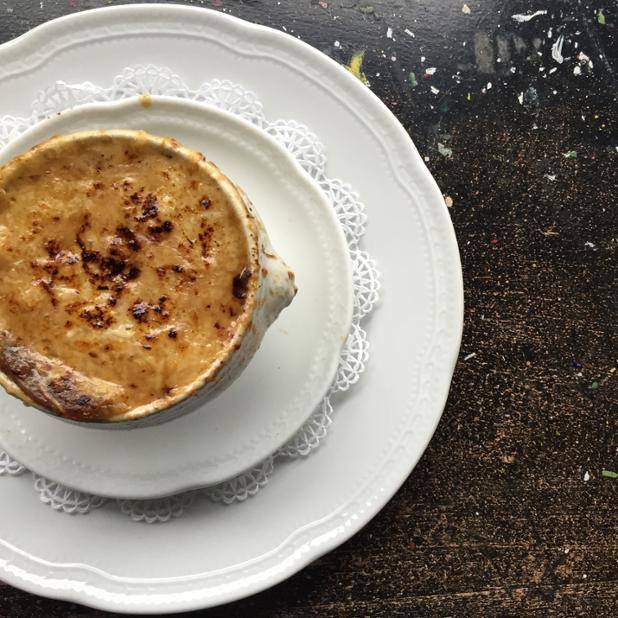 Facebook.
Five things to eat, drink, see, hear, and do with your wintry Charm City weekend.
EAT
Jan. 22-31: Baltimore Restaurant Week
Locations & times vary. $15-35. 410-244-1030. baltimorerestaurantweek.com.
This weekend's weather might wreck all of your plans or any of the many events planned around the city (see you next time, Garth Brooks), but throughout the blizzard, Baltimore Restaurant Week shall prevail. Launching this Friday, you can get out of the house, avoid going all The Shining on your roommates, and grab a bargain bite at some of the city's best restaurants. With lunch and dinner specials throughout the week, you can dine at fancy food havens like Aggio, Aromes, Cinghiale, and Petit Louis (see above), or old-school stalwarts like The Prime Rib, Tio Pepe, and Gertrude's. Better yet, belly up to bars at hip haunts like Birroteca, Corner Charcuterie, Le Garage, and Brew House No. 16. But wherever you go, there's a warm meal awaiting you, one likely better than any of the junk you stockpiled from the barren shelves of your apocalyptic Trader Joe's.
DRINK
Jan. 23-24: Snow Day at Banditos
Banditos Bar & Kitchen, 1118 S. Charles St. Sat.-Sun. 10-2 a.m. $5-16. 443-835-1517. banditosbk.com.
When we were kids, snow days were the best, because we got to miss school and go sledding with all our friends all day. As adults, though, snow days are just as fun, because we get the perfect excuse to wear sweatpants and tie a few on—for "medicinal" purposes, of course. On Saturday and Sunday, grab your gang, throw on your snow boots, and make your way to Banditos, where they'll be throwing a big snow-weekend bash in true Federal Hill fashion. Enjoy cold-weather specials like $16 beer buckets, $5 beers, and bottomless mimosas with your late-morning, Mexican street food brunch.
SEE
Jan. 24: Chesapeake Oysters: The Bay's Foundation and Future
Baltimore Museum of Industry, 1415 Key Hwy. 2 p.m. Free with museum admission of $12. 410-727-4808. thebmi.org.
By now, you probably know that Baltimore (and Baltimore) truly loves oysters. The little bay bivalves have been a native nutriment for centuries—once more popular than even our Old-Bay-encrusted crab—and after years of pollution, over harvesting, and near decimation, they're finally making a comeback. This Sunday, weather permitting, hear Eastern Shore native, Chesapeake Bay Maritime Museum director of education, and author Kate Livie as she discusses the hallowed history of our Chesapeake Bay oysters, from the Colonial era to modern day, and delves into the science that will help lead them into the future. Her new book, Chesapeake Oysters: The Bay's Foundation and Future, is a knowledgeable, beautifully written look at our very own waters, and it will be available for sale and signing throughout the event. Update: this event has been rescheduled for Sunday, February 7, at 2 p.m.
HEAR
Jan. 23: Wildhoney, Romantic States, Halfsour, Quitter etc.
The Crown, 1910 N. Charles St.
Sat. 9 p.m. $10. 410-625-4848. thecrownbaltimore.tumblr.com.
Wildhoney became famous last fall when the local indie-pop quintet made national news for its debut album, Sleep Through It. It wasn't simply that the record was awesome, but rather it had accidentally been pressed onto what should have been vinyls of Lana Del Rey's Born to Die. Luckily, some surprised fans actually enjoyed the mistake, and now Wildhoney is shining in the midsts of its new EP, Your Face Sideways. This follow-up solidifies their sunny sound among the ranks of other C86-tinged bands—My Bloody Valentine, The Pains of Being Pure at Heart, Vivian Girls, Best Coast—with a perfect fusion of '60s and '80s pop. Hear the band's lo-fi shoegaze and shimmery guitar this Saturday with other acts like local minimalist rockers Romantic States (who you might have recently caught at Windjammer or on tour with Beach House), local hardcore band Quitter, and Massachusetts's own old-school pop-punkers Halfsour.
DO
Jan. 22-24: US Lacrosse Convention
Baltimore Convention Center, 1 W. Pratt St. Fri. 7 a.m.-11 p.m., Sat. 7 a.m.-5 p.m., Sun. 9 a.m.-12 p.m. $10-190. 410-649-7000. uslacrosse.org.
What
can we say: Baltimore loves its lax.
Since America's earliest days, lacrosse has been engrained across the
Mid-Atlantic, and since 2004, it has shared the "state sport" title with the ancient
equestrian activity of jousting (yes, jousting, like Medieval Times). This weekend, bros can rejoice and relish in all things lax at the US Lacrosse Convention and FanFest in downtown
Baltimore. Rivals from Maryland and Hopkins, Boys Latin and St. Paul's,
McDonogh and Gilman, Calvert Hall and Loyola, can come together in their shared
love of this historic sport. Meet and greet some of the country's greatest
players, nab autographs from Team USA, attend one of 150-plus educational
on-field demos and clinics, and meander through the FanFest expo hall, with
nearly 200 exhibitors, like UnderArmour and STX. Best of all, stick around for the
much-anticipated, nail-biting events of the Major League Lacrosse collegiate
draft.
---
If you run out of ideas, you can also try these.