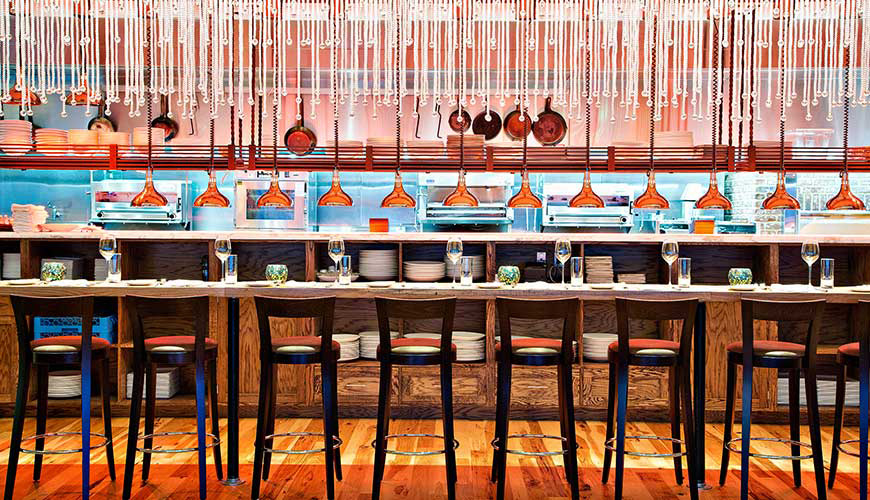 Cunningham's in Towson.
Five things to eat, drink, see, hear, and do with your Charm City weekend.
EAT
Jan. 9-24: Baltimore County Restaurant Week
Various locations, lunch and dinner time, discounted prices. baltimorecountyrestaurantweek.com
Maybe your New Year's resolution was to cook more, eat better, or go to the gym after work every night, but we have a better idea. This year, you should live a little. Eat well. Drink well. Be the bon vivant of your very own life. Get started this weekend with the kickoff of Baltimore County Restaurant Week, which features multi-course lunches and dinners at awesome area restaurants on a dime. Indulge in the breadbasket at Cunningham's, treat yourself to the fried oysters at Linwoods—it's that time of year—and, while you're at it, try the oyster-and-beef-carpaccio pho at Ryleigh's in Hunt Valley. We have no idea what that last one will be like, but it's a new year: dig in.
DRINK
Jan. 9-10: Baltimore Ravens vs. New England Patriots
Various locations, then Saturday, 4:35 p.m. on NBC. baltimoreravens.com
As the Ravens take on the Patsies this weekend, Baltimore is bleeding purple with playoff parties, flock festivities, and bar specials all over the city, county, and beyond. Starting at 6 a.m. on Friday, 98 Rock and the Ravens will be teaming up for a Purple Friday Fuel Up at Hightopps Backstage Grille in Timonium with free breakfast, cheap beers, the team cheerleaders, and our good, ole mascot, Poe. Come Saturday afternoon—wherever you are—get out of the house and cheer on our boys as they outwit Spygate Belichick, cover Gronk like white on rice, and name the winner of the ultimate battle: Suggs vs. Uggs.
SEE
Jan. 10: Mo'Nique
The Hippodrome Theatre at the France-Merrick Performing Arts Center, 12 N. Eutaw St. 8 p.m. $42.50-62.50. 410-837-7400. france-merrickpac.com
You likely know this comedic diva from one of her many loud-mouthed movie, TV, and comedy special roles, or, more recently, from the Oscars, where she won Best Supporting Actress for 2009's Precious. What you might not know is that she's a Baltimorean, born and bred, graduating from Milford Mill Academy high school, Morgan State University, and the Broadcasting Institute of Maryland, and cutting her chops at the Baltimore Comedy Factory. This Saturday, she returns home for a powerhouse night of standup.
HEAR
Jan. 10: Bosley
Lord Baltimore Hotel, 20 W. Baltimore St. 9:30 p.m.-12 a.m. $75. 855-539-1928. everymantheatre.org
Open hotel bar. Soul dance party. Dessert. Sold. Whether you're attending Everyman Theatre's Rhythm and Blues Ball or not, you can get down at their late-night afterparty in the historic Lord Baltimore Hotel, where local soul sensation, Bosley, will be tearing down the house. Celebrate the theater, support the local arts scene, and get inspired to check out one of their ambitious productions, if you haven't already, like Deathtrap, which closes on Sunday.
DO
Jan. 10: 90s Hip-Hop R&B Dance Party
Mobtown Ballroom, 861 Washington Blvd. 9 p.m.-2 a.m. $7-10. 443-699-3040. mobtownballroom.com
The '90s was a pretty amazing decade. There was Friends, Bill Clinton, The Big Lebowski, Nirvana, and then, there was hip-hop. Sure, hip-hop had been around for a while but the last years of the 20th century yielded some of its most major moments: Notorious B.I.G. Puff Daddy. Mase. Mary J. Hov. Montell Jordan released "This Is How We Do It." Mack Morrison came out with "Return of the Mack." This Saturday, the inaugural VNSMOL dance party celebrates the era's hottest jams at Mobtown Ballroom, with local DJs Sean J and Nino Brown spinning on the ones and twos. Tickets include one drink and, if you get there early enough, a hip-hop dance class from 9-9:45 p.m.