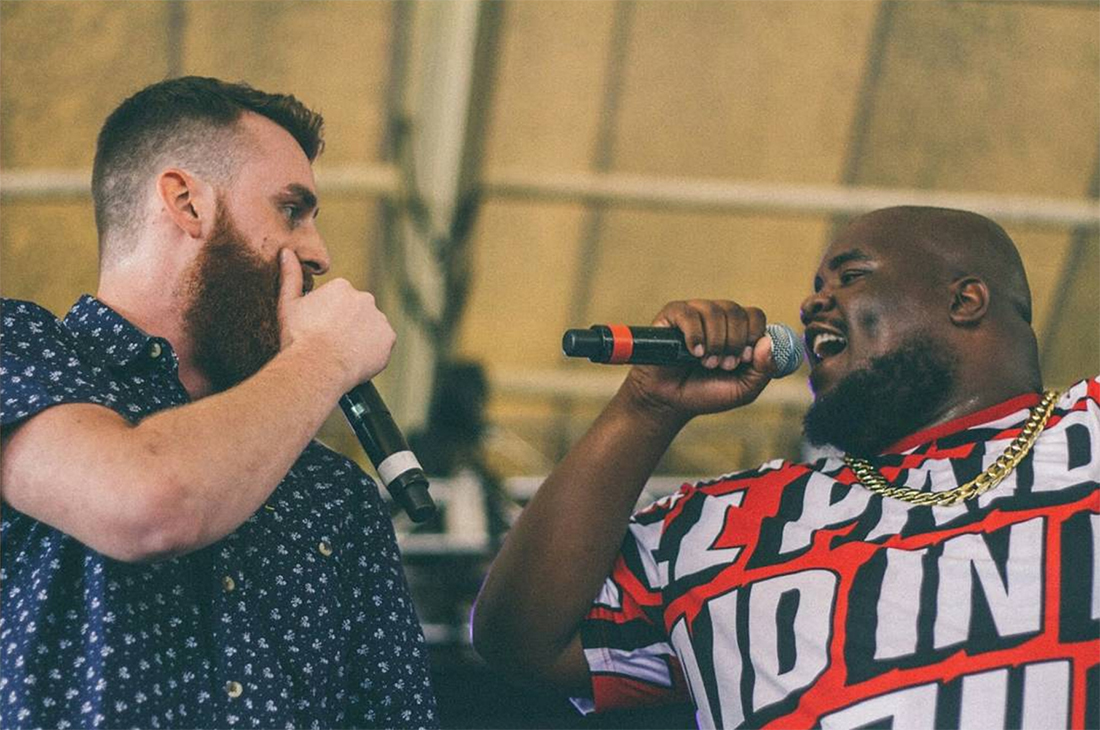 Instagram
The country's largest free arts festival is finally upon us, with endless things to eat, drink, see, hear, and do. Here are some of the best for your Charm City Artscape weekend.
EAT
Artscape, Station North, Mt. Royal Ave. & Cathedral St. Fri. 10 a.m.-11 p.m., Sat. 9-12:30 a.m., Sun 11 a.m.-8 p.m.
We applaud Artscape—for the first year ever, the giant free arts festival will feature local food only. It only makes sense, what with our city's booming culinary scene, but the organizers did it right with 30 vendors including Asian street fare favorites like Dooby's, Ekiben, and Pinch Dumplings, local shucks from The Local Oyster and Ryleigh's, couture coffees by Zeke's and Ceremony, and down-home desserts like Otterbein Cookies, The Charmery, and Miss Twist. Wear comfy pants (or none, see below), because no longer is Artscape just a feast for the eyes; this year it's a feast for our bellies, too.
DRINK
July 15-17: Mt. Royal Tavern
Mt. Royal Tavern, 1204 W. Mt. Royal Ave. 8 a.m.-2 a.m.
In the heat and crowds of Artscape, follow the red neon glow and escape to Mt. Royal Tavern. Up the steps of this Bolton Hill brownstone, you'll find a dingy oasis in this quintessential Baltimore dive, where its beloved blue bar and faded ceiling mural feel like they've been there forever. Rub elbows with everyone from MICA students to Baltimore old-timers, and cool off with cheap shots of Pikesville, even cheaper cans of Boh, bags of Utz, and an epic jukebox ("Age of Consent" by New Order, please). In fact, over the years, very little has changed, and that's the beauty of MRT (and what garnered it a spot on this year's "Best Bars in America" by Esquire magazine). Amidst the hustle and bustle and rapid change of our city streets, there's always a bar stool to belly up to, and that gritty charm that makes Baltimore unique. Don't' forget to grab a complimentary postcard on your way out.
SEE
Charles & Lafayette Sts. 1-6 p.m. Free.
Nothing says "the weekend" quite like taking off your pants. Do exactly that, in public, this Saturday at the annual "No Pants" flash mob, right in the heart of Artscape. Whatever your looks, size, race, sexuality, or gender, begin the event by picking up fliers by the Charles Theater, followed by a 2 p.m. free for all, when, wherever you are, whatever you're doing, you say "be gone!" to your britches and let your pasty legs be free. The goal is to act casual, handing the fliers to any suspicious, confused, or curious onlookers. Each little piece of paper will share positive words on the topic of "respect," hoping to start an open dialogue of acceptance about our differences and bring an even minute end to discrimination, racism, trans-phobia, and bullying. Just be sure to wear some underwear: Undies are legal, but public nudity is not.
HEAR
Main Stage, Mt. Royal Train Station, 1400 Cathedral St. 6 p.m. Free.
There's a ton of homegrown talent at this year's Artscape, but one local act you mustn't miss is that of Bond St. District. The young hip-hop duo is a force to be reckoned with, as front man DDm serves as a high-energy, hype-up MC, while background producer (and 2016 Top Single) Paul Hutson keeps the stellar beats with a dry dose of good humor, too. This weekend on the festival's Main Stage, they'll soon become your favorite Baltimore act (if they aren't already), especially accompanied by a five-piece brass band and live drumming by Matt Lampart. Keep an eye out for the next album, A Church on Vulcan, out this fall via Friends Records.
DO
Johns Hopkins University Station North Stage, Charles St. near North Ave. 9 & 10 p.m. Free.
When news of Prince's death made its rounds this past April, Baltimore came out in hoards to celebrate his life and legacy. Through cocktails, dance parties, and movie screenings, the city mourned his death and remembered his brightest moments, including the 2015 "Rally 4 Peace" concert, where he first performed "Baltimore," his ode to rebuilding our city. Listening to "Purple Rain" just hasn't been the same, but this Friday night, you can party like its 1999 in honor of the great Purple One. With two sets, hear local DJs and the soulful sounds of the Baltimore Boom Bap Society's Wendel Patrick and DJ Dubbl8, followed by D.C.'s renowned DJ Sam Burns.