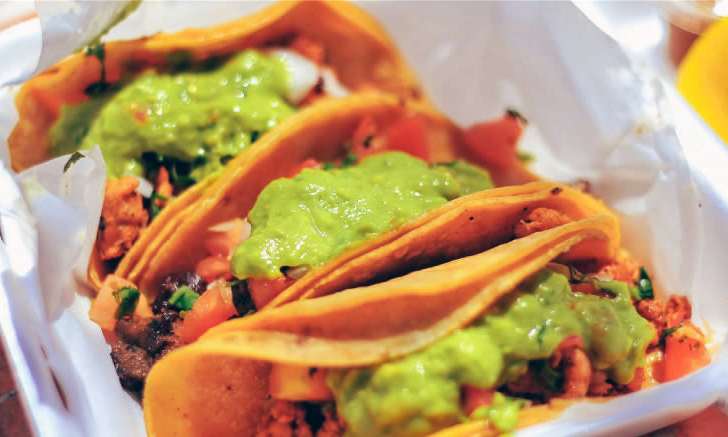 Taste of 3 Cities.
Five things to eat, drink, see, hear, and do with your Charm City weekend.
EAT
Patterson Park, 2806 Eastern Ave. 11 a.m.-9 p.m. $16.74-69.24. 410-276-3676.
Nowadays, it seems like everyone's a foodie—eating artisanal French fries, buying local ramps and radishes at farmers' markets, frequenting festivals like The Emporiyum. It's become a cliché, but with culinary creativity at an all-time high, we're by no means going to knock it. Instead, this Saturday, you should embrace your inner foodie on the hills of Patterson Park. For one day, the green space will transform into an epicurean playground with the region's top 40 food trucks offering everything from lobster rolls and barbecue to grilled cheese and cupcakes. Tour their treats, vote for your favorites, cool off with beer and wine, and listen to live music. Proceeds will benefit two good causes: Meals on Wheels, a nonprofit that delivers food to people in need, and the (RED) Campaign, whose global efforts are fighting to end AIDS.
DRINK
Atomic Books, 3620 Falls Rd. 7-10 p.m. Free. 410-662-4444.
It's officially June, which makes it officially unofficially summer. Celebrate the season at First Friday in Hampden, with local shops and restaurants opening their doors with specials, drinks, neighbors, and tourists alike. Scramble down The Avenue and enjoy the evening, but if you get too hot outside, head into Atomic Books, where the indie bookstore's back Eightbar will be hosting a tap-takeover happy hour, featuring Laurel's Jailbreak Brewing. Cool down with Feed The Monkey orange hefeweizens, Welcome to Scoville jalapeño IPAs, and The Infinite amber ales, plus snacks from Golden West Café. If you're lucky, you might even get a taste of their upcoming Q. Cumber saison, out next week just in time for the warm weather.
SEE
Joseph Meyerhoff Symphony Hall, 1212 Cathedral St. Fri. 8 p.m., Sat. 3 & 8 p.m., Sun. 3 p.m. $43-109. 410-783-8000.
We have Diner, we have Avalon, we have parts of Sleepless in Seattle, but few films are more iconic for Charm City than Hairspray by John Waters. It's all there: the gritty warehouses, the Hon-style beehives, the Formstone row homes, the rats. In the original (read: best) version, there's even Baltimore's legendary Divine. Whether you know it well or need it in your Netflix queue, the famous musical will return home this week, taking over the Meyerhoff stage as a special partial-concert production. Belt out "Good Morning Baltimore" beside members of the Baltimore Symphony Orchestra and see Mr. Waters himself, as he'll be serving as the narrator.
HEAR
Lithuanian Hall, 851 Hollins St. 9 p.m.-2
a.m. $5-10. 410-685-5787.


If you're not
spending First Friday in Hampden, head down to Hollins Market to shake your
groove thing with The B-52's. Literally, as this weekend, the monthly Save Your Soul
dance party will be featuring guest DJ Fred Schneider, aka former frontman of
the beloved '80s group. You might remember him from such famous lines as:
"If you see a faded sign at the side of the road, that says 15 miles to the…" Or,
"Sign says, [woo!] 'Stay away, fools,' – the love rules, at the luh-uh-uhve
shack…" Or, "Knock a little louder sugar!" Or, "I, can't, hear, you!" You get
the point. He'll be there, with DJs Rob Macy and King Gilbert, turning Lith
Hall into a love shack, spinning vintage soul, funk, and R&B. We'll
definitely be roaming that way.
DO
June 4:
Druid Hill Park, 3100 Swann Dr. 7:30 a.m.
$60-85.
With dreadful bikini season finally upon us, there's still
time to shed some of the many calories consumed through springtime's burgers, beers, and ball games. This Saturday morning, throw on your sneakers
and take a scenic-yet-challenging jog between Druid Hill and Herring Run parks.
Across 10 miles, you'll weave your way through North Baltimore, swinging by
neighborhoods like Remington, Charles Village, and Waverly, and past local landmarks
like Druid Lake, the Maryland Zoo, Johns Hopkins University, and Lake Montebello.
At the end, enjoy a cold towel, crunchy watermelon, and beer. Because, summer.