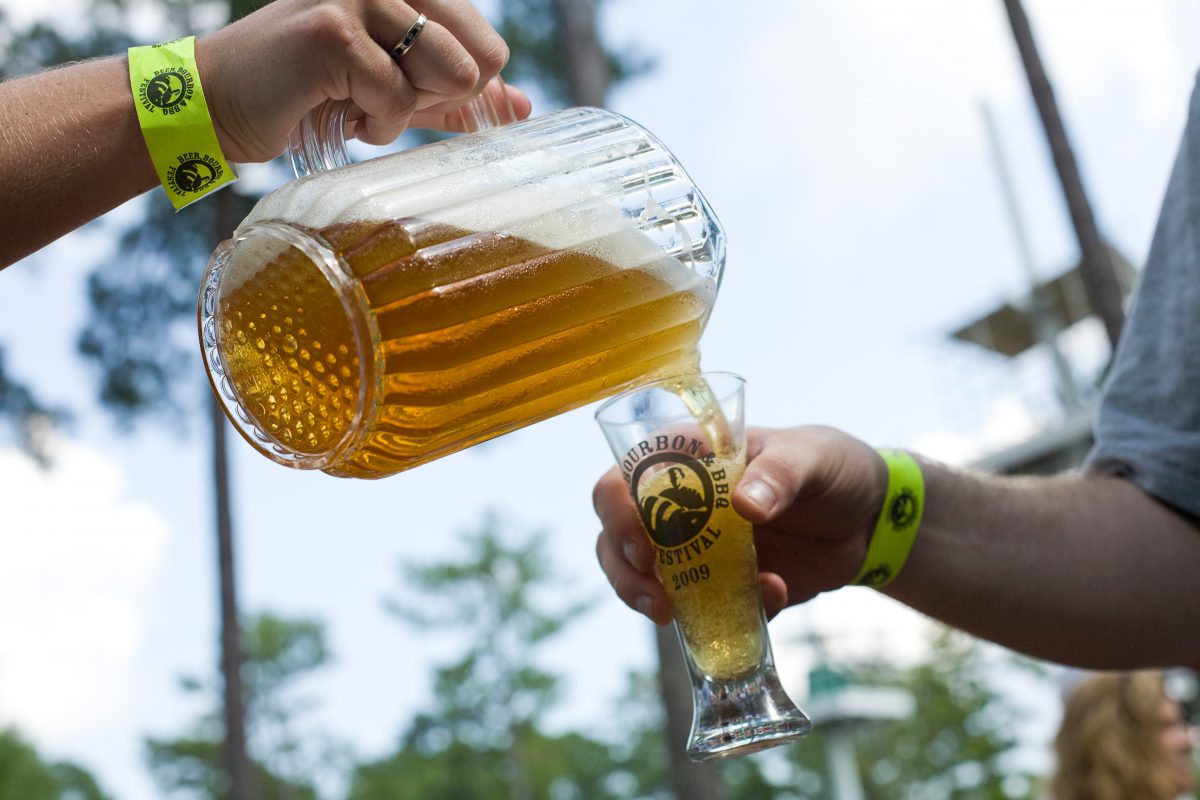 Trigger Agency.
Five things to eat, drink, see, hear, and do with your Charm City weekend.
EAT
Mar. 13-14: Beer, Bourbon, & BBQ Festival
Maryland State Fairgrounds, 2200 York Rd., Lutherville-Timonium. Fri. 6-10 p.m., Sat. 12-6 p.m. $29-99. beerandbourbon.com
After months of misery, it's finally almost spring, and come this weekend, it's going to feel—or rather taste—a little bit like summer, with three of our favorite things joining forces at the all-you-can-taste Beer, Bourbon, & BBQ Festival. Sample more than 60 brews, including locals like The Brewer's Art, Flying Dog, Heavy Seas, and Union Craft. Sip on some 40 bourbons, including old faithfuls like Evan Williams, Jack Daniel's, Maker's Mark, and Jim Beam. Soak it all up with a bounty of barbecue, including Land of Pleasant pit masters Kloby's Smokehouse and Blacksauce Kitchen. Plus, participate in a bacon-eating contest, smoke a stogy in the cigar tent, and listen to live blues, bluegrass, and rock-and-roll.
DRINK
Mar. 13: Keg Party at Gertrude's
Gertrude's Restaurant, 10 Art Museum Dr. $25-50. 6:30-10 p.m. 410-889-3399. facebook.com
Ain't no party like a fancy keg party, cause a fancy keg party . . . Actually, what exactly does a fancy keg party do? Find out this Friday, with an unorthodox,
Friday-the-13th-cum-St.-Patrick's-Day kegger at Gertrude's Restaurant at the BMA. This won't be your regular college rager; instead, envision a Flying Dog keg station, indoor and outdoor bars for cocktails and wine, and live Irish music, plus a feast of Emerald Isle-influenced eats, like corned beef and Guinness sliders, as well as a few restaurant staples, like John Shields' grandmother's crab cakes. Hosted by the Rebels With a Cause cycling team, the evening will raise money for their 140-mile ride to support Moveable Feast.
SEE
Mar. 13: Hannibal Buress
Modell Performing Arts Center at the Lyric, 140 W. Mt. Royal Ave. 8 p.m. $25. 410-900-1150. lyricoperahouse.com
You might not know Hannibal Buress by name just yet, but you've probably already seen some the young comedian's work. As a former
Saturday Night Live and 30 Rock writer (and sometimes actor), he's touched some of the last decade's very best comedy. Currently, he co-hosts The Eric Andre Show on Adult Swim and stars in the hip, hilarious, unapologetic new series, Broad City, on Comedy Central, where he plays Lincoln, a super chill dentist who dates Ilana Glazer and writes a pasta food blog called The Al Dente Dentist. Comedy Central also just gave him the green light for his own series, in which the comedian will "[answer] the burning questions on his mind through standup, filmed segments, man-on-the-street interviews and special in-studio guests." Now, on a new tour, the seasoned standup will be stopping by the Lyric, so catch his dry, direct humor this Friday, before he really blows up.
HEAR
Mar. 14: Baltimore Spring Fest
Royal Farms Arena, 201 W. Baltimore St. 7:30 p.m. $45.50-69.50. 410-347-2020. royalfarmsarena.com
This Saturday, throw it back to the '90s and get your groove on with some of the decade's smoothest R&B. Five big acts will be headlining the Baltimore Spring Fest, including Slick Rick ("
Once upon a time, not long ago…"), Keith Sweat (serious baby-making music), Ginuwine (to add to your karaoke regimen), SWV (the other TLC), and Dru Hill (Baltimore's own ballad boys). Two decades later, they might feel a little dated, but the suave serenaders deserve big ups, having paved the way for the likes of Usher and John Legend, as well as new-wave wooers like The Weeknd, Miguel, and Frank Ocean. And where would we be without Frank Ocean?
DO
Mar. 13-15: St. Patrick's Day Celebrations
Various locations, times, prices.
However you want to celebrate St. Patrick's Day this weekend, the city is your
pot of gold. On Saturday, scramble along boozy bar crawls in Fed Hill and Fells Point, or soak up libations and live music (including Kristen and the Noise on Friday, for all you Dewey birds out there) in Canton. Like we said last week, such double-down debauchery is fit for both the young and the young-at-heart. On Sunday, get in on family fun festivities like the Shamrock Shindig at Pierce's Park and the St. Patrick's Day Parade, starting at the Washington Monument, as well as the Shamrock 5K race, if you're feeling extra sprightly. Even if you don't look good in green or just want to have a Guinness and call it a day, be sure to get out into the warm, almost-spring weather.