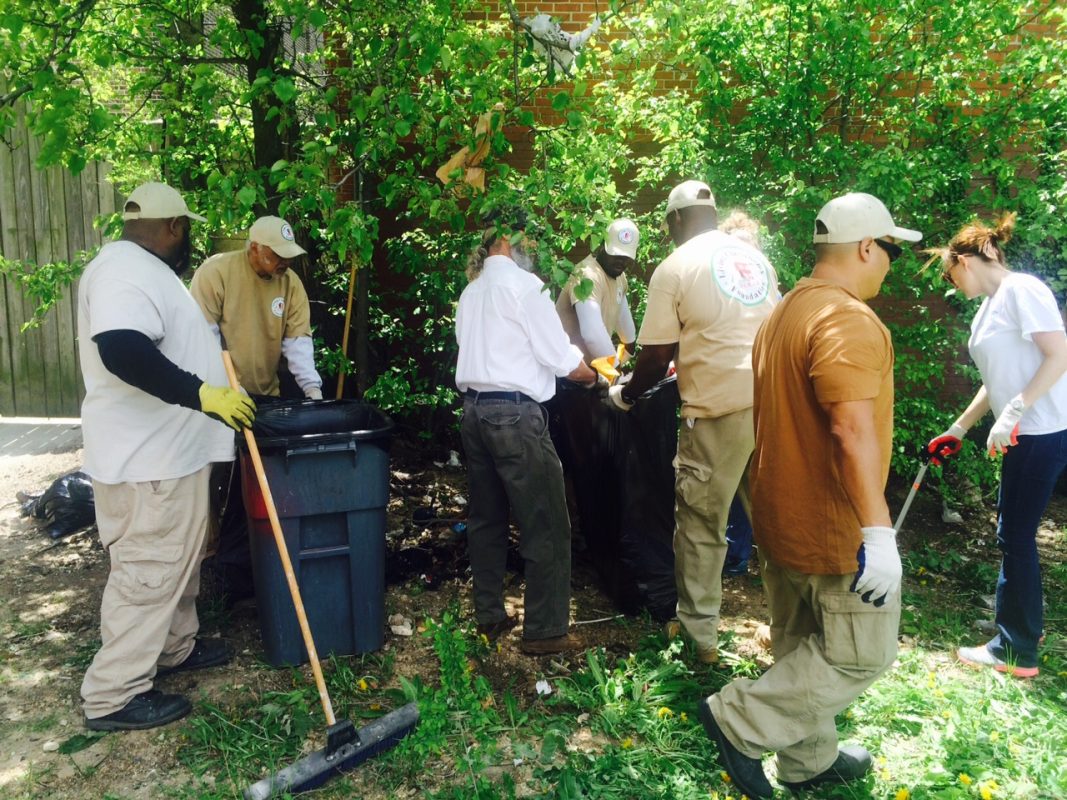 Photography by Meredith Herzing
As the recent death of Freddie Gray, the resulting protests, and the charges against Baltimore City Police officers have shaken our city this week, we are devoting the Weekend Lineup to those who are coming together to show their love and support for Baltimore. This weekend, support local businesses, take part in a community event, or participate in the growing number of volunteer efforts.
EAT
#DineOutBmore
As most restaurants and bars remain open long past 10 p.m., many local businesses are
being affected by the weeklong, citywide curfew. While many are calling for an amendment or end to the decree, they're also adjusting by opening earlier, extending happy hours, offering specials, and generally carrying on, business as usual. This weekend, you can do your best to support the eateries and their employees by eating out, with local favorites like The Brewer's Art and Bookmakers Cocktail Club opening at 1 p.m. and noon, respectively, for newly created lunches, as well as The Local Fry offering half-price wings and the Local Oyster selling buck-a-shuck oysters outside of Corner BYOB at 5 p.m. Follow hashtags #DineOutBmore and #BmoreFriday (and so on) on Instagram and Twitter for updates and participating restaurants. Meanwhile, the Baltimore Farmers' Market has been cancelled for Sunday, but the 32nd St. Waverly Farmers' Market is still on for Saturday, from 7 a.m. to noon, as is the opening day of the Hampden Farmers' Market, from 9 a.m. to 3 p.m., which will be offering space for other vendors.
DRINK
#DrinkLocal
Like local restaurants, bars are being heavily
affected by the citywide curfew. They, too, are offering earlier hours, extended happy hours, and lots of specials, and can be followed by the same hashtags on Instagram and Twitter. All ends of the drinking spectrum are getting involved, but some favorites include Johnny Rad's, offering all-night happy hour, Le Garage, opening at 4 p.m. with happy hour till 6:30, Jokers 'n Thieves, featuring happy hour from 3-7 p.m. and 2-for-1 bourbon mules until 8:30 p.m., and Of Love and Regret serving happy hour from 2-7 p.m. Union Craft Brewing will still be holding its Old Pro Day beer launch at the brewery on Sunday from 12-5 p.m. and the Windup Space will be featuring "curfew karaoke" on Friday, starting at 5 p.m. Businesses will be making last call with ample time for their customers and staff to get home safely before 10 p.m.
SEE
Local Art: Chesapeake Shakespeare Co., Port Discovery, the BMI, & More
As seen in the Baltimore Symphony Orchestra's free peace concert on Wednesday, the local arts community has come together in strong support of our city and its local communities. On Friday morning, Chesapeake Shakespeare Company performed a free public matinee of Romeo & Juliet at the Calvert Street theater. Some ticketed museums will also be opening their doors to the public with free admission this weekend, including Port Discovery on Friday until 3 p.m., with a "Community Day of Play" throughout its three floors of educational, interactive exhibits, and the Baltimore Museum of Industry all weekend long, including their Mother's Day Craft Day on Saturday. The National Aquarium is offering half-priced admission until its closure at 2 p.m. and the American Visionary Art Museum will be teaming up with the Maryland Food Bank for a two-week canned food drive, where visitors will receive $1 off museum admission for each food item they donate. Similarly, free museums like the Baltimore Museum of Art and Walters Art Museum will remain open with regular hours for the time being. The zoo will also be open all weekend with regular admission from 9:30 a.m. to 4 p.m.
HEAR
May 2: Enoch Pratt Free Library & CityLit Festival
Enoch Pratt Free Library, 400 Cathedral St. 10 a.m.-5 p.m. Free. We applaud the Enoch Pratt Free Library for its positive actions during recent events. On Monday afternoon, Melanie Townsend Diggs, the manager of the library's Pennsylvania Branch, held down the fort and safely escorted 30 patrons as chaos erupted outside. The next day, while Baltimore schools and many local businesses were closed, all branches of the library remained open, offering themselves as a solace for students and the community alike. Since then, the library has continued its regular programming, including Wednesday night's Writers LIVE event, Thursday night's trivia, and this Saturday, the CityLit Festival will be no different. CityLit Project's daylong celebration of the literary arts will feature local authors, exhibitors, book sales, signings, a poetry contest, and readings of all genres, including short fiction, non-fiction, and poetry. It is free and open to the public.
DO
May 2: B-More Love
Corner of Windsor Ave. & N. Smallwood St. Upper field, between Robert W. Coleman Elementary School & Frederick Douglass Senior High School. 11:30 a.m. In the midst of complicated times, The Holistic Life Foundation—a nonprofit that provides after-school programs centered around
yoga instruction for city kids—will be presenting a group meditation to promote peace and unity throughout the Baltimore community. On Saturday at 11:30 a.m., the free, large-scale "B-More Love" event will be open to the local community and beyond, and will take place at the upper field between Robert W. Coleman Elementary School and Frederick Douglass Senior High School, near where Monday's unrest took place. The positive vibes will start at noon.
---
There are also several ways to donate and volunteer to recovery efforts. The Governor's Office has created
Maryland Unites, which lists several non-profits who are accepting donations, including Red Cross of the Greater Chesapeake, Central Region United Way, and Associated Black Charities. They are also teaming up with the Living Classrooms Foundation and the Salvation Army of Central Maryland on Friday May 1 until 3 p.m. to distribute food and water around the city. The Baltimore Community Foundation, alongside various community partners, has created The Fund for Rebuilding Baltimore. The Mayor's Office of Neighborhood also continues to update an online spreadsheet for volunteer and donation opportunities.