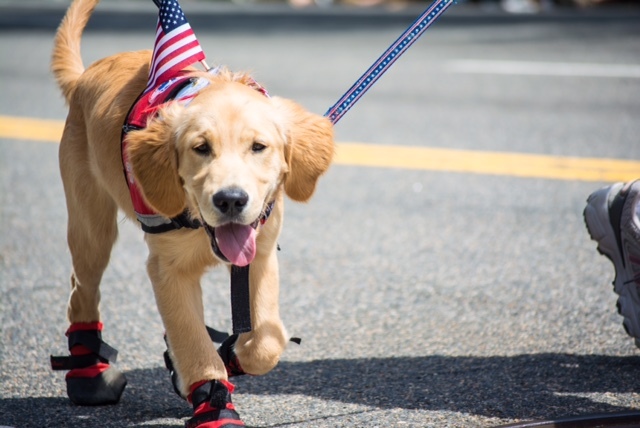 Courtesy of the American Veterans Center
Five things to eat, drink, see, hear, and do with your Charm City weekend.
EAT
Union Craft Brewing, 1700 Union Ave. 5-10
p.m. 410-467-0290.
This is the weather
and weekend we've all been waiting for, and best of all, it's finally soft-crab
season. This Friday, skip out of work early and head straight to our beloved
hometown brewery. There, beneath the twinkling lights of the outdoor patio or
bellied up at the taproom bar, you can feast on all the things that make summer
great, with soft-shell sandwiches by the Lunchbox Lady, craft beers like Steady Eddie wheat IPA, and
even music by Wu-Tang and Tupac, as DJ Daniel Biltmore will be spinning '90s
hip-hop classics all night.
DRINK
The Maryland Zoo in Baltimore, 1876 Mansion House Dr. 1-7 p.m. $25-69. 443-552-5276.
Conventional wisdom says alcohol and wild animals don't mix, but at our city's annual Brew at the Zoo, you can combine them with confidence. For one spring weekend, sample more than 80 local and national beers—including brews from Bmore favorites like The Brewer's Art and Monument City—and listen to local music by the bluesy Kelly Bell Band and the funky, soulful Bosley. All proceeds benefit the zoo, ensuring that you can continue to visit your animal friends, even after the buzz wears off.
SEE
Constitution Ave. between 17th & 7th Sts. NW. 2-4 p.m. Free.
If you don't
want to get stuck on 97 or near the Bay Bridge this weekend, head southwest, and
spend your Memorial Day Monday in the nearby destination that is D.C. The
capital's colossal parade is the biggest of its kind in the country, with
hundreds of marching bands, youth groups, performers, veterans, and floats, all
making their way down Constitution Avenue for two full hours. Afterwards,
stroll the National Mall and honor the men and women who have fought to keep
America the Land of the Free.
HEAR
Peabody Heights Brewery, 401 E. 30th St. 12-8 p.m. $12-15. 410-467-7837.


The Book Thing
was a beautiful thing. By redistributing used books throughout the city, it
gave everyone—regardless of race, class, gender, bad haircut, or preference of
genre—the opportunity to read. Sadly, a fire struck the Abell warehouse earlier
this spring, causing extensive damage to its space, but the community has since
rallied together to help the book exchange rebuild and remain. This Saturday,
Friends Records, Peabody Heights Brewery, and WLOY Loyola Radio are
teaming up to benefit the cause, with music by tons of local artists (Eze
Jackson, Baltimore Boom Bap Society, Sun Club, Raindeer, PLRLS, Femi the
Drifish, etc.), food by Shorty's Bootleg BBQ and Green Bowl Food Truck,
raffles, and more. Twenty percent of beer sales and all profits will go back to
the Book Thing.
DO
1100 Hollins St. 12-8
p.m. Free. 443-416-7719.
If you're not boating, beaching, or baking in the sun all
weekend, make your way to historic Hollins Market this Sunday for a
celebration of Southwest Baltimore. There, an all-afternoon block party will
fill the city streets with music, art, food, and fun. Across five stages, hear
dozens of musicians, like Rufus Roundtree & Da Bmore Brass Band Factory and
J Pope & Funk Friday, browse goods by regional artists and artisans, and
indulge in street fair eats, like funnel cakes, crab cakes, shaved ice, snowballs, hot dogs, and burgers. The kids can entertain themselves with face painting,
pottery wheels, and unicycling, while you meander through the salon-style art
show. Throughout the festivities, scramble through the Hollins Market itself and check
out the B&O Railroad Museum that's located nearby.