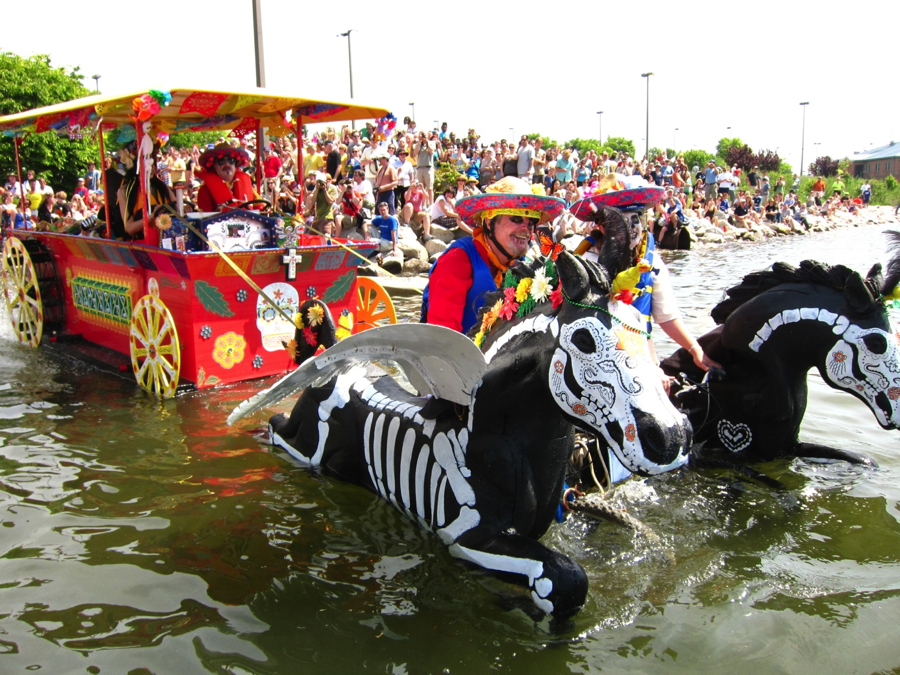 American Visionary Art Museum
 EAT
Central Plaza at Harbor Point, 1310 Point St. 12-7 p.m. $10.50-70.68. 410-299-8480. 
Since this Fells Point taco joint opened its doors in 2014, Papi's annual Cinco de Mayo event has been a can't-miss fiesta filled with salt-rimmed margaritas and Mexican street fair-inspired bites. This year, Papi's is raising the bar with an all-day celebration at Harbor Point, featuring live Latin music from Mambo Combo and Zakke Latin Fusion Band, taco-eating contests, and even a live donkey. Along with Papi's signature street tacos, nachos, and elote, nosh on Alexander Tavern's Mexican-inspired tot-chos and baja chicken sliders at this inaugural festival.
 DRINK
The Chasseur, 3328 Foster Ave. 12-8 p.m. $10. 410-327-6984. 
The 143rd Preakness Stakes is only two weeks away, but if you can't wait until then to get your horse-racing fix, head to this Canton corner bar to celebrate "the greatest two minutes in sports." The Chasseur is pulling out all the boozy stops for its fifth annual derby block party, including brewery tents and trucks from local favorites like Union Craft, Waverly Brewing, and Monument City, as well as a vodka bomb special and a mint julep bar for something a little stronger. Snack on eats from local food stands (featuring sweets from Cream Cruiser and Balti'Marons) and catch live music performances by bluesy band Ricky Wise & The Dirty Unit, as well as DJ AYYYE ONE, AstroSquid, and Victims of Experiences.
 SEE
American Visionary Art Museum, 800 Key Hwy. 9 a.m.-7 p.m. Free. 410-244-1900. 
This year marks the 20th anniversary of the American Visionary Art Museum's weird and wonderful event that challenges contestants to race handmade, human-powered sculptures through 14 miles of land, water, and mud. Watch from the sidewalk (we recommend braving the crowds for a spot at Canton Waterfront Park or Patterson Park) as these motorized works of art, decorated to fit the theme "Mysteries & Tall Tales," compete for awards like "Worst Honorable Mention" and "Grand Mediocre Champion."
 HEAR
Modell Performing Arts Center at The Lyric, 140 Mt. Royal Ave. 10 a.m.-12 p.m. Free-$17. 410-704-8938.
Just when we thought WTMD's kiddie concert series, Saturday Morning Tunes, couldn't get any cuter, they throw a masquerade-themed party packed with enough music and entertainment to leave their pint-sized listeners (and their parents) ready for a nap by noon. This Saturday, bring the kiddos to the Lyric to hear a family-friendly set by the Bachelor Boys Band, dance with a hula-hooping stilt walker, and design colorful masks to wear during the party.
 DO
Mount Vernon Square, 699 Washington Pl. 11 a.m.-8 p.m. Free. 410-274-5353.
Before the clouds roll in this weekend, head to Mt. Vernon Place for this beloved springtime celebration filled with flowers, colorful hats, and classic lemon peppermint sticks. At this 107th annual festival, kick off spring in the city with arts and crafts vendors, live music and entertainment, and plenty of Bawlmer-style eats like Maryland crab cakes and pit beef sandwiches. Stick around on Saturday to see the parade of pets dressed in their best spring outfits and the annual maypole dance.