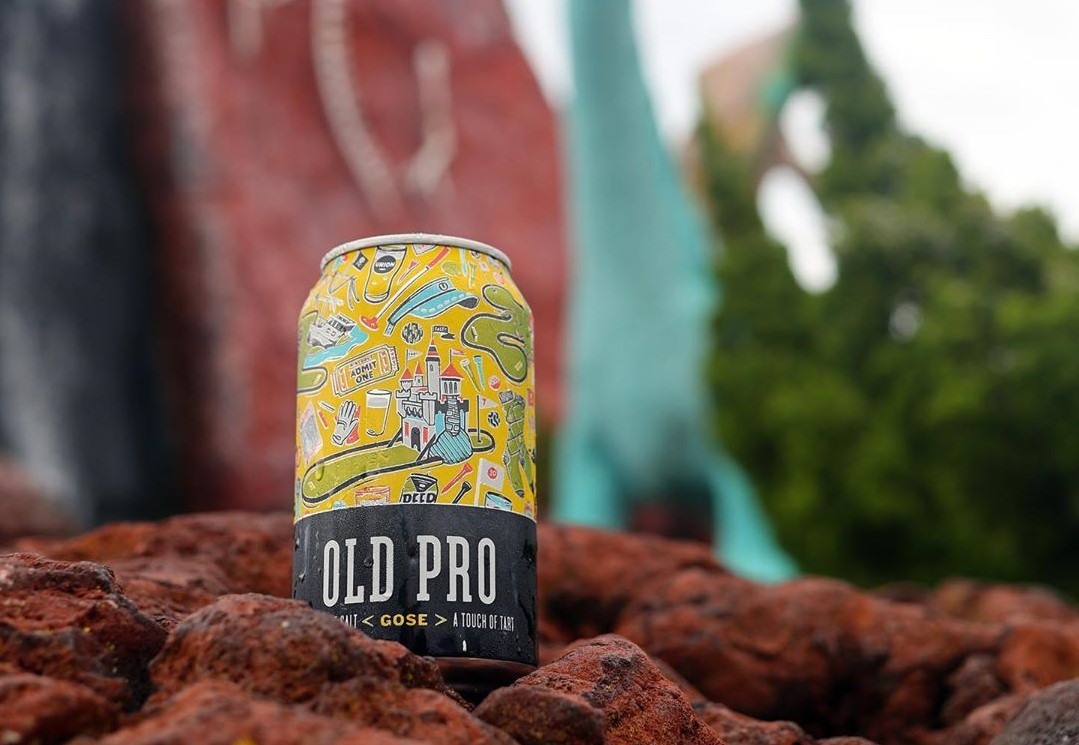 Union Craft Brewing
EAT
123 S. Chester St. 8 am. to 8 p.m.
This week, Charmed Kitchen is celebrating the heroes in our lives, who deserve endless thanks for the work they're doing during the pandemic. Now through Sunday, teachers and nurses can bring their school ID or badge to the Butcher's Hill restaurant to receive 20 percent off their entire carryout purchase. From 8 a.m. to 8 p.m., head to Charmed Kitchen for a sweet deal on tasty items like a spring-ready spinach and berry salad or a beef burger topped with sauteed onions and truffle aioli. And be sure to check out to-go cocktails like the "Strong One," a mix of gin, bourbon, blood orange bitters, and lemon juice finished with ginger beer.
DRINK
Facebook and Instagram Live. 4-5 p.m. Free.
Though the festivities for Union Craft Brewing's fifth-annual Old Pro Open won't be happening in Ocean City this year, the team isn't one to deprive fans of dino-themed fun. Grab some beer to-go (like Union Craft's Old Pro six-pack with an Orange Crush flavor shot, available for pickup at Union Collective) then tune in to Facebook or Instagram Live to watch three past Old Pro Open winners battle it out on a virtual three-hole course. For information on how to enter contests like "Best Golf Outfit," "Best Trick Shot," and "Best Old Pro Photo," check Union's Facebook page.
SEE
1399 S. Sharp St. and Zoom. 8-9 p.m. Free.
A long week at home desperately calls for a Friday-night laugh, and luckily, Funny Factor Comedy has us covered. This Friday, the group is teaming up with South Baltimore's own Checkerspot Brewing Company for a night filled with performances and video conversations, featuring comedians from near and far. Crack open one of Checkerspot's cans, available for pickup at the brewery, and get ready to laugh as local favorites Darryl Charles, Erin Patrick, and Jeff Ryan take the virtual stage.
HEAR
Facebook Live. 7-9 p.m. Free
Nothing compares to the excitement of prom season. High on the list of activities that will be missed by this year's class of 2020 is perhaps every high school student's most anticipated rite of passage: senior prom. Whether you're a senior ready to dance away the stress of your online studies, or a parent looking to relive the glory days, take a picture on the front lawn, dress to the nines, and tune in to Facebook Live where Ellicott City's DJ Kopec will be cranking out a mix of throwback dance hits from the '80s and '90s.
DO
Zoom. 2-5 p.m. $20
This Saturday, the tailgating experts with BMORE Around Town are back with another virtual scavenger hunt. Before you're ready to compete against family and friends in a series of 30 virtual challenges, you'll need access to Zoom, a phone with a camera, at least one player over the age of 21, and a few boozy beverages for the adults. Prizes will be given to top the 10 teams, and proceeds from the event will go directly to Kelly's Dream—a nonprofit fighting to raise melanoma awareness and ease the financial strain on those with cancer.