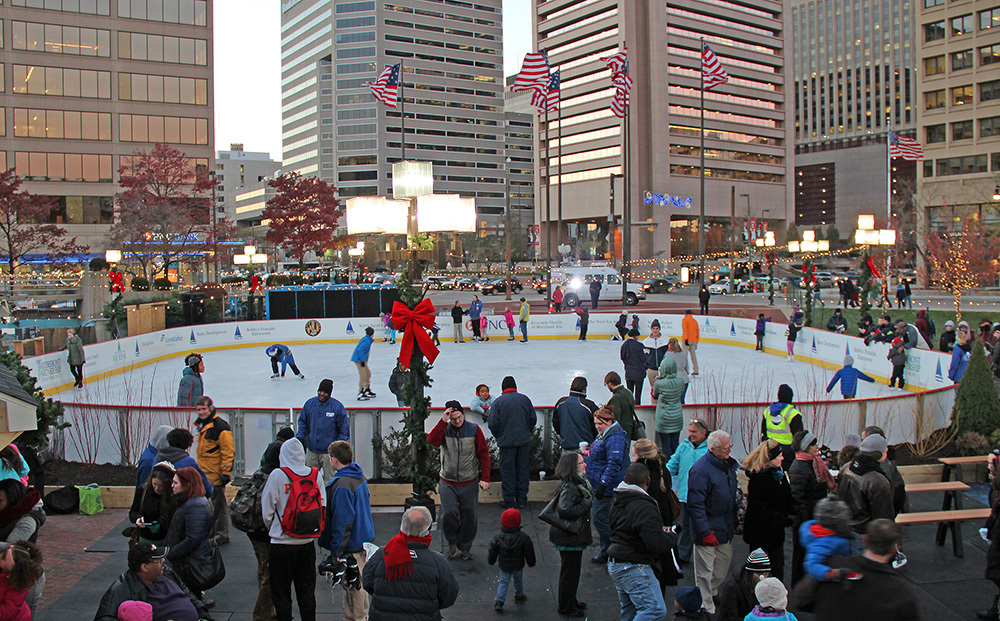 Waterfront Partnership
Five things to eat, drink, see, hear, and do with your Charm City weekend.
 EAT
Clavel, 225 W. 23rd St., 6:30-9:30 p.m. $90.67. 443-900-8983.
With the current political climate, seeing the local community unite over food is a breath of fresh air. This Sunday evening, join Mera Kitchen Collective and Clavel for a dinner starring Syrian-style delicacies to support Baltimore's refugees. Underneath the twinkling lights of Clavel's cozy space, dine on a five-course Syrian feast prepared by Carlos Raba of Clavel and Iman AlShehab of Mera Kitchen Collective, the worker-owned co-op aimed at empowering women refugees through culinary projects. Plus, owner Lane Harlan will be expertly hand picking natural wines. AlShehab, who was an executive chef at Four Seasons in Damascus before the Syrian War, will be sharing her country's dishes while talking about her experiences as a refugee. The best part is that 100 percent of the proceeds will go to assist our refugee neighbors here in Baltimore.
 DRINK
UN Club and Hall Sunwa, 201 S. Easton St. $20. 
What better way to spend a Saturday evening than meeting people, drinking booze, and hawking the streets of Highlandtown? In its 12th year, Baltimore magazine's "Best Pub Crawl" is bringing back the opportunity to peruse through Highlandtown's most unique spaces. For one night, homes and businesses are welcoming strangers at their door—and to their liquor cabinets—to support improvement projects and community growth in the 'hood. Pick up a map, go on a self-guided tour through game rooms with retro minibars or extravagant basements with kegerators, and mingle over cans of Natty Boh and comfort food. Afterwards, head to the closing reception at DiPasquale's with your new friends for some good ol' Italian fare.
 SEE
Locations & times vary. $27-98. 410-682-8902. 
This non-traditional theatre festival has taken the Bromo Arts District by storm once again with its diverse program and captivating performers. This weekend, don't miss out on the last few days of the eclectic festival featuring enticing performances—from off-kilter comedy and poetry readings to magical productions and an interactive rock opera. With a centralized location, attendees can walk to every venue and witness cutting-edge acts or partake in amusing activities for all ages—from Family Fringe Day's youth-empowered arts to Fringe After Dark's dance tournament, comedy jam, and late-night afterparty.c
 HEAR
Arch Social Club, 2426 Pennsylvania Ave. 8-11:30 p.m. $8-13. 410-276-1651. 
If you have a hunger for the crackle of vintage vinyl, stop by the Arch Social Club to celebrate Baltimore's rich R&B history with Ru-Jac Records, one of the nation's first African-American-owned record labels. Don your best attire and time travel to Baltimore's vibrant musical past inside the last surviving lounge in the Penn North neighborhood. Start off the night with a panel discussion about Ru-Jac Records and its influence on Baltimore's '60s music scene, led by funky frontman Brooks Long. Then, get carried away by Ru-Jac stars Winfield Parker and Joe Quarterman's soulful crooning, along with Joy Postell, Baltimore's up-and-coming neo-soul singer, all backed by young Baltimore musicians.
 DO
Inner Harbor Amphitheater, 201 E. Pratt St. 2 p.m. Free-$14. 
We're still early in November, but the icy temperatures have us giddy for the holiday season. This Friday, revel in a winter-wonderland experience by the waterfront on Pandora Ice Rink. Even if you can't land a triple axel, bundle up in your warmest gear, lace up your skates, and be the first to break the ice in the heart of Baltimore's bustling Inner Harbor. After doing a couple figure eights, take a break and defrost with warm cookies and hot cocoa. Veterans and active military will also be recognized for their service with a free skating session the next day.