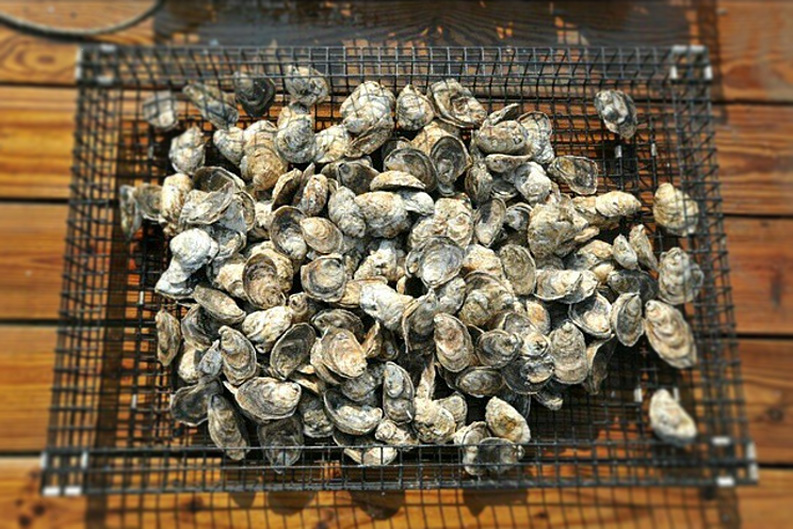 Five things to eat, drink, see, hear, and do with your Charm City weekend.
---
EAT
Nov. 21: Union Craft Brewing & The Local Oyster OyFest
Union Craft
Brewing, 1700 Union Ave. 12-5 p.m. $5 suggested donation. 410-467-0290.
unioncraftbrewing.com.
It's that time of year again. As November wraps up and
the air gets colder, so do the waters of the Chesapeake Bay, and with those
wintery waves come the best wild oysters of the year. Sure, they're no longer solely confined to "R" months, but this Saturday, celebrate the seasonal
shucks at Union Craft Brewing's second annual OyFest. At their
brewery underneath 83 in Woodberry, Union will feature True Chesapeake Skinny
Dipper and Huckleberry shucks (grown on a quiet creek just south of Baltimore
in St. Mary's County), the charming
Nick Schauman of The Local Oyster (now found daily at his new Mt. Vernon digs), and roasted 'sters from seafood pop-up pioneer Dylan's Oyster
Cellar (who will hopefully have his own shop up and running soon enough). Soak
up the beautiful afternoon with Americana music from The Herd of Main Street
and of course tip back a few drafts of Duckpin—or really anything the good ol'
UCB boys have on tap.
DRINK
Nov. 21: Hops & Vines
Port Discovery Children's Museum, 35
Market Pl. 7:30-11 p.m. $45. 410-727-8120.
portdiscovery.org.

Being a
grown-up can suck. You wake up early. You work hard. You pay your bills. You
exercise (sometimes). You eat your vegetables (sometimes). It gets old. Sometimes, to stay sane, it's important to let
your inner-kid out to play, and this Saturday, Port Discovery encourages
exactly that at their adult play date. On all three floors, amidst every
exhibit of the children's museum (including the all-new Here We Grow farming, ecology, and
sustainability exhibit), mosey about with local beer from Clipper City Brewing, Jailbreak,
Evolution, and Union Craft, as
well as local wine from Linganore,
Royal Rabbit Vineyards, and Dejon Wineries, with hands-on,
make-your-own-drink-charm craft activities to boot. Snack on eats from Heavy
Seas Ale House, BrickNFire Pizza Company, Rouge Catering, and Argosy Café, and
enjoy DJ music throughout the museum. Play in the three-story
urban KidWorks tree house, scramble over the Egyptian adventure obstacle
course, relax in The Oasis quiet room, and feel extra good doing it all: Proceeds support Port Discovery's access
programs, which provide free or reduced admission for families and
schools in economically challenged communities, children with special
needs, and military families.
SEE
To Nov. 22: Fences
Everyman Theatre,
315 W. Fayette St. Times vary. Sold out, call box office for wait list options
and check Craiglist. 410-752-2208.
everymantheatre.org.
We hope that you had or will have a chance to see Fences before the final curtain fall. It's no wonder the play has won Pulitzers, and Tonys, or that our local Everyman's poignant revival so quickly sold out. While set in 1950s Pittsburgh and following a former Negro Baseball League pitcher turned city garbage man by the name of Troy, the play is so fitting for the Baltimore theater that housed it over these past few weeks, as it truly exemplifies an "everyman" story of dreams, reality, and the messy beauty of family. Written by the great August Wilson, this American masterpiece oscillates between scenes that send audiences into true-to-life bouts of laughter—like Troy's buoyant bravado and ornery one-liners—and those that leave the packed house so quiet and completely enraptured you could almost hear a pin drop—like the last five minutes, which will stick with you long after the roses have been swept from the stage floor.
HEAR
Nov. 20-21: Trans/Queer/Femme Weekend
Metro Gallery, 1700 N. Charles St. Fri.-Sat. 8 & 9 p.m. 410-244-0899. themetrogallery.net. The Crown, 1910 N. Charles St. Sat. 9 p.m. thecrownbaltimore.tumblr.com.
Whatever your gender, preference, color, or age, celebrate the LGBT community and women everywhere this weekend with two full nights of music featuring a badass bounty of local talent. On Friday, make your way to Metro Gallery in Station North to hear Baltimore's riot-punk feminist band, War on Women, with other local acts like hip-hop artist Glittoris and hardcore noise band Humanmania performing in recognition of the Transgender Day of Remembrance, a 17-year tradition to commemorate the lives of those lost to suicide and death in the transgender community. Speaker Bryanna Jenkins of the Baltimore Trans Alliance will also be in attendance and the show will culminate in an end-of-night dance party. That same night, you can head over to The Crown, too, for "Grl Pwr," an energetic all-female concert featuring artists like DJ Tygapaw of Brooklyn, experimental electronic artist W00DY of Boston, and Baltimore's own Trillnatured. On Saturday, head back to Metro Gallery for "Fly Girls," an all-female rap show with up-and-coming local acts like Bmore Club champion Tt The Artist (who will be premiering her "Fly Girl" music video), rising rap artists Si-Notes and Brittany Starr, and a high-energy performance the TSU Dance Crew.
DO
Nov. 21: Bmore Art Magazine Launch Party
Maryland Art Place,
218 W. Saratoga St. 7-10 p.m. $25. 443-622-3542.
bmoreart.com.
In a city that's bursting at the seams with vibrant creativity, Bmore Art has long been a
great resource for all-art-everything. The "Best of Baltimore" online journal has
helped cover and champion the local arts community through their blogs, events calendar, gallery guide, reviews, and news, and for that, they've gained a loyal following in Baltimore and beyond. Now, to the delight of local culture vultures, Bmore Art is launching the latest print publication to hit the local city
streets with the first-ever issue of the BmoreArt Journal of Art + Ideas. This Friday, help launch their new glossy at Maryland Art Place, with cocktails, local
beer, balloon art, Pixilated Photo Booth, and the first colorful copies full of
original content, including articles, photo essays, and interviews.