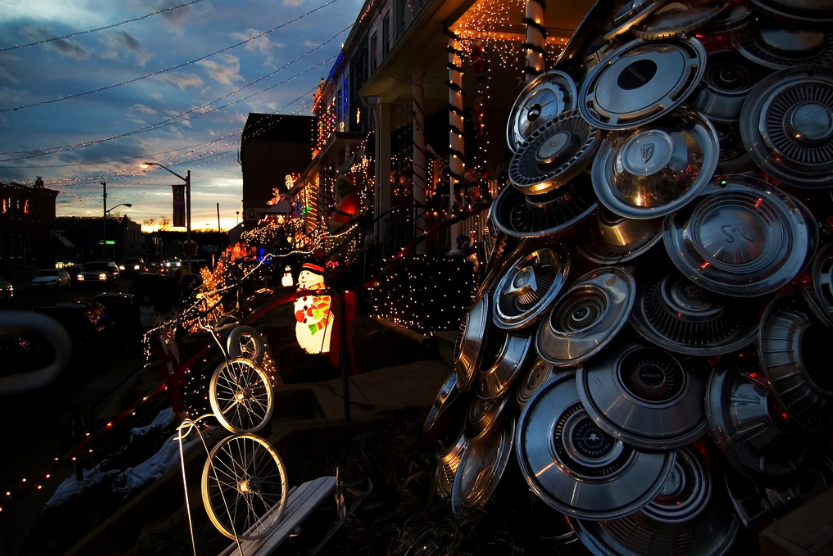 Photo by Sneakerdog via Flickr.
Five things to eat, drink, see, hear, and do with your Charm City and Thanksgiving weekend (which, let's be honest, starts now).
---
EAT
Nov. 28: 16th Annual Oyster Festival
Kooper's Tavern, 1702
Thames St. 11 a.m.-6 p.m. Free. 410-563-5423. kooperstavern.com.
Oysters, oysters—everywhere—and this weekend, they'll be shucked up and slurped down in Fells Point at the 16th annual oyster festival at Kooper's Tavern and Sláinte Irish Pub. If you're sick and tired of turkey and stuffing, make your way to Thames Street and try more than 20 different oysters including bay beauties like Choptank Sweets, Chincoteagues, and Mobjack Bays, as well as out-of-town favorites like Blue Points, Cape May Salts, Narragansett Bays, and PEI Raspberry Points. Have them raw, grilled, po'boyed, or in shooters alongside the perfect pairing of craft beers and cocktails. Afterwards, learn about those salty sweets with the Oyster Recovery Partnership, who will be in attendance to talk about local restoration efforts up and down the Chesapeake Bay.
DRINK
Nov. 25: Stache Bash at Jailbreak Brewing
Jailbreak Brewing Company, 9445 Washington Blvd., Laurel. 3-10 p.m. Free. 443-345-9699. jailbreakbrewing.com.
Move over, man bun. Scram, Macklemore-buzzed-side-slickback. Out of all hipster-chic fashion trends for men, we have to go with the mustache. It's a classic that's been here long enough and, for the unforeseeable future, is here to stay. In the month of Movember, celebrate facial hair everywhere at Jailbreak Brewing Company's first annual Stache Bash on Thanksgiving Eve. Sip Ryemin' & Stealin ales and Scolville Jalapeno IPAs (with happy hour all night long and all growlers 20-percent off), nosh on Bullhead Pit Beef with live music by local indie folk artist Matt Hutchison, and wave your whiskers in the air with gusto and gumption, as prizes will be awarded to the evening's best bristles. A portion of the proceeds will benefit D.C. Central Kitchen.
SEE
Nov. 28-Jan. 1: Miracle on 34th Street
700 block of W. 34 St. 5-11 p.m. Free. christmasstreet.com.
Christmas comes early in Baltimore again this month, just as it has for the past 69 years. After Thanksgiving gives you that first dose of the festive feels, head to Hampden for holiday hoopla on steroids. In true weird and wonderful Baltimore fashion, the entire 700 block of West 34th Street will deck its digs in bright holiday lights, sporting everything from illuminated Bohs and glitzy Miss Utz to twinkling crabs, flamingos, and the famous hubcap tree. Through New Year's Day, join the throngs of locals and tourists alike on the city sidewalks of this Charm City classic to get in the seasonal spirit.
HEAR
Nov. 25: The Bridge
Rams Head Live, 20 Market Pl. 9 p.m. $25. 410-244-1131. ramsheadlive.com.
It was 14 years ago that a group of friends got together on the hallowed night of Thanksgiving Eve for a few beers and jams at a local bar. Perhaps it was timing, perhaps it was something called fate, but from out of that November night, a band was born—The Bridge—and ever since, the roots-rock sextet has been a beloved hometown favorite. They gained a loyal following of fans, toured the local venues, got big-league gigs like Bonnaroo and All Good, but eventually, like some of the greatest love stories, they broke up, unable to sustain the expensive lifestyle that comes with the music industry. In the years that followed, frontman Cris Jacobs struck off on his own solo adventures around the city, the band got back together for the occasional benefit concert, but wherever they went, and wherever they go from here, it always comes back to that very first gig. This week, catch them at their annual Turkey Wednesday night celebration with two full sets and opening act Scrambled Greg of Pigeons Playing Ping Pong. Proceeds from raffle tickets will benefit Gather Baltimore, which collects surplus produce and redistributes it to the city's underserved citizens.
DO
Nov. 28: Bazaart Holiday Art Market
American Visionary Art Musuem, 800 Key Hwy. 10 a.m.-5 p.m. Free. 410-244-1900. avam.org.
This holiday season, boycott those big-box behemoths and instead buy your loved ones some special local gifts. At AVAM's annual holiday market, support city artisans, partake Small Business Saturday, and browse original works by more than 40 regional craftspeople, including paintings, sculpture, metalwork, jewelry, textiles, and apparel, with free museum admission and early bird shopping at the First Dibs preview party on Friday. Don't miss dainty, delicate paper cuts by Annie Howe, wall-worthy screen-prints from Baltimore Print Studio, Baltimore map T-shirts from Red Prairie Press, fleecy creature toys by Cotton Monster, Maryland crab tea towels from FuzzyMug, bright urban oil paintings by Charlene Clark, and metallic mosaics from AVAM's own Rick Shelley. If anyone is shopping for us, we'll take one of Byrdie's vintage-inspired necklaces and a bottle of PrayaMeansLove's hayride-scented perfume.