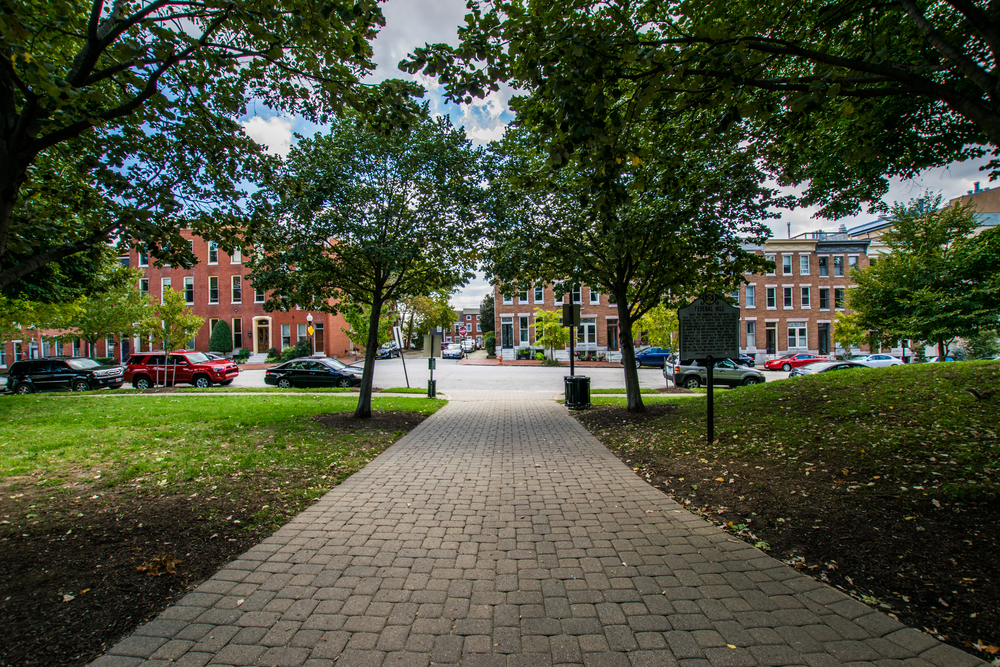 Explore South Baltimore landmarks like Federal Hill Park during the O' Say Can You See Sobo scavenger hunt. —Shutterstock
---
EAT
Fire and Rice. 4801, Harford Road. Suite S2. 4-8 p.m.
It may be November, but with temperatures this weekend expected to reach the low 70s, there's never been a better time to dine al fresco. Head to Hamilton-Lauraville this Friday to savor the beautiful weather and a world of flavors as you indulge in everything from pizza to poke. At Curbside Commons—the new pedestrian-friendly community space along the 4300, 4700, and 4800 blocks of Harford Road—stroll and shop for music, books, and vintage gear at neighborhood favorites including Tortuga and Wax Atlas Records. Then, visit the newly opened Fire and Rice to sample Japanese-inspired dishes like a spicy garlic pork ramen served with a miso egg and topped with black sesame seeds. Wash it all down with one of the restaurant's exotic elixirs (look out for the Green Fury Spritz made with matcha, mint, and lime) or grab a beer and a pie from pop-up purveyor Underground Pizza, which will be on site at Zeke's Coffee.

DRINK
Old Line Spirits. 200 S Janney St. 1-9 p.m.
This Highlandtown distillery has just the cure for those looking to escape the stress of election week. On Saturday from 1 to 9 p.m., join the cocktail crafters at Old Line as they celebrate the release of their Sherry Cask Finish American Single Malt Whiskey. With fruity, nutty flavors pulled from ex-sherry wine casks, the release is full of fall aromas, including notes of caramel, vanilla, and tobacco. Snag sips while supplies last, cozy up on the lawn with warm cocktails, and browse artisan burgers from Fuzzies while maintaining a safe social distance.
SEE
Virtual. Mdfilmfest.com. 4:30 p.m.
In 1972, Shirley Chisholm made history twice, becoming the first woman and African American to seek the nomination for the United States presidency. On the heels of this year's historic presidential election season, join Baltimore City Councilwomen Danielle McCray and Sharon Green Middleton, as well as Councilwoman-elect Phylicia Porter, this Sunday at 4:30 p.m. for a virtual post-screening discussion of Chisholm '72. Presented as part of SNF Parkway's Political Theater Election Film Series, this gripping documentary, which features Chisholm's own commentary, revisits the Brooklyn-born congresswoman's groundbreaking campaign for presidency and lifelong advocacy for marginalized Americans.
HEAR
Facebook Live. 8 p.m
In an effort to support Towson-based public radio station WTMD, Monument City Brewing is hosting a live benefit show this weekend with a socially distanced twist. Pick up a six-pack of music-themed brews from the Highlandtown hangout—like the Melody Caravan, a 6.2 percent IPA featuring hazy notes of citrus, pine and tropical fruit—before tuning in to Facebook Live for the first-ever installment of the brewery's Backstage Pass series at 8 p.m. As Greenbelt native singer-songwriter Joe Pug takes the taproom stage for his first live-streamed gig, the link to a virtual tip jar will be passed around for listeners to show their support for WTMD.
DO
11/7, 9 a.m. to 11/8, 4 p.m. Multiple locations including Baltimore Museum of Industry Farmers' Market. 1415 Key Highway
In search of some adventure this weekend? Join South Baltimore Peninsula Post for a community-wide (and COVID-safe) exploration of local landmarks. First, head to Ceremony Coffee, Koba Cafe, or the Baltimore Museum of Industry Farmers Market to grab your free brochure—complete with clues and a map of the scavenger hunt. Then, get ready to scour the SoBo peninsula. Starting Saturday at 9 a.m., you'll have 31 hours to find and snap pictures of 26 peninsula gems (hint: they range in size from one to 400 feet) scattered everywhere from Sharp-Leadenhall to Fort McHenry. Using the map, label your photos in alphabetical order, then email your findings to [email protected] by Sunday at 4 p.m. Correct answers will be entered in a drawing to win gift cards to any peninsula eatery.