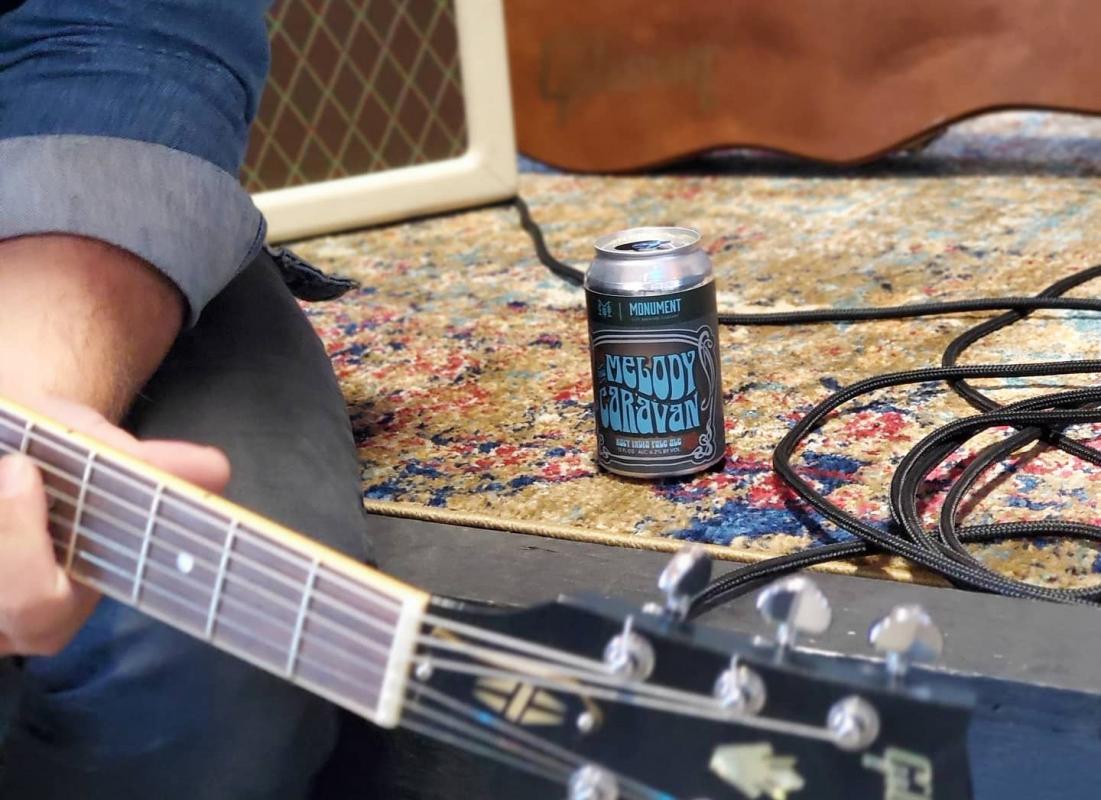 —Courtesy of Monument City Brewing Company
The COVID-19 pandemic has put working musicians like Joe Pug, who makes about 85 percent of his revenues annually from playing concerts, in a tough spot.  
"I've been a musician playing small clubs for the last decade plus," says Pug, a folk/alt-country singer-songwriter based in Prince George's County. "That's how I've made my living. That's how I pay my mortgage. That's how I buy Scooby Snacks for my kids."
With full club gigs out for the foreseeable future—booking agents tell Pug a "return to normal" isn't likely before the fall of 2021—he's adjusted to a new economic reality.  
"I saw the writing on the wall—this wasn't going to come back for a really long time," Pug says.  
So in March, Pug invested in cameras, lighting, and sound equipment in order to livestream weekly shows that would help carry him through. Among the audience that tuned in for those performances was Ken Praay, the co-founder of Monument City Brewing Company in Highlandtown.
As one of the brewery team's favorite musicians, Pug had been scheduled to play Monument City's anniversary party in the spring, which was cancelled due to the pandemic.
But Pug's livestreaming concerts did play a role in inspiring Praay and his colleagues to convert the Backstage Pass performances in their taproom, planned prior to the COVID-19 outbreak, into a virtual concert series.  
"2020 has been a challenge for everybody," Praay says, "and one thing that's been impacted is people's ability to see live music." 
On Saturday, November 7 at 8 p.m., Pug will take the stage live from the brewery as the first performer in the Backstage Pass series. While there will be a limited number of people attending the show in person (primarily to recreate the energy of a traditional concert), organizers emphasize their mission to create a "special virtual experience" for those tuning in via YouTube and Facebook Live. 
The brewery also wanted its shows to have a philanthropic angle, and decided this gig will benefit Towson-based public radio station WTMD, which bills itself as "Baltimore's home for total music discovery." Praay says that Monument City and WTMD planned to partner on events like the station's popular First Thursday concerts at Canton Waterfront Park throughout this year, but those plans were diminished by the pandemic.      
While the show can be streamed for free, a virtual tip jar will collect donations to support WTMD.  
"Virtual concerts are by no means a substitute for live music, but they still allow us to do something that benefits the community," Praay says.  
Scott Mullins, WTMD's general manager and program director, says the station—which has been finding innovative ways to host events like its First Thursday festivals, Saturday Morning Tunes, and Cabin Fever Concerts online—is "always looking for a good idea." He adds that the Backstage Pass series also helps the station find new ways to creatively do business—a priority amid the pandemic.  
"WTMD has been a longtime supporter of Joe's music and we love the opportunity to work with Monument City," Mullins says. "This type of partnership fits with our community-minded vision of supporting local businesses and presenting great artists to our listeners. We are also very grateful that Monument City is presenting this as a fundraiser for WTMD."
For Pug, the show will mark the first time he performs a streaming set for hire. While playing a virtual concert for someone else is an "interesting" experience, he says he's grateful to Monument City for the opportunity.
"Just when the chips are down you find out who your friends are," he says.  
Though it may not be the same as seeing a show in person, Praay is optimistic this series will help music fans and beer lovers fill a void. Of course, he suggests viewers of legal drinking age pick up a six-pack of the brewery's music-themed Melody Caravan Hazy IPA or 6 String American IPA to make the event feel more like a traditional concert.
"Live music, and music in general, is a big part of our brewery," Praay says, noting that several team members are working musicians themselves. "It's always been a big part of who we are."