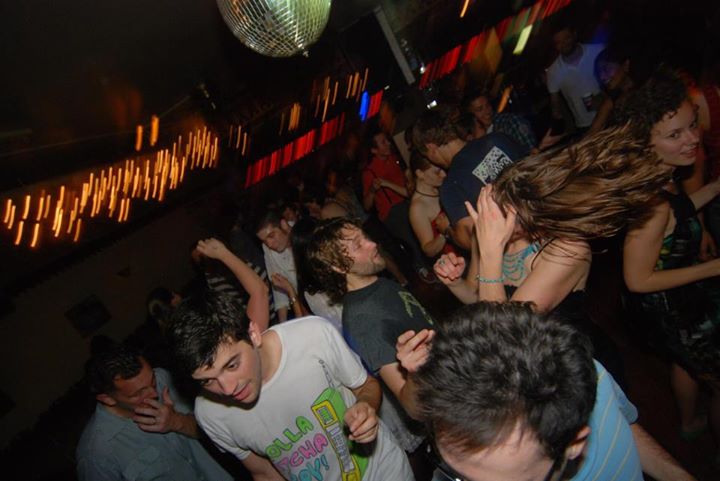 Five things to eat, drink, see, hear, and do with your Charm City (and hurricane) weekend.
---
EAT
Oct. 2: Encantada & AVAM's "The Big Hope Show" Preview Party
American Visionary Art
Museum, 800 Key Hwy. 7-10 p.m. Free-$20. 410-244-1900. avam.org. Encantada, 800 Key Hwy. Lunch,
Tues.-Sat. 11:30 a.m.-3 p.m. Dinner, Tues.-Sat. 5-10 p.m. Sun. 11:30 a.m.-9 p.m.
410-752-1000. encantadabaltimore.com.
On Friday, stay indoors, say suck it Joaquin, and celebrate the launch of AVAM's
new exhibit, "The Big Hope Show," before it opens to the public on Saturday.
On the eve of the museum's 20th birthday, it's full of visionary
artists as eclectic and talented as those it first exhibited some two decades
ago. Browse behind-the-scenes photographs by Bobby Adams, part of John
Waters' early crew and movie sets, like Cry-Baby and Pink Flamingos; climb into "The King's Mouth," a giant, psychedelic,
interactive experience from The Flaming Lips frontman, Wayne Coyne (who will also
be in attendance); reminisce about all those single hoops, teardrops, and studs
you misplaced in Lisa Revson's "The Lost Earring Project"; and admire the
beautiful Baltimore photographs by a young, self-taught artist, Noah Scialom.
Enjoy hors d'oeuvres, beverages, and
music, and then scramble over to Encantada, the new spirited, sustainable eatery
from Robbin Haas of Birroteca and The Nickel Taphouse. They're rolling out
their fall menu on Friday, so indulge in lots of cozy meals for your chilly,
rainy night. Think warm olives with candied orange peel, rosemary, and garlic; hen of the woods mushroom polenta with Parmesan, poached egg, and crispy leeks; and buttermilk fried quail with cider jus, onion, polenta, and figs.
DRINK
Oct. 3: MillStone Cellars Apple Harvest
Millstone Cellars Orchard, 1717 Rayville Rd., Parkton. 12-6 p.m. Free-$20. 443-470-9818. millstonecellars.com.
Rain or shine, it's time to kick off fall with Millstone Cellars' second annual Apple Harvest festival this Saturday in the county. From their Hopvine, Farmgate, and
Gingeroot go-tos to Bonfire, Hopricot, and CherryKriek seasonals, enjoy local apple
booze, all handmade, farm-to-bottle, while snugged up at the winery's
beautiful orchard. Sweet, tart, and delicious, they go down easy enough,
so line your stomach with snacks from The Local Oyster, HEX Ferments, and Jinji Chocolate, as well as homemade apple pies from Kinderhook Snacks. Mosey to the
bluegrass sounds of The Manly Deeds, Haint Blue, Jacob Panic, Tongue in Cheek, and Ampersand String
Band, and play with the baby goats (baby goats!) from Charlottetown Farm.
Weather permitting, you might even get in an afternoon hayride around the grounds. Tickets include your first cider and a complimentary tasting
glass.
SEE
Oct. 1-4: Baltimore Transmodern Festival
Locations, times & prices vary. transmodernfestival.com.
Now in its 12th year, the Baltimore Transmodern Performance
Festival returns for a unique weekend of creative expression around the city. From Thursday to Sunday, expand your horizons and explore a
medley of experimental, avant-garde,
and one-of-a-kind works, including music, dance,
interactive performance, storytelling, spoken word, film, video installations, and burlesque by local, national, and international artists. At venues like EMP Collective, Lexington Market, and McKeldin Square, see performing
arts troupe Fluid Movement, experimental rock band Horse Lords, local artists Alex D'Agostino and Noelle Talbot, and much more. On
Saturday night, hit up the after-party at 5th Dimension, with local musicians
Baronhawk, Graham Hatke, Ponyo, and Beastmaster performing late. On Sunday, starting at Current
Space at 7:30 p.m., join the Twilight Parade as it winds its way through
Baltimore, celebrating, in good October fashion, the ghosts of Baltimore past, with floats, costumes, performances, the Barrage
Band Orchestra, and Fluid Movement along the way.
HEAR
Oct. 2-3: U+NFest 4
Ottobar, 2549 N. Howard St. Fri.-Sat. 7:30 p.m.-1:15 a.m. $25 for both days.410-662-0069. facebook.com.
Whether you're hip to it or not, Baltimore has a bursting punk and garage rock scene to add to its diverse musical repertoire. A big thanks for that is owed to Unregistered Nurse Booking, the Baltimore music promoter who, for the past four years, has brought us U+NFest to celebrate the region's rocking music scene, as well as the awesome not-for-profit Ladyfest, which this year included Rye Rye, Jana Hunter, and Blacksage to benefit local do-gooders. At U+N 4, hear the hearty head bangs of over 20 bands from Baltimore and beyond, performing on both floors of the Ottobar all weekend long. On Friday, local outfits like Wing Dam, Post Pink, and 16-year-old Snail Mail will take the stage, followed by more homegrown talent like Pellars, Expert Alterations, and Roomrunner (their last show ever) on Saturday. The headliners are Philly punksters Sheer Mag and New Jersey rockers Screaming Females, and the event is sponsored by Hampden's Celebrated Summer Records as well as New York City's Brooklyn Brewery.
DO
Oct. 2: Save Your Soul Dance Party
Lithuanian Hall, 851 Hollins St. 9 p.m. $5. facebook.com.
The best way to ward off the bad-weather blues is to hunker down and heat things up with an old-school dance party on a first Friday night. Believe us: We did it back in June, when even the most intense summer storm couldn't keep Save Your Soul's Rob Fearless from murdering the dance floor at Union Craft Brewery. It was that dedication that garnered our 2015 "Best of Baltimore" award for Best Dance Party, and he doesn't seem to be slowing down anytime soon. This weekend, for the start of October, brave the elements and head to Hollins Market to hear guest DJ Ty Jesso of Providence spin the best vintage vinyl in the basement of Lithuanian Hall. Motown, Stax, funk, soul, and R&B will all be on deck, with cheap beers and honey shots flowing all night.