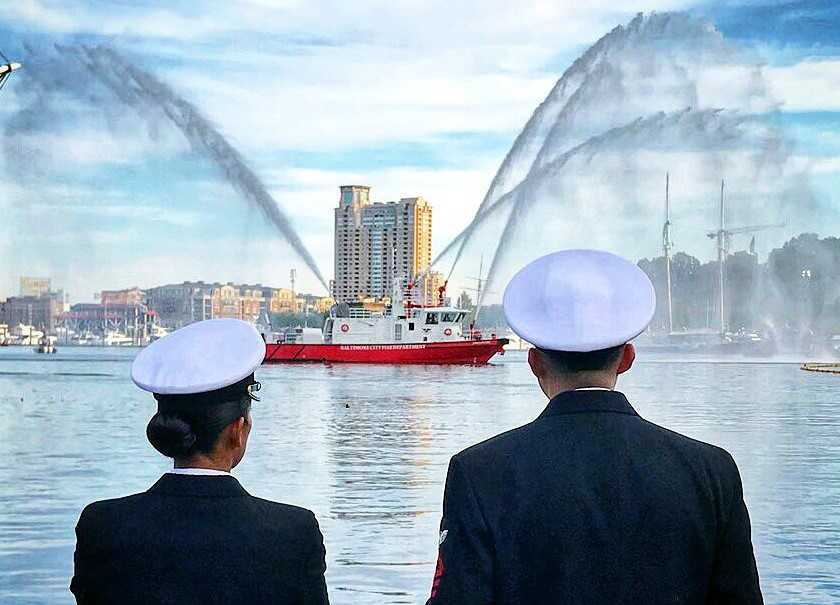 WJZ
EAT
Mt. Vernon Marketplace, 520 Park Ave. 7 p.m. Free.
Somehow, it's already been three years since one of the city's best shuckin' teams started slinging Skinny Dipper oysters and other bay-fresh seafood to hungry crowds at Mount Vernon Marketplace and events around town. This Friday, celebrate their third anniversary in typical Local Oyster fashion with pours by Union Craft Brewing, a live performance by local blues legend Ursula Ricks Project, and, of course, tons of half shells by True Chesapeake Oyster Co.
DRINK
Locations, times, and prices vary.
Once the anchors drop, it's time to raise a glass to our city's nautical history and the U.S., Canadian, and British Naval ships and vessels that will occupy our waters during this week-long extravaganza. Start the Fleet Week festivities on Friday afternoon with a celebration at West Shore Park, featuring brews from local favorites like Heavy Seas, Atlas Bew Works, and Union Craft Brewing. In between behind-the-scenes tours of the docked ships and checking out the Fleet Week Festival at the Inner Harbor, take advantage of this weekend's seafaring specials like exclusive cocktails at Wit & Wisdom and military discounts at Old Line Spirits.
SEE
The Baltimore Museum of Art, 10 Art Museum Dr. Wed.- Sun. 10 a.m.-5 p.m. Free-$15.
Whether you're a fan of his outlandish films or you're still recovering from that infamous scene from Pink Flamingos, there's no denying that John Waters is a living legend in the city's arts scene. On Sunday, The Baltimore Museum of Art will unveil this first-ever retrospective of the Pope of Trash's visual arts career, featuring more than 160 of his provocative photos, sculptures, and video and sound works from the past few decades. From black-and-white stills from his 1970 film Multiple Maniacs to a campaign button that reads "Have Sex In A Voting Booth!" take in this one-of-a-kind exhibition during its opening weekend to get a glimpse into the life and mind of one of Charm City's most notorious characters.
HEAR
The Peale Center, 225 N. Holliday St. $15-25.
For one weekend only, transport to a post-apocalyptic world during this Afro-futurist opera-ballet that challenges popular notions of heroism, morality, and futurism. Produced by rising local performance collective Afro House, this mythical production features soundscapes that flow from sci-fi-esque punk accents to traditional gospel, blues, and jazz sounds to convey the story of a future where the world has been charred by the heat of two suns. Accented by choral accompaniments, the show's powerful composition takes this awe-inspiring production to a whole new level.
DO
Industrial Arts Collective, 22 W. North Ave. 5-9 p.m. Free.
Since it appeared at the former Space Camp art gallery back in 2015, this pop-up shop has grown into a locally loved tradition that promotes the best of the city's maker community. This year, the Made in Baltimore shop will kick off its five-month run by transforming Station North's Ynot Lot into a makeshift beer garden so shoppers can sip on local brews while browsing through goods from more than 70 area vendors. Stop by on Friday afternoon to shop local and support area makers like B. Willow, Knits Soy & Metal, and Tiny Dog Press.