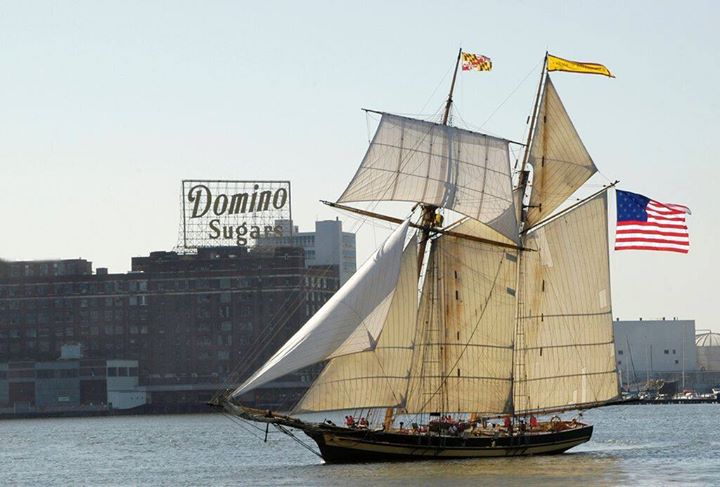 Photography by Bill McAllen.
Five things to eat, drink, see, hear, and do with your Charm City weekend.
EAT
September 12-13: Baltimore Ukrainian Festival
Patterson Park, 400 S. Linwood & Eastern Ave. Sat. 12-9 p.m. Sun. 12-7 p.m. Free. 410-967-0501. ukrainianfestival.net.
Get to know Baltimore's thriving Ukrainian community this weekend at the 39th annual Ukrainian Festival. Amidst the rolling hills of Patterson Park, this lively tradition celebrates the culture and heritage of the breadbasket of Europe, with music, dance, a beer garden, and best of all, lots of authentic cuisine. Feast on Eastern European classics like pierogies, stuffed cabbage rolls, borscht, sausage, shish kebobs, and homemade bread, as well as local favorites like pit beef, fried dough, and ice cream. Explore folk art traditions with arts and craft vendors and take home some novelties like ceramics, embroidered clothing, and hand-painted pysanka eggs. To cap things off, work off those unleavened dumplings with an evening dance from 6-9 p.m.
DRINK
September 12: Heavy Seas Beer & Bacon Festival
Heavy Seas Brewery, 4615 Hollins Ferry Rd., Halethorpe. 12-4 p.m. $59, all-inclusive. hsbeer.com.
Of all culinary combinations—salt and pepper, peanut butter and jelly, peas and carrots—beer and bacon might be one of the very best. Indulge in this perfect pairing at Heavy Seas on Saturday, with an all-you-can-taste festival at its Halethorpe brewery. Tilt back some 12 beers on tap, sip on specialty casks, and nibble on a bounty of bacon-riddled treats, including some by Dangerously Delicious Pies. Get down to live, funky, soulful rock by the local Jordan August Band, and if you find yourself too pickled (or porked) to drive home, use the Uber promo code: HEAVYSEAS15.
SEE
September 11-13: Defender's Day
Fort McHenry National Monument & Historic Shrine, 2400 E. Fort Ave. Fri. 7 p.m., Sat. 9 a.m.-9 p.m., Sun. 9 a.m.-3 p.m. Daytime events, Free-$10; Saturday evening fireworks, free; Saturday evening party, $15-75. 410-962-4290. friendsoffortmchenry.org.
Did you know that Defender's Day is Baltimore's oldest holiday? It takes place this weekend, with three full days of activities to commemorate Fort McHenry's successful defense of the city from British attack and the writing of the lyrics to "The Star-Spangled Banner" in 1814. On Friday, follow the Fort McHenry Guard Fife & Drum Corps as they lead a parade procession from Under Armour and Tide Point through Locust Point. The rest of the weekend features dozens of historians, military and musket drills, cooking demos, live music, and deck tours and day sails aboard the Pride of Baltimore II, pictured above. The main event takes place on Saturday at 6:30 p.m., with a parade, big band concert, and free fireworks show at twilight's last gleaming, followed by a ticketed evening party with Ryleigh's and Heavy Seas. Partake in some or all and tip your hat to the land of the free and the home of the brave.
HEAR
September 11: Natural Velvet
The Crown, 1910 N. Charles St. 8 p.m. $6. 410-625-4848. facebook.com.
We're kind of obsessed with Natural Velvet. This badass Baltimore band rocked the socks off the Baltimore Rock Opera Society crowd at this year's Artscape with their raw, rip-roaring, post-punk sound, and now they're releasing a new album full of that same unapologetic style. Whether she's letting out a piercing howl or a low, lovesick, Morrissey-esque monotone, frontwoman Corynne Ostermann is mesmerizing on the mic and bass while her band mates build and burn and command the stage in their own right, right behind her. Their third release, She is Me, is out now via Friends Records but you can hear them live with opening acts Pellars, Other Colors, and Thee Lexington Arrows on Friday at The Crown.
DO
September 11-12: FlowerMart 2015

Mt. Vernon Park, N. Charles St. & Mt. Vernon Pl. 11 a.m.-7 p.m. Free. 410-274-5353. flowermart.org.
This weekend, the city's century-old FlowerMart returns to Mt. Vernon after being rescheduled in May, following this past spring's unrest. Now bigger and better than ever, the flower and garden market features over 150 vendors, live entertainment, and a feast of food, including Charm City classics like crab cakes, lemon sticks, and pit beef. Kick it all off with a Floral Cocktail Party at the Maryland Historical Society on Friday night, then soak up some late-summer sun, grab some seeds for your fall garden, and wander up the newly restored Washington Monument (all 227 steps of it), now open to the public and free on Saturdays.