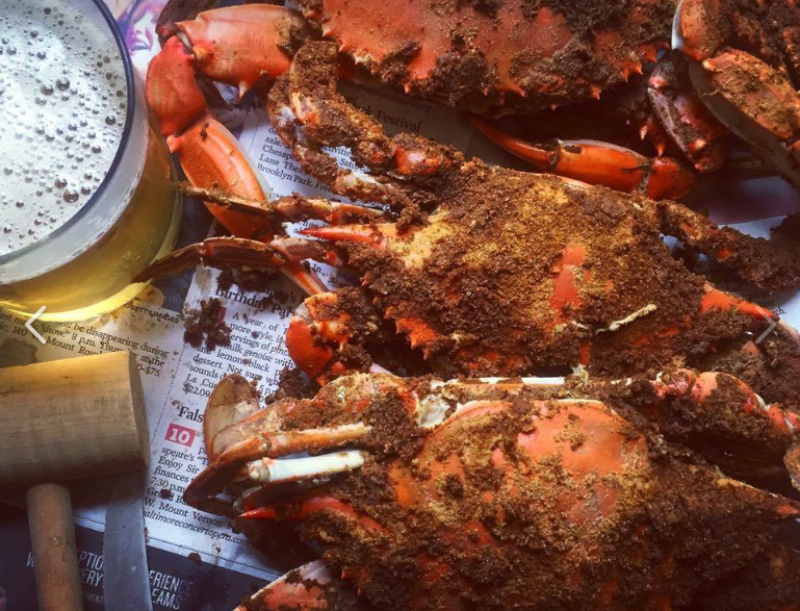 Five things to eat, drink, see, hear, and do with your Charm City weekend.
 EAT
Canton Waterfront Park, 3001 Boston St. 12-7 p.m. Free-$99.   
Maryland and seafood go together like Old Bay and, well, pretty much anything. The crab season might be reaching its end (aka its peak), but oyster season is officially upon us, and there's rarely a better time for rockfish. At this waterfront festival, now in its fourth year, join fellow seafood-lovers for sea-fare of all fashions, like Faidley's crab cakes, fried oyster tacos, and the ever-classic lobster roll, plus cooking demos, live music, and activities for the kids.
 DRINK
Mount Vernon Marketplace, 520 Park Ave. 12-10 p.m. Free.
Remember ParkFest, Mt. Vernon Marketplace's first summer block party? Well, that was so last year—it's all about Parktoberfest now. Despite the festival will still celebrate Charm City through delicious eats, lots of beer, and groovy tunes. Outside on the city streets, enjoy the cool September air and sip on Union Craft beers, as well as cocktails from Cultured, drafts from Taps Fill Station, and other local brews from throughout the marketplace. To soak up the suds, sample your way through the market's around-the-word offerings, from Pinch's traditional pork dumplings to the new Cucina Al Volo's ravioli di burrata to those R-month oysters at The Local Oyster. Once you're satiated, continue raving in the revelry with a plethora of crafters' booths and a fresh local music lineup featuring gypsy jazz group Ultrafaux, experimental duo Holy Ghost Party, and old-school DJ Rob Macy.
 SEE
Baltimore Theatre Project, 45 W. Preston St. 8-11:59 p.m. Free-$15.
While some might argue that Baltimore has lost its edge, the city's eclectic arts scene is never more alive and well than during the annual High Zero arts festival. Now in its 19th year, musical mad scientists and world-class creatives will defy genre expectations and reinvent music as we know it with expert and out-there improvisations. Half of the core musicians are Baltimore locals, such as abujaphone player Baba L'Salaam and vintage Casio keyboardist Maria Shesiuk, validating the virtuosic talent of the city's experimental music subculture. Embrace the alternative with a new range of audio possibilities.
 HEAR
WTMD Studios, 1 Olympic Pl., Towson. 7:30-11 p.m. $15-17. 
When we first heard of Outcalls earlier this year, we couldn't get enough of their debut single, "No King." This weekend, they're finally releasing their first EP, featuring four tracks and two remixes, and while you'll have to wait for our full review in the October issue, we'll just say: it's friggin' awesome. This weekend, catch a live broadcast of the female-fronted sextet's hypnotic melodies and edgy beats, plus a sneak peek of their first music video. Led by Baltimore opera queens Melissa Wimbish and Britt Olsen-Ecker, both classically trained at Peabody Conservatory, the band is making waves with its dreamy vocals, lush electronic instrumentation, and rich alt-baroque sound. Be sure to arrive early as stellar local acts Super City and J Pope and the HearNow will be kicking things off, but be sure to don your best regal garb. You might get crowned the best-dressed royal of the night.
 DO
Centennial Park, 10000 Clarksville Pike, Ellicott City. 10 a.m.-7 p.m. Free. 
There's more to Korean culture than kimchi and bibimbap (though we love them both). Since 1977, the ever-growing Korean-American population in Baltimore has been sharing its vibrant traditions with the local community. With 15,000 attendants last year, this 40th annual event proves to be a public favorite. Located at the beautiful Centennial Park in Ellicott City, the celebration features eight hours of non-stop entertainment—from taekwondo demonstrations and traditional fan dances to rising k-pop stars like HeeSun Lee and singer-songwriter Dabit. Food trucks will be serving up mainstream Korean dishes like bulgogi and japchae, and a pojangmacha-style beer garden will pay homage to South Korea's pop-up street bars. But drivers beware: there will be no public parking at Centennial Park, so make sure to leave your car at one of the six satellite parking locations.