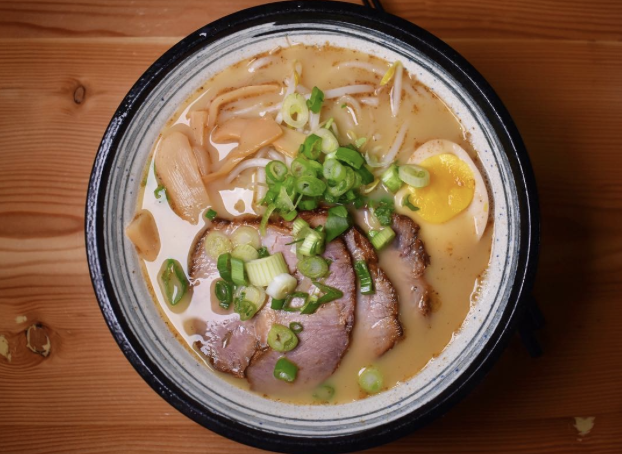 @choisauceboss via Instagram
The new 500-foot skyscraper on the corner of Light and Conway streets downtown is now the tallest residential building in the city—and its luxe amenities are also raising the bar.
When it welcomes its first wave of residents next month, 414 Light Street will be equipped with condominium-style living spaces, a yoga studio, a pet spa, multipurpose activity lawns, and a pool deck with jumbo television screens and cabanas overlooking the Inner Harbor skyline.
But aside from the recreational space, another major part of the project from Pikesville-based Questar Properties will be its food offerings—both for residents and the general public. In addition to an al fresco bar and indoor entertainment kitchen for tenants, the property features 12,300 square feet of street-level retail space that will be occupied by four restaurant concepts.
"The restaurant component really dovetails into the theme of our building," says Questar's president and CEO Stephen M. Gorn. "We have a health and wellness program, and a quality concierge that will cater to the living experience of our residents. And food is a big part of that experience."
Gorn is hoping to introduce a variety of food options in the retail space, including an Italian or Middle Eastern sit-down restaurant and a vegan eatery. He says that Questar currently has a letter of intent from a well-known restaurateur who is looking to bring a plant-based concept to the area. Though that deal has not yet been fully fleshed out, the developer has officially leased a portion of the retail space to Shigehiko Okiebisu, who owns Kippo Ramen in Fells Point.
"The Inner Harbor is one of the places I drive by most," Okiebisu says. "It's a symbol for Baltimore. And with all of the office buildings and tourists, it seemed like a great place to bring Japanese ramen."
Slated to open in mid-November, Ramen Utsuke will take after its sister-spot with its traditional Japanese noodle dishes. But Okiebisu says that the downtown location will have its own identity, highlighting a wider array of to-go items for downtown professionals.
"Noodles get soggy when you order them to go," he says. "They lose their consistency and the soup is no longer hot. Here, we want to focus on easier takeout dishes, like bento boxes and steamed bun sandwiches, that people can grab and take back to the office."
For sit-down service, the restaurant will, of course, showcase its signature ramen bowls with add-ins like sprouts, soft-boiled eggs, and seaweed. While Okiebisu tends to serve thick chicken and pork broths at Kippo, he is hoping to offer a more clear, drinkable soup at Ramen Utsuke—whose name translates to "ramen crazy."
"Nowadays not too many people use the word 'utsuke,' so you can take it many ways," he says. "But there are some people who are against ramen stores offering any other dishes. I wanted to do something a little different and crazy that other people wouldn't do."
The 80-seat eatery will feature a contemporary design with a large open kitchen, 27-foot ceilings, an outdoor patio, and a mixture of booth, high-top, and communal tables inside. The property is also equipped with its own 460-space parking garage, which diners will have access to.
Gorn is looking forward to creating a relationship between the retailers and tenants, mentioning that he is planning to have some of the chefs host interactive cooking classes in the tower's seventh-floor kitchen. The educational aspect aligns well with Okiebisu's mission, which is to create an authentic experience for local diners.
"Ramen is a very humble dish in Japan," he says. "Just like a chicken wing or pizza place in Baltimore. I don't want to do anything special with it, I just want to introduce humble Japanese food to the people of Baltimore. I believe that's a huge part of my life."