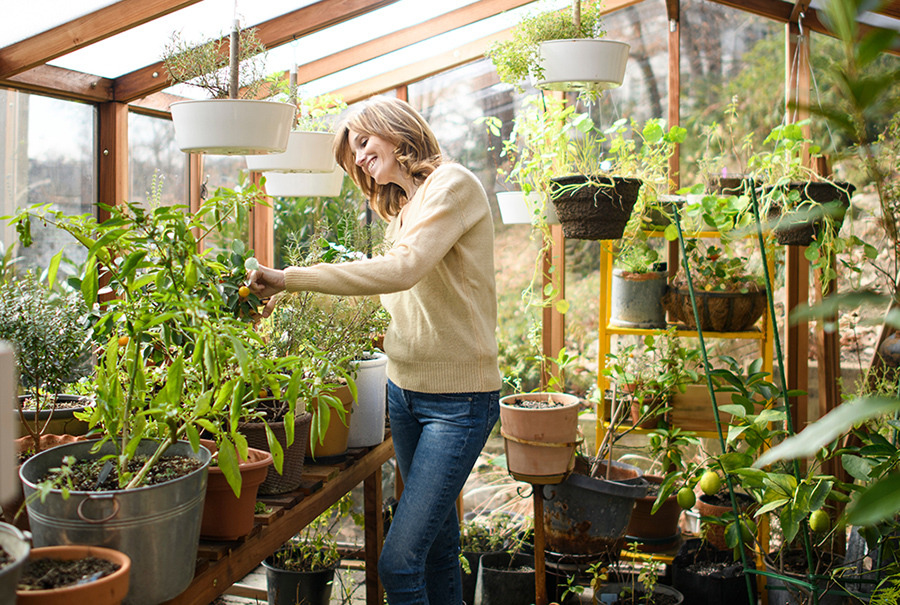 Matt Roth
To say that Amy Gjerde has a green thumb is a bit of an understatement. Gjerde, co-owner of Woodberry Kitchen, Artifact, Parts & Labor, Sandlot, and Bird in Hand, grows hundreds of plants and herbs not only for decorative purposes, but also for use in the kitchens of her farm-to-fork spots. "Plants can take an ordinary, unassuming space and make it colorful and interesting," says Gjerde, "and they make the air around them fresher and lighter."
Gjerde says she loves the endless diversity of plants that are out there. "Adding plants to a space brings with it a mysterious, 'I wonder what that is' feeling," she says. "When I walk into my greenhouse, especially in the winter, I instantly feel happier, calmer, and more connected." In the doldrums of winter, we caught up with the constant gardener to discuss the art of growing. 
What kinds of plants do you grow for your restaurants?   
At Woodberry, I grow a mix of herbs (chives, basil, thai basil, sage, rosemary, lavender, scented geranium, lemongrass), and mostly perennials like false indigo, St. John's wort, and grasses. Over the years, I've gotten away from annuals with the exception of coleus, which this year I grew from seed. I also love to incorporate shrubs and trees like Crepe Myrtle, Beautyberry, and hydrangea. At Artifact, the sun is very intense so I've moved to plants which need a less water and can withstand the heat. A couple of years ago, I planted roses. Amazingly enough they have thrived and are stunning! My favorite herb to grow at Artifact is bronze fennel. The fronds are adored by our chefs, and then in the fall we winnow the seed. 
Where do you do the actual growing?
I grow most of my herbs for the restaurant at my home in Roland Park. About a year ago, I had a greenhouse built. It's only 11' x 12' but it allows me to start seed, grow tropicals, and propagate. In addition to herbs, citrus is the big crop I enjoy growing for our places. Two to three years we stopped using citrus in all of our restaurants. I've been able to grow Meyer lemons, limes, calamondin, and I'm starting with some oranges and one grapefruit tree. This past summer, I sold herbs I grew from seed at P&L, as well as tomatoes from seed. 
I know you grow a lot of basil. I had no idea there was more than a few types.
At home, I grow 9 to 10 varieties of basil—Holy, Thai, Mrs. Burn's lemon, Persian, Mammoth, Eritrean, Cardinal, cinnamon, and Blue Spice. I have so many basil plants in my greenhouse, there will probably be casualties to make room for the citrus as it gets colder. I planted a front yard garden this year with lots of nasturtiums, variegated sage, apple mint, amaranth, tomatoes, strawberries, blackberries, onions, wild oregano, thyme, orange mint, Goldenrod, and shishito peppers. I was nervous about the amount of shade I get, but the garden did well. I'm probably going to skip tomatoes this year, though. I added shiso to the mix this year. Spike has always loved shiso, from the mint family, so I gave it a try. I'm growing Shiso Britton and Shiso Asia. Woodberry Kitchen has been using the green shiso the past couple of months by wrapping trout and chanterelles in the big leaves. 
Are they mostly herbs used in cooking/for drinks or are they decorative, as well? 
What I grow for the restaurant's ends up either with the chefs, Rachel our pastry chef, or our bar. Herbs end up being used, and sometimes fought over, by all three, especially sweet mint. My Meyer lemons, calamondin and limes typically go to the bar and made into tinctures. Last year, I filled jars with local honey and Meyer lemons, as well as calamondin. Our baristas snapped it up and made this delicious hot tea drink. When you don't have availability to an ingredient widely used as citrus, the excitement over having five lemons or 15 calamondin is enjoyable and satisfying to watch. 
Do you maintain the plants yourself?
Mostly, I have an awesome assistant, Fred Struever. Fred helps me take plants back and forth to my home (I often pot the plants at home and then arrange them at the restaurants), helps with compost, from Ben at Blue Moon, and he's especially great at helping keep my greenhouse going. The staff at the restaurants help by watering. José at Artifact is my sympatico gardener. 
What do you like about gardening? 
The physicality, being outdoors, and the satisfaction of watching a plant grow and thrive. I'm still amazed at how something goes from a seed to an herb or citrus fruit or vegetable we use in our kitchens.  
What's the secret to being a good gardener? Do you talk to your plants?
When people tell me I have a green thumb, I look at them and say, 'Really?' I think it's like everything in life, when you are doing something you truly love, the people—or plants—around you benefit. I definitely don't talk to my plants, but I'm always thinking good thoughts around them.