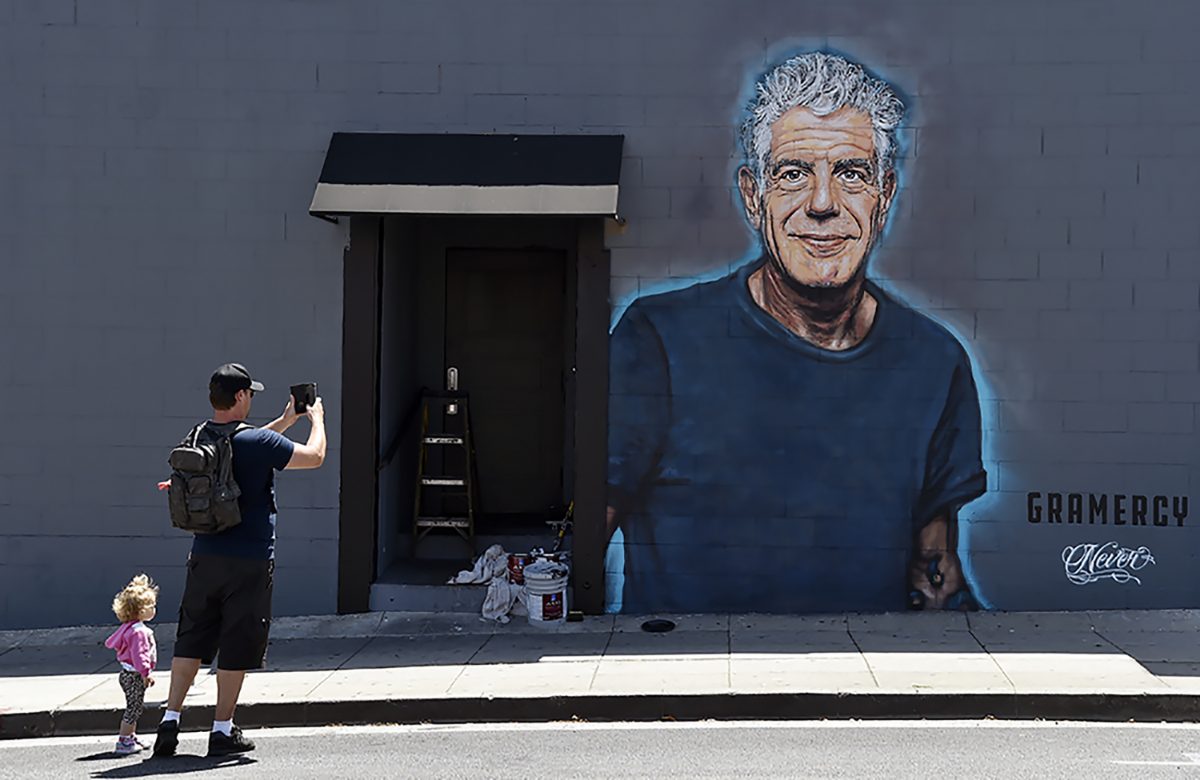 Photo by Chris Pizzello/Invision/AP
Earlier this month, celebrity chefs Éric Ripert and José Andrés took to Instagram to officially declare June 25—the birthday of late chef and famed world traveler Anthony Bourdain—as a day to commemorate the legacy that their friend left behind.
In their video message, the duo urged chefs, colleagues, diners, and supporters of Bourdain's work from around the world to toast the food documentarian on his birthday, "anywhere you want, with anyone you want." Locally, the food community is coming together to celebrate Bourdain's life with food inspired by his adventures, and meaningful discussions about how his philosophies can live on.
"It's just like they said on social media—you have to do something," says Jerry Trice, co-owner and executive chef of Gunther & Co. in Brewers Hill. "Don't let the day pass without acknowledging it."
Trice is participating in Bourdain Day the best way he knows how: He and his team are preparing a special a la carte menu featuring global delicacies influenced by Bourdain's shows No Reservations and Parts Unknown. Among them will be classic steak frites, chicken yakitori with chilled noodles and pork broth, a bone marrow-topped baguette with a salad of shaved shallots and lemon juice, and lamb barbacoa tacos paired with cold cans of Tecate with lime.
"He spoke the truth," Trice says of Bourdain, who took his own life last summer. "He got people thinking about how you have to travel and eat food with complete strangers who speak a different language. To quote José Andrés, 'We need a bigger table, not a higher fence.'"
Global cuisine will also be on the menu at a Bourdain Day event happening at the Maryland Food Bank (MFB). As part of its 40-year anniversary celebration, the Halethorpe facility is hosting an open discussion that will link Bourdain's ethos to its mission to eradicate hunger.
"One thing that stands out about his work is that food is a great equalizer in so many ways," says Jo-Ann Enwezor, campaigns manager for MFB. "It's very cultural. People share meals and recipes as a way of bringing everyone together. We felt it was natural to have an event on Bourdain Day to talk about some of his philosophies around shared meals and breaking barriers."
Following the discussion, attendees will snack on risotto-stuffed mushroom caps, asparagus and asiago phyllo, and ahi tuna crostini prepared by young chefs with MFB's FoodWorks program—a 12-week intensive that allows cooks to prepare food for those in need, while also training to join the culinary workforce. Attendees will also have an opportunity to honor Bourdain's charitable spirit by helping to sort donated food at the MFB.
"Awareness is a big part of the goal," Enwezor says. "I'm looking forward to being in conversation and building a community with people we haven't before."
For Trice's part, he hopes that his dishes can spark larger conversations, not only about the mark Bourdain left on the world, but also about the issues surrounding mental health in the service industry. One year later, many are still grappling with the chef's death. David Simon, creator of The Wire and all-around Baltimore champion, recently started a Twitter chain about how tough it's been to process the loss.
I want to participate in #BourdainDay on Tuesday, his birthday. And I will. But man, it's still so raw. Watching some of his television, dining at his favorites, missing this very fine friend -- is it me, or is it still hard for other folks? I'll rally for the day. But damn.

— David Simon (@AoDespair) June 24, 2019
Overall, chefs hope that the day re-enforces the important lessons that Bourdain taught the world. Perhaps one of the most important—to use travel as a means of understanding cultures different than your own.
"He loathed special orders," Trice says. "If you deconstruct a dish and treat the menu as a list of ingredients, you're not really understanding what the dish is about. Those are the same people he regarded as tourists, rather than travelers. Travelers will leave the hotel for dinner. You have to stumble the streets at night in different countries to really explore."