Cooks Illustrated
Chefs show that tats go way more than skin deep.
What is it about chefs and tattoos? For these top toques, getting ink—and we're not talking squid—is up there with learning the five basic sauces. Historically, tattoos have always factored into kitchen culture, says former Top Chef contestant Jesse Sandlin. "Before the day and age of celebrity chefs, kitchens used to have this ragtag pirate ship-type of mentality," she says. "You didn't have to look a certain way, because you weren't in the public eye. Just as we express ourselves through the food that we serve, it's another avenue of self-expression."
For some chefs, body art is the ultimate fashion statement. "I wanted something that was well done and visually beautiful, an artistic piece created for me to have indefinitely and exclusively," says La Cakerie's Jason Hisley, whose sprawling chest piece features cupcakes, cinnamon sticks, wheat sheaths, and a slice of rainbow cake. "My chest piece is literally like my favorite shirt."
We checked in with Sandlin and Hisley and other area chefs who don't mind flashing a little flesh in the name of art.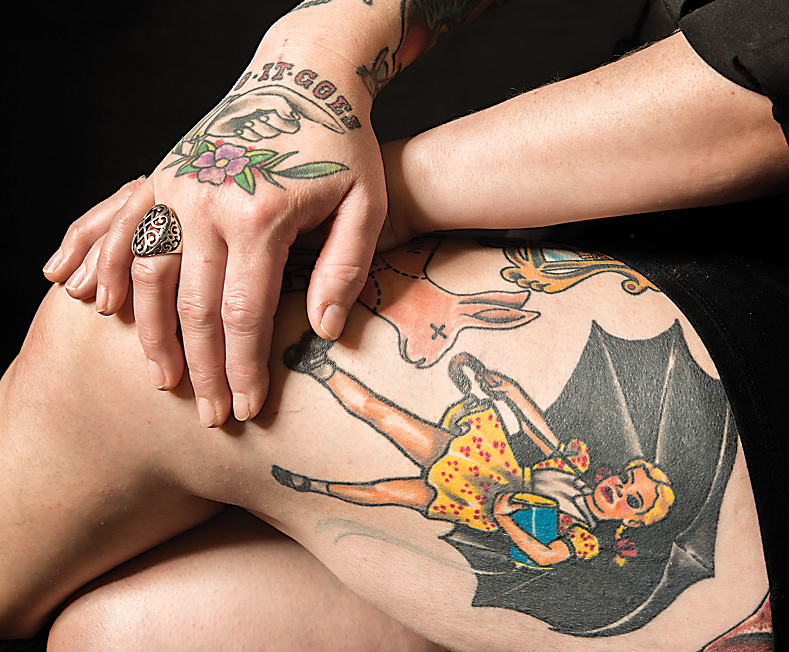 Jesse Sandlin
Director of culinary operations, Mama's Group
Tat Total: I have too many to count. (She guesstimates about 30.) Tale of the Tat: I'm really into pirate culture. In the olden days, when sailors went on ships, they would take pigs and chickens and livestock and pack them onboard in a wooden crate. That way, if they ever ran aground, the crate would keep them afloat, and they could have food if they were ever shipwrecked. In the Flesh: I got [the pig and rooster] tattoos in Las Vegas after I was kicked off Top Chef. I felt very underwater at the time. It was very cathartic.
Josh Hershkovitz
Co-owner/executive chef, Hersh's Pizza
Tat Total: 4 Tale of the Tat: I was looking to do something food-related not long after getting engaged to my wife. I like the old sailor tattoos with the flaming heart that says "Mom." I put Lena's name on it with the pizza, because pizza and my wife are two of my favorite things. In the Flesh: Before I had it done, I called Lena from Little Vinnie's Tattoos in Finksburg and said, "I'm calling to check. When I asked you to marry me, you said, 'yes,' right?"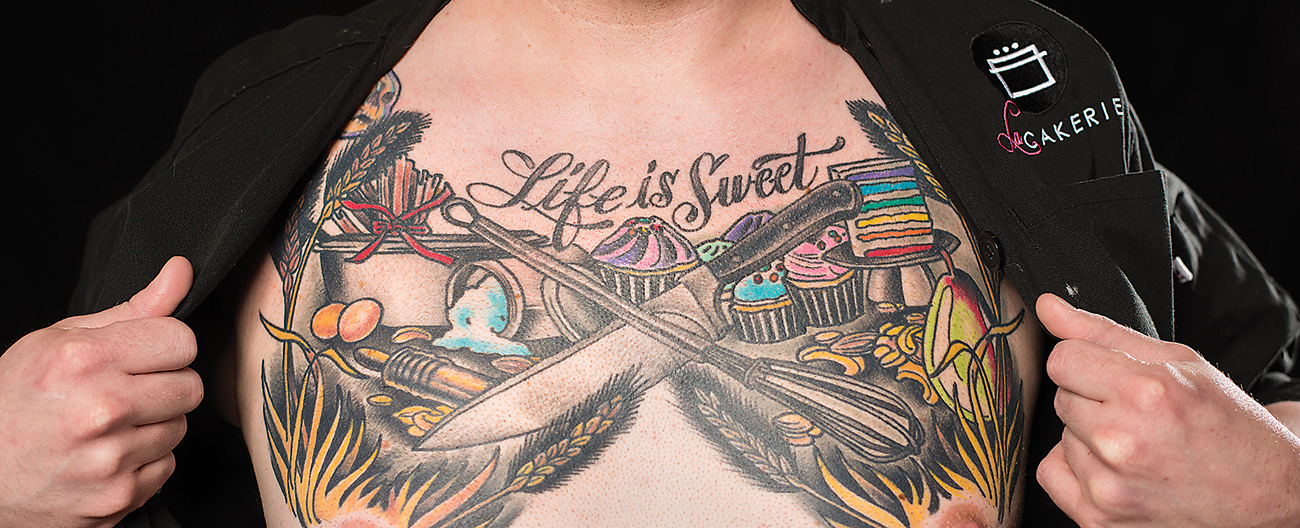 Jason Hisley
Owner/executive chef, La Cakerie
Tat Total: 20-plus Tale of the Tat: Ever since I was a little kid, my life has revolved around pastries and baking. My grandmother was a baker from Czechoslovakia. Baking has always been in my life, and I knew I wanted to pursue it as a career. I wanted to do a tattoo that related to my career. Having 'Life is Sweet' across my chest sums up my view on life as a whole. Yes, it's about sugar and baked goods, but it's also my attitude toward life. In the Flesh: I knew I wanted a crossed chef's knife and whisk, because those are my daily tools—they are like my hands in the kitchen. Then I wanted things that were visually striking and fun, from ingredients to baked goods. I wanted cupcakes because my whole career as a pastry chef spiraled out of control when I won first place on the Food Network's Cupcake Wars. I wanted the slice of rainbow cake, because I'm gay and it's a nod to who I am as a person and also very Baltimore. I thought that I was only going to get the knife and the whisk, but then it became an addiction.
Travis Marley
Executive pastry chef, Pazo, Petit Louis Bistro, Johnny's
Tat Total: 9 Tale of the Tat: I got my first tattoo at Vodou Tattoos in Pasadena. I was 17 and it was a graduation gift from Kent Island High School. I'm from the Eastern Shore and have always wanted to have nautical stars, which are also a symbol that sailors used to identify points on a map. My parents are super important to me and have always been my guiding source. In the Flesh: Getting tattooed is painful, but it's also spiritual for me. Finding a way to channel the pain is a form of meditation.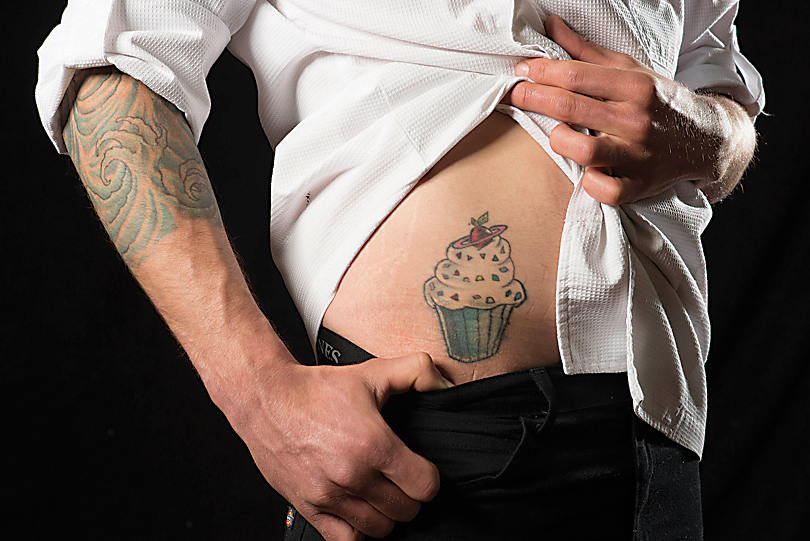 Olivia Lewis
Line cook, Linwoods
Tat Total: 11 Tale of the Tat: My father's side is Russian and Irish, so I have this beautiful matryoshka nesting doll; and my mother's side is Thai, so I have an elephant, which is considered sacred in Thailand. It was important to me that these tats be meaningful. In the Flesh: I had these done in North Hollywood, CA. I knew I wanted something related to my heritage. The tattoo artist threw out a few ideas, and these were the ones I loved the most.
Karin Fuller Tiffany
Co-owner/executive chef, Peter's Inn
Tat Total: 10 Tale of the Tat: I got my first tattoo—a pig; yes, a pig—when I was 19 in Bangor, ME, when I was in the Coast Guard. All my CG friends were getting them, and it sounded cool. Then I got my first food-related tattoo when I was 27 at Little Vinnie's —a sacred heart with a whisk. At the time, I thought I was a true original, but not for long. In the Flesh: My only advice on getting tattooed is to remember that they are permanent, and other people either love or despise them. Being a chef somehow exempts me from too much judgment. I'm B.O.H. [back of the house], and it's a gnarly job.
Ted Stelzenmuller
Co-owner/executive chef, Jack's Bistro
Tat Total: 18 Tale of the Tat: My tattoos are all related to my profession and travels across the world. I got my first tattoo from Seth Ciferri, former owner of Baltimore's Read Street Tattoo Parlour, who now lives in Portland and is a world-recognized tattoo machine builder. This tattoo represents the time my wife and I spent in Madrid. It's done in the style of a watercolor painting. The bull next to the matador is from the flag of the Azores islands to represent Portugal. In the Flesh: Go see Matt Rinks at Ghost Town tattoo shop in Ellicott City. He is a wonderful person and a great artist with a keen eye for composition whom I trust entirely with forever altering my skin.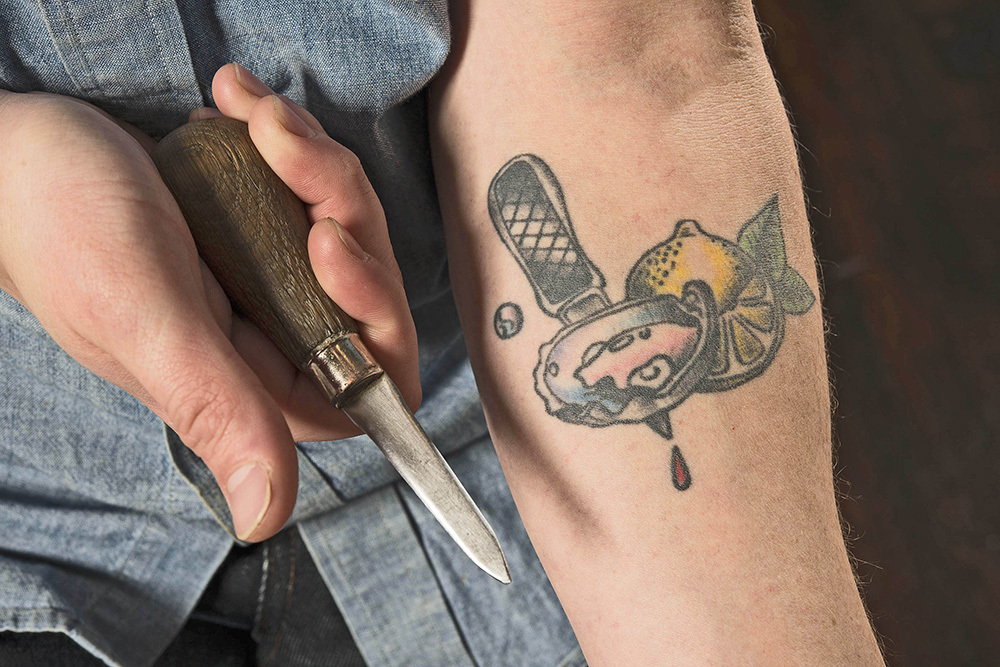 Dylan Salmon
Owner/shucker, Dylan's Oyster Cellar
Tat Total: 1 Tale of the Tat: I'm an artist and had drawn a bunch of different tattoo ideas over the years. Then about three years ago—I was 27, 28—I just got up one morning and did it. I was feeling a little down that day and needed a pick-me-up. But it was right around the same time I started really getting into oysters, so I thought what better way to remind myself every day about why I'm doing this. It's a drawing of my favorite kind of oyster knife and a California oyster, similar to a Kumamoto. At that point, I had just discovered that there were all these other kinds of exotic oysters beyond local bay oysters and I was stoked. In the Flesh: Just make sure you really want to keep it on you forever. At this point, I rarely notice mine, but when I hold my knife in my left hand, I'm literally wearing my oyster badge on my sleeve.
Melanie Molinaro
Former executive chef, Encantada
Tat Total: 5 Tale of the Tat: When I was younger, I always thought tattoos were so cool, so I couldn't wait 'til I was old enough to start getting tattoos. I got my first tattoo when I was 18. It was a rose with the word forza under it, which means pride. I'm Italian, so I wanted something that I was going to be proud of. Since then, most of my kitchen tattoos are to commemorate the restaurants I've worked at. The pig is for Birroteca, since their mascot is a wild boar. I plan on getting a radish for Encantada. In the Flesh: Start small and build your collection. I think of tattoos as a body of artwork. It's cool that you can see the transitions in my life because they are on my skin.
---
---
Q&A: Needle Man
Tattoo artist Hunter Spanks talks tats—and heirloom veggies.
Hunter Spanks's first tattoo was a cobra he tattooed on his own thigh at age 15. These days, he practices his art form at Hampden's Have Fun Be Lucky Tattoo, where he tattoos everyone from chefs (including Jason Hisley's tats) to corporate types. While he was tattooing Technicolor hamsas, lotus flowers, and an elephant on a client, we sat down with Spanks to get insider info on his ink work. "Why do people get tattooed?" he mused. "I have no idea. It's just fun and silly. Some people give it way too much thought. It's an art form being put on a dying canvas."
How many people have you tattooed through the years?
The business has really changed a lot. The first five years, I averaged 120 to 150 tattoos a month. But these days, things have changed. Everything is customized. Now I do anywhere between two to four a day.
Why do so many chefs, in particular, get tattooed?
Generally, you're not seen by the public, so no one cares. Tattoos are becoming more commonplace for chefs. It started because the boss didn't care whether the [kitchen staff] got tattooed or not.
What kinds of things have you tattooed on chefs?
I've tattooed everything from a pig to hot dogs and hamburgers. I've also done a lot of fruit like apples and oranges and vegetables. I just tattooed a chef the other week who wanted heirloom vegetables.
Are there any do's and don'ts?
If you're so drunk that you can't stand up, you're not going to sit still for a tattoo, so that's not going to work for me. But if a couple of drinks is going to relax you, I encourage it.
What about getting the name of a current love interest. Is that a no-no?
After tattooing for 25 years, I'm not your parents. That girl whose name you want tattooed on you might be with you in the future or she might not be. I'm going to tattoo you because, hell, when you got it, you had a good time, and when she breaks up with you, you're going to spend a shitload of money getting it covered up.