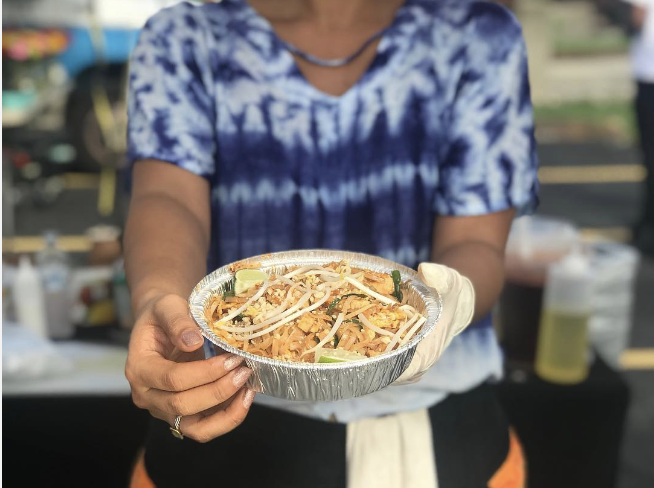 @thai.street via Instagram
Last year, Stephanie Hsu was assisting the Ekiben team with a pop-up at R. House in Remington when they realized that they needed bubble tea to test in their recipes. Normally, Hsu would make the trip to her favorite Asian market in the county to buy the ingredient, but she was short on time.
She remembered hearing about Po Tung, an ethnic grocery store on the 300 block of Park Avenue downtown, which is situated in the heart of Baltimore's historic Chinatown.
"That was the first time I had ever been on Park Avenue," remembers Hsu, the former marketing and events director for R. House. "When I was walking up and down the street, I had this realization of generations that had been there before. There is a history there that is not widely shared and not widely known."
Feeling inspired, Hsu dug deep into the archives of the Enoch Pratt Free Library and the Maryland Historical Society to learn more about the history of Asian-American immigrants in Baltimore. After months of research, she and other local descendants have formed The Chinatown Collective—a group that works to celebrate the contributions of Asian-Americans and their deep-rooted heritage in the city.
"We want to acknowledge the stories of the immigrants and their families that have come before us," Hsu says. "But at the same time, it's about the entire community coming together and saying, 'This is who we are now.'"
That mission is exactly what the collective is hoping to highlight with the first-ever Charm City Night Market on September 22 from 4-11 p.m. The outdoor block party will extend from the green space at 200 Park Avenue down to Lexington Market—a footprint which overlaps with what was once a bustling hub for Asian-American arts, food, and commerce from the late 1800s to the 1940s.
Coinciding with Asia's traditional Lunar Mid-Autumn Festival, the free event will feature an illuminated lantern walk along Lexington Street where visitors can peruse visual art, crafts, and jewelry from the likes of Priya Means Love and Filipino-American sister duo Timpla.
Attendees can expect to sample eats from local Asian-fusion vendors including Ekiben, Thai Street, Mera Kitchen Collective, and Mochichi—a new Korean shaved ice concept from Steve Cho who owns Sausage Master inside Lexington Market.
The drink offerings, helmed by Phil Han of Dooby's and Sugarvale, will spotlight beer and spirits such as sake and soju.
"We want to showcase how Asian ingredients can be incorporated into a drink that's fun and easy to enjoy," Han says. "Some of the sakes can add this nice, subtle creaminess to a drink that you might not expect."
From a food standpoint, Han says that the event is in line with the increased awareness of Asian cuisine in Baltimore.
"Five years ago, the word 'Korean' being on a menu was so sparse," he says. "Now we're seeing more dishes with Chinese, Korean, and Thai ingredients appearing on New American menus across town. That kind of exposure makes it more encouraging for Asian restaurants to keep growing."
The festival will also feature live performances from Korean drumming troupe Samulnori and the Baltimore Dance Crews Project, which was founded by two Filipino-American hip-hop dancers who work with local students to choreograph pieces inspired by their feelings on social justice issues.
Hsu credits the inspiration for the event to Kitty Chin, a 90-year-old Asian-American immigrant who vividly remembers the once-bustling Chinatown. After the community eventually faded away, Chin and her late-husband, Calvin, hoped to revive the district to be inclusive of all of the different Asian cultures that had converged in Baltimore by the late '70s.
"They wanted to bring people back to that area," Hsu says. "Not as a Chinatown specifically, but as a pan-Asian hub that would then incorporate a lot of the other Asian immigrant communities that were moving into the city at that time. Now we're taking their vision and expanding on it to reflect what the city looks like now."
Aside from raising awareness about the venue and its origins, Hsu says that she hopes Asian-Americans of all ages come to the event and feel connected to the rich immigrant culture in the city.
"We hope it expands on the idea that Asian food isn't just Chinese food," she says. "There are a lot of different cuisines and nuances, and maybe people will find a new favorite. At the end of the day, I think we'll be pretty happy if people have a good conversation with someone about their own culture or experience a different culture in a deeper way."