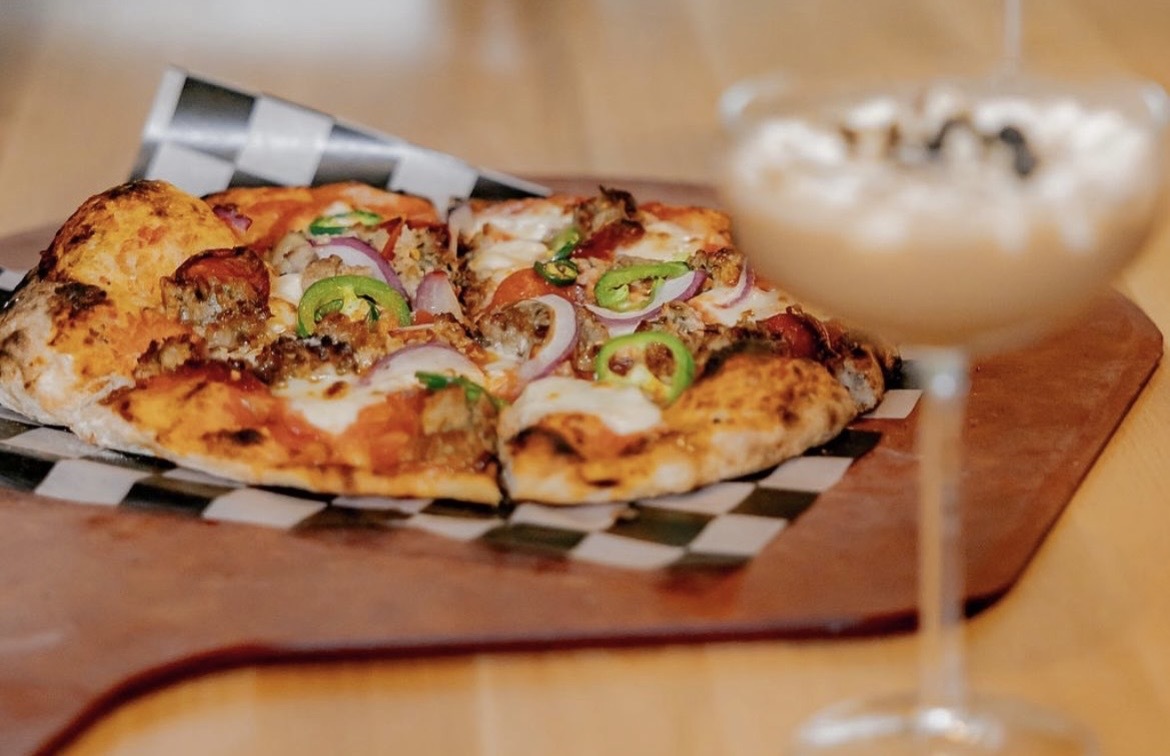 —Courtesy of Locals Only via Instagram
Locals Only: Starting tomorrow, Federal Hill will be home to a new pizza joint. From Andrew Wheeler, partner at neighborhood standby The Charles, Locals Only will offer a fun, playful vibe that's apparent right from a look at the menu—which is divided down the middle between "pizza" and "not pizza." Expect witty pie names like the "Street Corn Named Desire" (corn, jalapeño, and Flamin' Hot Cheetos) and "Star Crust Lovers" topped with basil pesto, house sausage, and red peppers. On the other side, patrons will find comfort food like "mac-o-rella" sticks, crispy wings, house-baked feta, and a play on a charcuterie board dubbed "The Lunchable." Beverages have the same fun ethos, from limoncello shots—as an homage to a traditional Neapolitan pizza joint—to espresso martinis. 
"We weren't trying to overthink it," Wheeler says. "I've been in the neighborhood for 15 years now, and I understand the clientele. They don't want something that's stuck up or too fancy. They want cost-effective offerings that are fun, and a playful vibe to go with that."
Located in the former home of PALM and Social Pub and Pie at 25 E. Cross St., the spot features an open-concept design with an elongated bar—similar to the look of The Charles. When the second floor eventually opens, it will offer space for private events and a small outdoor patio. On the first floor, expect two garage doors that contribute to an indoor-outdoor feel when it's nice out.
Wheeler says they're also exploring the option of delivery via UberEats and DoorDash, plus brunch and extended kitchen hours for neighborhood revelers in need of a late-night slice.
"If you like pizza, you're gonna love the place," Wheeler sums up. "Our chef, [Corey Pastor], is super talented, and he's cranking out really fun and creative pies."
BEER BULLETIN
Heavy Seas Launches Its Own Blonde Ale: On the heels of news that Guinness will stop manufacturing its beer, including its Baltimore Blonde, in Maryland, Heavy Seas Beer has released its own take on a blonde ale, the BOHdacious Blonde. The release comes after Heavy Seas offered to take over local brewing operations for Diageo, Guinness's parent company, which ultimately decided to relocate production to New York. "There have been significant changes in the craft beer industry recently, both nationally and in Maryland," said brand manager Caroline Sisson in a press release. "As pioneers in our region, we have played a longstanding role in shaping the Maryland craft brewing scene. BOHdacious Blonde is a tribute to Maryland and its craft beer culture." The easy-drinking, 4.5 percent ABV ale will initially be available in six-packs of 12-oz. cans and on draft. It'll be distributed exclusively in Maryland starting Sept. 5, but can be purchased at the Heavy Seas taproom in Halethorpe starting this Friday.
Checkerspot Brewing Will Reopen in New Home—and a New Brewery Will Move In: Tomorrow, beloved SoBo brewery Checkerspot will officially open the doors at its new home at 1421 Ridgely St., a move that will increase its beer production. The brewery's new taproom, near M&T Bank Stadium and Topgolf, will be part of a walkable craft beer district near the stadiums in South Baltimore, joining Pickett Brewing Company, Suspended Brewing Company, and Wico Street Beer Co. And to make the move even more kismet, a new brewery will open in Checkerspot's old space at 175 Ostend St. on Sept. 3. M8 Beer promises brews with an "Aussie twist," as it's helmed by Jeff Osborne, an Australian native and former professional squash player who moved to Baltimore in 1999. 
EPICUREAN EVENTS
9/1-9/30: Corks for a Cause at Old Westminster Winery
Throughout Blood Cancer Awareness Month in September, Old Westminster Winery is raising money for Be The Match, a nonprofit that connects patients with donor matches for life-saving bone marrow transplants. It's a cause that hits close to home for the Carroll County winery, as its co-founder, Drew Baker, was diagnosed with leukemia in April 2022. During the month, the Carroll County winery will donate $1 for every bottle sold in its tasting room. Additionally, other restaurants in the Mid-Atlantic and beyond—including Woodberry Kitchen, Fadensonnen, Foraged, Hex Superette, and Preserve—are also donating a portion of their proceeds of all Old Westminster wine sales directly to Be The Match. The winery will match those donations by 100 percent. 
9/3: The Dive Dinner Experience at Rooted Rotisserie 
Forthcoming Southwest Baltimore restaurant Rooted Rotisserie is hosting a special dinner experience this Sunday. Chef Joseph Burton—who's behind the concept, along with his wife, Amanda Burton—will take patrons through "the story of his ups and downs on the way to opening his first restaurant." Burton will prepare five courses that each represent a different part of his journey. The menu will include broiled crab cakes, red wine-braised beef shank, shrimp gumbo, rotisserie chicken (surely a peek at what to expect from the restaurant's French rotisserie-style cooking), and mixed berry lemon posset. Tickets are $135. 
9/6: Taste of the Mediterranean Dinner Series at The Tilted Row
The Tiled Row in Bolton Hill is launching a new monthly dinner series that will focus on cuisines found throughout the Mediterranean. On the first Wednesday of each month, expect a three-course prix-fixe honoring a different Mediterranean cuisine. First up on Sept. 6 will be the cuisine of France. Executive chef Amy Hessel will prepare French classics like salad lyonnaise, steak tartare, and coq au vin. For dessert: a Tarte Tatin with vanilla bean ice cream and fleur de sel caramel. Can't make it this month? The restaurant has the rest of 2023 planned, with Lebanon cuisine in October, Spain in November, and Italy in December. Visit The Tiled Row's website for tickets. 
SHUT
Bar 1801: This hidden gem bar, restaurant, and live performance venue in Upper Fells Point will host its last service this Saturday. The owners of Bar 1801 shared on social media that they "cannot proceed with operations without the essential live music component." According to reporting by The Baltimore Sun, the bar was recently denied zoning for live jazz nights. On the bright side, owners Matthew Steinberg and Vaughn Weitzman's Canton cocktail bar, Kenwood Tavern, remains open.