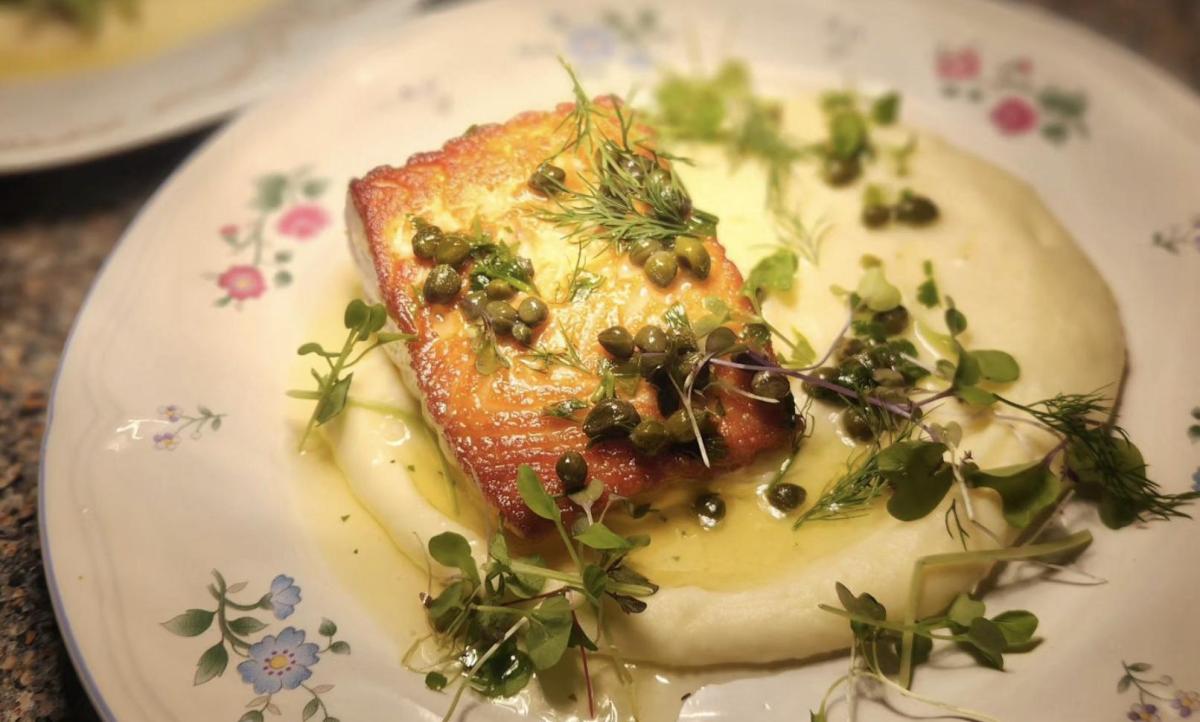 The salmon meunière at Rooted Rotisserie, now open in Hollins Market. —Courtesy of Rooted Rotisserie via Instagram
Rooted Rotisserie: When we last spoke with Amanda Burton, she was deep in the process of opening Rooted Rotisserie—a French rotisserie-style concept she created with her husband, Joe Burton, inspired by their travels to France and markets they frequented in Bastille. Now, the Southwest Baltimore restaurant is officially open at 1116 Hollins St., directly across from Hollins Market.
"People were shocked that they now have something like this within walking distance," Amanda says about the opening, adding that the reception has been warm. "I don't think there's anything else like this in the neighborhood."
The signature dish is, of course, a whole or half chicken brushed with preserved lemon, garlic, and herb oil. But Amanda says the duck leg confit, served with potatoes au gratin and a red wine demi-glace, has also been popular. Another fast favorite: the smoked mushroom bowl—a vegan dish with basmati rice, crispy Brussels sprouts, and a black garlic dressing—"inspired by a time when Joe and I went vegan and could not find food to eat out," Amanda says. "Even non-vegans are telling us that the flavors are really powerful." For right now, the restaurant is BYOB, but a liquor license is in the works. 
As for the design, diners can expect a homey space that plays into the historic architecture of the building. There are brick arches, family photos from both Joe and Amanda's sides, and archival images by Henry Phillips, a renowned Baltimore photographer who worked for the Afro-American newspaper.
"All of our chairs are thrifted, so it kind of has that shabby chic look," Amanda says. "A lot of people have been saying, 'It feels like I'm at my grandmother's house.' Or 'I can dress formal or casual, and it's still right.' That's the feeling that we were going for."
Baja Tap: The former Bond Street Social space in Fells Point is now home to a concept that focuses on tacos, tequila, and live music. Baja Tap, which also has a location in Washington, D.C., officially opened at 901 S. Bond St. last week. Expect a limited menu to start, with standouts like the corn ribs served with queso fresco, al pastor guacamole, and taco varieties like birria, pollo tinga, and chorizo. We recommend stopping by during happy hour—from 4-7 p.m. Monday through Friday—when house margs and sangrias are $7 and tacos are $4. The expansive space clocks in at around 10,000 square feet, with a lengthy bar, communal tables, and plenty of TVs. There's also a large patio that looks out onto Bond Street Wharf.
COMING SOON
Nana: Within the last week, chef Carlos Raba of Clavel has teamed up with The Charmery and Carroll & Son Fine Foods to host collaborative pop-ups introducing diners to Nana, his all-day spot that has been in the works in South Towson for more than two years now. A grand debut seems to finally be on the horizon, as Raba expects to wrap up renovations to the historic building and open by the end of the year. The plan is for the York Road restaurant to offer simple dishes for breakfast, lunch, and dinner—much like the Mexican diners and taquerias Raba remembers from his childhood in Sinaloa. A menu on Nana's website teases tacos, quesadillas, and brined whole chickens, and the special pop-up events featured items like churros, tacos de huevo, and sopa de fideos.
"I'm Mexican, I cook Mexican food," Raba told us in 2021. "You'll see quesadillas, you'll see tacos. But I'm going to do something different in how we cook and serve them." Rather than the slow-cooked meats famous at Clavel, Nana will involve "butchering [meats] and putting them on the fire." Stay tuned for more updates. 
EPICUREAN EVENTS
11/10: Old Line Presents: Whiskey & Stand Up Honoring Our Veterans 
We could all use a laugh these days, and Baltimoreans can get their fix this Friday at Old Line Spirits—when the veteran-owned distillery (founders Mark McLaughlin and Arch Watkins are both former Navy pilots) in Highlandtown will host its Whiskey & Stand Up showcase in honor of Veterans Day. The event features a lineup of six comedians who each have a strong connection to the military community, whether as veterans themselves or as supporters. Audience members will also enjoy a special cocktail menu and a charity raffle featuring prizes from Old Line's shelf—including special barrel samples—and other local businesses. A portion of proceeds will benefit The Baltimore Station, a residential treatment program supporting veterans transitioning through the cycle of poverty, addiction, and homelessness.
11/15: Chefsgiving at Sagamore Pendry Baltimore
Looking to start Thanksgiving celebrations early? Next week, head to the Sagamore Pendry in Fells Point, where the hotel will host its first Chefsgiving, inviting local chefs to be part of a multi-course dinner served family style. Taking place in the hotel's dreamy courtyard, the dinner will highlight each chef introducing their own dish. Expect seasonal bites and wine pairings, too. The $125 per-person ticket includes a $20 donation to Our Time Kitchen, the shared commercial kitchen in Old Goucher that works to provide resources to budding food entrepreneurs. 
SHUT
The Local Oyster: This one came as a sad surprise. Long known for its fresh shucks, cold cans of beer, and stacked shrimp salad sandwiches, The Local Oyster will close its two brick-and-mortar locations—a stall inside Mount Vernon Marketplace that's been around since 2015 and a Locust Point iteration that opened just last year—this Saturday, Nov. 11. "We have given it our best effort and done everything we can, but unfortunately the time has come and the hard decision had to be made," said co-owner Nick Schauman in a video posted to The Local Oyster's Instagram earlier this week. But it's important to note that this isn't goodbye forever. Schauman says that the team will be "refocusing [its] efforts on catering and events as we reset and figure out where the road ahead will lead us." In that case, we'll be first in line wherever he shows up next.
Bertha's Mussels: While the road ahead for this Fells Point landmark had been murky for the last year, it's now clear: Bertha's Mussels served its final pints on Oct. 30. The closure comes a year after owners announced it would go up for auction—although that auction was eventually canceled as the family went into private negotiations. It seems those plans fell through, and there's no clear word yet on what will become of the Broadway Square landmark. But we hope many of you got in one final bowl of mussels, or copped one last green bumper sticker.