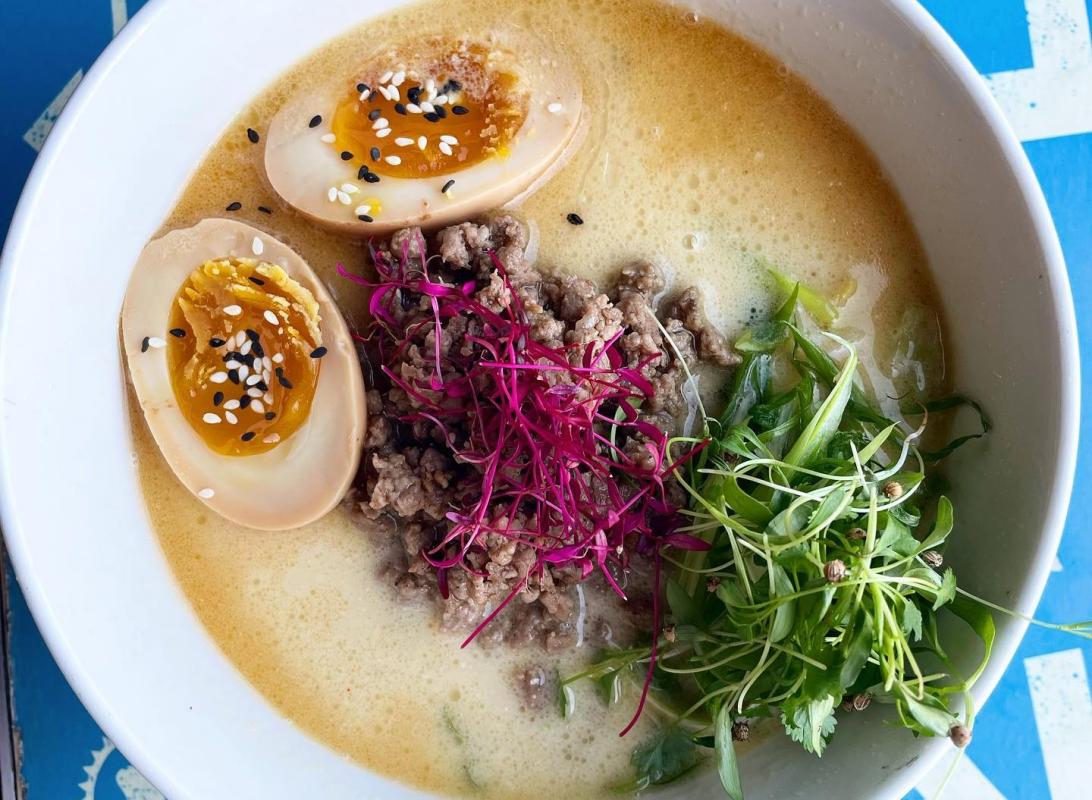 Famed Washington, D.C. ramen spot Toki Underground is headed to Baltimore. —Courtesy of Toki Underground via Facebook
COMING SOON
Toki Underground: Big news for ramen lovers. Washington, D.C.'s famous Asian-fusion spot—also known for its dumplings, steamed buns, Japenese whiskey cocktails, and artsy-punk aesthetic—is expanding to Baltimore. On Instagram, Toki Underground recently revealed that it's taking over the former home of Bottoms Up Bagels at 2731 Greenmount Ave. in the Harwood/Better Waverly area. "Harwood. Waverly. Whatever you want to call it. It's definitely #Baltimore and we're definitely psyched," the post reads. Though an estimated grand opening date is still to be determined, we can only expect that the buzzy spot's second location will bring the same steamy bowls—which are often credited for kickstarting the region's ramen craze—that it has been serving up on H Street since 2011. Other dishes on the menu—like Toki's spicy kimchi ramen, fried chicken steamed buns, and shitake Dan Dan Noodles—blend Japanese, Taiwanese, and Korean flavors. 
Fuzzies Burgers: Hankering for more chances to see Fuzzies around town? You're in luck. The beloved burger pop-up and food truck has announced that another vehicle will hit the road in Q2 of 2023. When asked why now was the right time to expand, Fuzzies chef and owner Josh Vecchiolla says, simply: "Two words: Why not?" But it's also about meeting the demand. 
"After graduating from a part-time pop-up to a full-time food truck in 2022, we quickly realized that Stumpy, our food truck, needed a bigger, stronger, faster sibling capable of handling more volume, in addition to being at multiple locations at once," he adds. "After experiencing lines at festivals that were two football field lengths deep this past year, we knew our next unit had to be an absolute monster."
The new vehicle is more like a trailer in size and shape, and Vecchiolla says it's substantially larger than the truck. It'll allow Fuzzies to cater more public gatherings, as well as more private events like late-night weddings, happy hours, and patty-flipping gigs for the Ravens at the Under Armour Performance Center. 
"We get messages constantly from people asking when we're going to have a brick-and-mortar," Vecchiolla says. "This will be the closest iteration we can give them at this point in time…We're looking forward to a big year."
THB Bagelry + Deli: THB's New York-style beauties are headed to Locust Point. The local bagel chain will start construction on a new location at McHenry Row—taking over part of the space held by Iron Rooster, which is downsizing—within the next few weeks.
"We should know more once that gets underway," says owner Tony Scotto, referring to a projected opening date. He adds that the company has been scouting Locust Point for a while now: "We've found that many South Baltimore residents drive to Canton to get their bagel fix on the weekends, and we also do a lot of catering in the neighborhood already." 
McHenry Row has proven to be an ideal location, Scotto says, for its visibility, parking, and accessibility to surrounding neighborhoods.
"It has been a pleasure to work with Mark and Jay Sapperstein, [of 28 Walker, which owns and operates McHenry Row], on this project," he adds. "They share our vision to always provide the best for the community. We can't wait to be a part of it."
OPEN
The Anonymous: This new restaurant, bar, and lounge has fully transformed the old Red Emma's space on Cathedral Street. (ICYMI: The cafe and bookstore now operates out of its new home in Waverly.) Anonymous serves up unique takes on American fare inspired by the rich culture and history of the diaspora. Menu items that caught our eye? The oxtail eggroll, truffle mashed potatoes, and the lobster quesadilla. There's an extensive bar program as well, with cocktails featuring Hennessy, habanero vodka, and tequila, among other spirits. The space offers three different bars, each with their own theme and signature cocktail. Snag a reservation via OpenTable.
Ammoora: There's a new on-site restaurant at the Ritz-Carlton Residences in the Inner Harbor. Ammoora opened January 11, serving up a menu inspired by the Levant region of the Eastern Mediterranean. Helmed by chef, restaurateur, and Syrian native Dima Al-Chaar, the spot offers dishes including spicy lentil tomato soup, tabouleh (an herb and bulgar salad), baba ghanouj carpaccio, and a beef short rib entree with mushroom freekeh.
BOOZE BULLETIN
Guinness Releases Rice Lager with Yuzu For the Lunar New Year: Ready to celebrate the Year of the Rabbit? Guinness Open Gate Brewery in Halethorpe has you covered. On January 19, the brewery will officially release Yuzu to the Moon, brewed in collaboration with Diageo's PAN Asian Network in honor of the Lunar New Year. The brew is a rice lager made with Jasmine rice and yuzu fruit—both culturally relevant and indigenous ingredients that are prevalent in many Asian communities. It'll be available on draft and to-go in cans. Taiwanese artist Cher Line designed the label, and proceeds from the beer's sales will be made to Baltimore's Asian Pasifika Arts Collective, a nonprofit that uses art to advocate for representation of Asian Americans and Pacific Indigenous Americans in everyday life.
SHUT
Manina Urbana: This short-lived Frederick County eatery, from the owners of Bluebird Cocktail Room in Hampden, announced on social media earlier this week that the spot has closed. Sunday marked Manina Urbana's "final service in its current location and concept," not long after opening in July 2022. "Something in the last few years has happened to restaurants like ours—the format is unsustainable," owner Paul Benkert wrote. "We need to break open the box. And we will. But first we need to pause for quiet reflection." The restaurant served American comfort food with an Italian flair and a creative cocktail menu reminiscent of its older-sister spot. Stay tuned for updates.