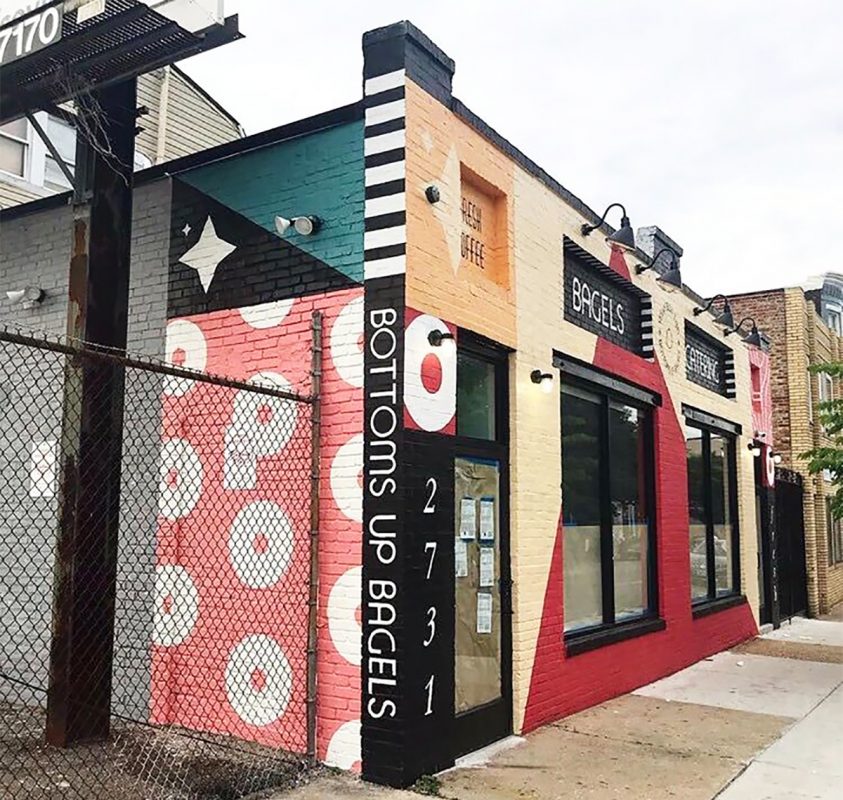 Photography by Bobby Coleman
In the five years since launching Bottoms Up Bagels, founders Michelle Bond and Joan Kanner have gotten the hang of serving their boiled beauties from the confines of a 10-by-10 tent at outdoor farmers markets.
"We have a menu of 10 to 12 sandwiches that we make from a bunch of coolers and a camp stove," Bond says. "It's been a crazy learning experience, but it's still the best part of our week."
As much as they love connecting with the community at pop-up events, Bond and Kanner are excited to now serve diners in a space that is all their own.
Last week, the duo debuted their cleverly named "BUB Hub" at 2731 Greenmount Avenue in the Harwood area of North Baltimore. Boasting colorful, mid-century modern exterior murals designed by The Bizarre and painted by local artist Bobby Coleman, the can't-miss shop is currently offering carryout service for breakfast and lunch on Wednesdays, Fridays, and Saturdays. The team is also making deliveries on Thursday and Sunday mornings.
In the wake of COVID-19, Bond and Kanner are being intentional about their slow rollout. Instead of immediately offering up half of their 17 indoor seats and adjacent outdoor patio, they're taking some time to get up to speed in the kitchen.
With the new setup—an open kitchen features plenty of prep space and a new Hobart mixer—the team of 10 can now ramp up continuous production on a daily basis.
"What we were doing before wasn't sustainable for the amount of work that goes into our product," says Bond, who adds that the business previously shared commissary space at Bmore Kitchen. "We were baking 500 to 600 bagels at 2 a.m. to then take to the markets. All of that is so integral to who we are, but it's just physically so hard to maintain."
After nearly three years of searching for a permanent home, they found the old 1940s commercial building through a connection with Central Baltimore Partnership. Aside from falling in love with the physical space and its location along a major thoroughfare, Bond and Kanner were thrilled that it was in Harwood—just down the road from their home in Waverly and the 32nd Street Farmers Market, where they were longtime vendors.
"We're committed to this area," Bond says. "It's really important to us to be somewhere where there isn't everything already." Adds Kanner: "Harwood deserves it."
The spirit of the shop is inspired by both of the owners' upbringings in New Jersey. The transplants, who have lived in Baltimore for more than a decade, want to evoke the "steam-on-the-windows" type spots that they visited with their families.
"Growing up, my grandparents and I would go and get bagel dinners on Saturday nights and come home to watch The Golden Girls," Kanner shares. "These were places that were open 24-7 and you would go and get a hot sack of bagels any time. Sometimes I would even get the chance to hold it on the way home."
Highlighting hand-rolled bagels that come in varieties such as everything, pumpernickel, cinnamon-raisin, and Old Bay, the Bottoms Up menu offers sandwiches like the "Jersey Brekkie," with fried egg and Taylor ham, and the "Loxed Up," topped with house-cured gravlax. The team also serves local Dear Globe coffee blends and has added patty melts and vegan black bean burgers into the mix during opening week.
As much as the bagels are an homage to their native New Jersey, Bond and Kanner also see them as a vehicle for promoting inclusivity. As a woman-owned and queer-owned business, that mission has always been at the forefront for them.
"It's an every man's food, so it's unifying in that way," Bond says. "This vision is so clear to me of going to the bagel shop and having the cop, the guy in the business suit, the construction worker, the teacher, the nurse, all just having their own customized version of this one thing. We're trying to cater to people who like really dense, chewy, old-school bagels, while also catering to people who want a bacon, egg, and cheese when they're hungover, or someone who only has $3 to spend and wants to be full. We're trying not to be everything to everybody, but to really maintain recognition that all of those people are finding something in what we do."
Adds Kanner: "We're forcing the issue that people can come together over this."