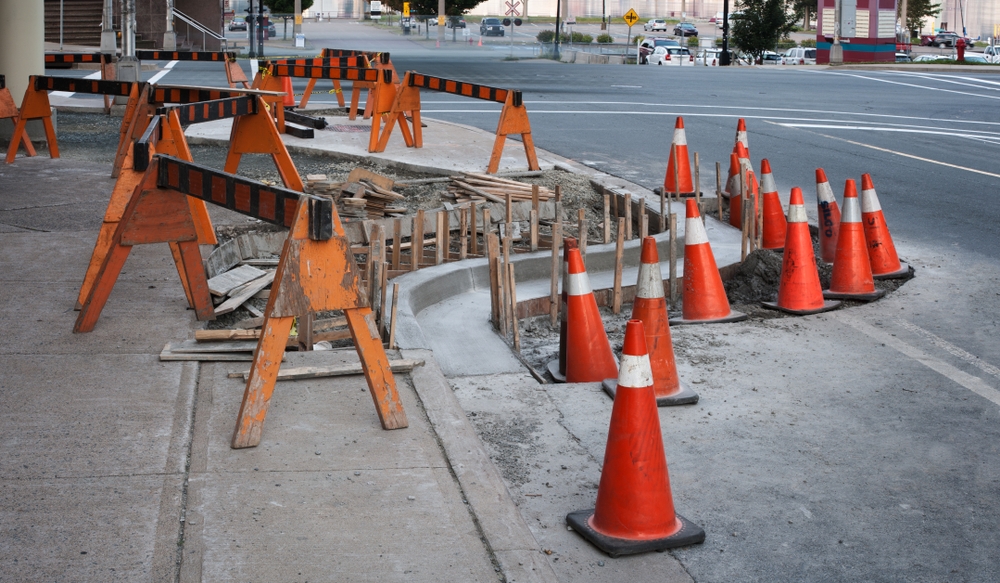 Shutterstock
Walkability was a huge factor for Michael Neall when he decided to open Blue Dog BBQ in the former Heavy Seas Alehouse space, which sits on the corner of Central Avenue and Bank Street near Little Italy.
"One of the first things we did was check out the walk score for our location," says Neall, who opened Blue Dog with partners Sean Stoll and Jon Royce last October. "It was a 96. That's about as good as it gets for a business that would rely on foot traffic."
After months converting the space from a brewpub to a barbecue joint, the team was finally ready to fire up its signature all-wood smoker and welcome the first wave of customers. But just five days before the grand opening, jersey walls were put up along Central Avenue as the city's Departments of Transportation and Public Works prepared to begin a large-scale infrastructure improvement project in the area—which included installing new subterranean electric, sewage, and plumbing conduits.
"When the barriers went up, our hearts skipped a beat," Neall says. "We immediately just thought, 'Okay, how are we going to deal with this?'"
This is a question that many small business owners have been asking themselves in the midst of ongoing development throughout the city. Specifically in the Harbor East and Fells Point areas, where detour signs and traffic cones have become routine, restaurateurs have been struggling to cope with construction projects that have taken years to finish.
Take Sunni Gilliam, who opened Teavolve on the corner of Aliceanna and South Eden streets in 2008. The cafe preceded many of the shiny residences and luxury shops that have since sprouted up in Harbor East, and it's now stationed in the heart of construction for the new Liberty residences—which will be anchored by a 50,000-square-foot Whole Foods on the ground floor when it debuts this summer.
"We've seen some challenges," Gilliam says. "There's definitely been a decline in our figures, but we're very fortunate that people still find a way to get here. They're still making a point to come in and support us."
Gilliam mentions the loss of parking on South Eden and Aliceanna Streets as a major deterrent for customers. She speculates that it contributed to the closure of the neighboring Mussel Bar—which shuttered last year, but is reopening as a jazz club this spring. Just a few blocks over in Fells Point, businesses are facing similar issues as a result of the redevelopment in Broadway Square.
"It hasn't been easy," says Carrie Podles, co-owner of Alexander's Tavern on the 700 block of South Broadway. "We've lost so much parking, and there doesn't seem to be any parking replaced. Business was booming four or five years ago, and then it was one thing after another and it just seemed like it was never ending."
In response to the construction—which began with the Marketplace at Fells Point apartments and continues with the overhaul of Broadway Market—Podles says she has been encouraging customers to use ridesharing platforms when coming in to the restaurant. Additionally, Alexander's has been amping up its off-site catering to make up for the loss of diners.
A self-proclaimed optimist, Neall at Blue Dog has also been searching for innovative ways to drive business throughout construction. He and his team recently participated in the Baltimore Wing Festival to spread the word about his restaurant, has been promoting their private party room, and has found success using delivery apps like DoorDash and Uber Eats.
Despite the barriers and heavy equipment that will likely surround his barbecue spot until the end of the year, Neall remains positive about how the city has responded to his concerns. He says that officials have been gracious about sending notices of planned outages and potential water shutoffs so that the restaurant can prepare accordingly.
"So often you hear about antagonism between businesses and government, but I haven't had that experience at all," he says. "I found that they have been very understanding. We all recognize that this is a needed infrastructure project, and that, if the city is going to progress, it's going to have to do these types of things."
He also mentions that the city is working on adding a crosswalk at the corner of Bank and Central so that potential patrons can access the restaurant without having to deal with the extended pedestrian detour.
"When I'm walking down a sidewalk and I see a sign that says 'sidewalk closed,' what that says to me, and to any potential customer seeing it, is 'don't go there," he says. "And that's the direct opposite of what we want."
Though dealing with construction remains tough, business owners agree that the ongoing projects will benefit the overall vitality of their neighborhoods in the long run.
"We're fighting the fight," Podles says. "We just need to make it to the end to enjoy all of the benefits."
Gilliam sees the light at the end of the tunnel for Harbor East: "It's going to feel like an entirely new area," she says. "We were here when hardly anything else was. Before it was stagnant, so we welcome the construction because we know it's going to pay off big time. We just have to hold on for a couple more months."