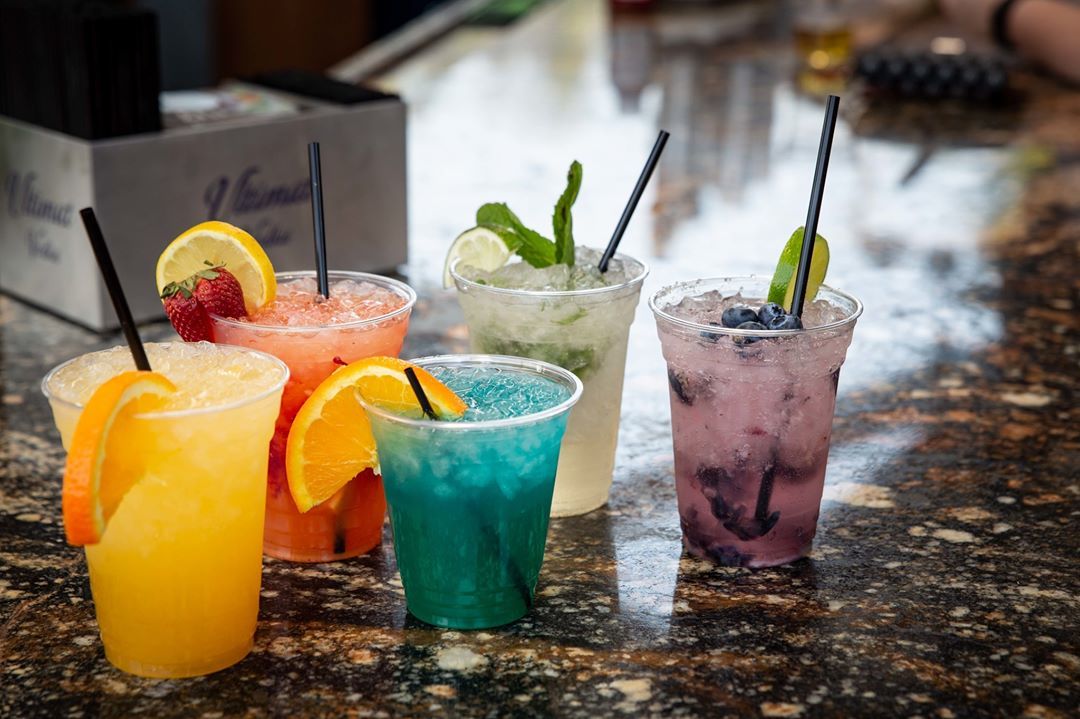 Hightopps Backstage Grille
The start of fall means colored foliage, sweater weather, pumpkin spice lattes, and the sound of birds overhead flying south. But in Baltimore, fall is bird season as Joe Flacco and his flock hit the field. Whether you are a die-hard Ravens fan who watches every game or just someone who loves to eat those pre-game burgers and dogs, it's always fun to get friends together to watch the Ravens dominate—just like they did in game one. And with special game-day food and drink deals, these Baltimore bars make it easy to celebrate, chant, and cheer on the Ravens all season long.
Tipsy Tailgates
Mother's Grille: Mother's Purple Patio hosts a rowdy party for every Sunday Ravens game. The festive outdoor area is painted like a football field, and the space hosts two bars, a huge grill, and 20 HD TVs so you can be sure not to miss any of the game-time magic. And with $35 all-you-can-drink Bloody Marys, crushes, and beers along with an assortment of on-the-grill classics, this purple party isn't one you'll want to miss. 1113 S Charles St., 410-244-8686
Jimmy's Seafood: Dubbed "America's Best Tailgate", Jimmy's Famous Seafood has everything a Ravens fan needs to make the most of game day this season. Buy tickets for each game (prices vary) or buy a VIP season pass (10 games for $350) and get access to a three-hour open bar, a live DJ spinning the hottest tracks, beer pong, giant Jenga, corn hole, and tons of free swag. Don't miss the full buffet catered by the restaurant's beloved Chef Tony. The best part? The party is just one block away from M&T Bank Stadium. 1300 Russell St.
BMore Around Town: This Baltimore tailgate has it all: An extensive open bar, BBQ meats, homemade sides, a "Mother Shucker" Oyster Bar, and live entertainment. And there's also tons of tailgate games and giveaways. You can grab a VIP pass for $250 that'll give you access to the eight home game events as well as the annual Adam Jones #StayHungry Purple Tailgate. So don your festive purple gear and join the party alongside Baltimore's biggest fans. 152 W Ostend St., 410-276-6030
Game Day Grub
Grotto Pizza: Though many locals associate Grotto with the beach, check out the Columbia location for game-day specials, featuring a personal cheese pizza for $6, loaded nachos for $6.99, a pulled chicken BBQ sandwich for $7.99, soft pretzel sticks for $6.99, and a hot dog topped with Grotto Pizza's award-winning chili for only $5.99. And with a long wooden bar perfect for large groups, you'll get a chance to bring the party while escaping the stadium crowds. 7075 Minstrel Way, 443-583-8200
Fish Head Cantina: With $2.50 Natty Boh drafts and cans, $2.75 domestic bottles and drafts, $3.50 Coronas, $4 craft drafts, and $5 crushes, this Arbutus tiki bar is a neighborhood favorite. Plus, the entire pub and sushi menus are 25 percent off, so you can get your foodie fill without missing a moment. 4802 Benson Ave, Halethorpe, 410-247-2474
Ristorante Firenze: Equipped with fire pits, live music, bocce ball, and corn hole, this Reisterstown restaurant's newly opened Peroni Beer Garden is a great place to watch the action unfold this football season. On September 13th, you can tailgate the day away from 5-7 p.m. with live music, grilling, and $3.75 Miller Lites. And if you're feeling particularly festive, order the $4 purple punch and cocktail shooters. Fans can pair these drinks with classic Italian dishes like the Tre Formaggi pizza or Gemelli Margherita pasta. 2 Hanover Rd., 410-394-5577
Dogwatch Tavern: Pull up a chair at this Fells Point sports bar and grab $7 wings, $5 22-oz. Miller Lite drafts, and $15 Miller Lite and Coors Light buckets. Or, if you think you can handle it, try one the bar's signature 100-oz. beer towers for $20. And during the commercial breaks, you can challenge a friend to a game of pool, beer pong, or Skee-Ball. 709 S. Broadway, 410-276-6030
Southern Provisions: Grab a group of friends and head to this Canton restaurant to indulge in crispy Southern fare mixed with good ole' game-watching classics. Try the Bucket o' Beer and Chicken sliders (five beers with four Nashville chicken sliders) for $20, the Brisket Chili Bowl served with cornbread for $7, along with deals on mozzarella sticks, hotdogs, pull pork tacos, and SpPro nachos. 3000 O'Donnell St., 410-675-4029
Wit & Wisdom: There's no better place to watch the Ravens in style than at Wit & Wisdom inside the Four Seasons Baltimore. They'll be serving up a special "Game Day Dog", topped with caramelized onions, chipotle ketchup, brown sugar mustard, pickled fresno peppers, and tobacco fried onions, and a special purple and orange Corvus Crush. This upscale bar takes game day grub to a whole new level. 200 International Dr., 410-576-5800
Italian Disco: Equipped with multiple flat screens, a lengthy draft list, and tons of game-day snacks (always order the mozzarella sticks), this Harbor East hangout is an ideal bird-watching spot. During every Ravens game, the bar will offer $10 pitchers of domestic beers, $8 pizzas (pepperoni, margherita, or primavera), and $8 orders of wings. 1006 Fleet St. 410-605-0444
Banging Bars
Hightopps Backstage Grille: Grab your bird-watching gear and check out Hightopps Backstage Grille every Friday for some serious drink deals. Sip on $1 Miller Lite and Coors Light drafts, and $2 Blue Moon drafts while relaxing on the bar's signature outdoor deck. Or, you can indulge in the A.C. and catch the game from the numerous bars inside. 2306 York Road, Timonium, 410-560-7101
Looney's Pub: This Canton Square bar has some of Baltimore's best pub fare. And when paired with its can't-beat drink specials, Looney's hosts some of Baltimore's craziest fans. Get your game-day on with $12 Orange Crush buckets, $5 Maryland craft beers, $3.75 Bud Light drafts, and $3.50 12-oz. Miller Lite or Coors Light bottles. Fans can take advantage of these boozy deals while filling up on orders of Crabby Fries, Looney's Bang N' Shrimp, and BBQ Pork Sliders. 2900 O'Donnell Street, 410-675-9235
Charles Village Pub & Patio: Get your Sunday Funday started for only $11.99 with bottomless Blood Marys, mimosas, and Natty Boh drafts from 10 a.m.-2 p.m. This multi-level Towson hangout has flat screen TVs on virtually every wall, making it an ideal place to bring your buddies to watch the game. So pull up a bar stool and enjoy the bottomless drinks all game long—this Ravens nest is sure to get rowdy. 19 West Pennsylvania Ave., 410-821-8155
Alexander's Tavern: You can't go wrong bringing a group of buddies to cheer on the Ravens at this Fells Point staple. This season, get Bloody Marys, mimosas, and screwdrivers for $3.50 each or choose to do it big with $15 bottomless every Sunday. And if you're a firm believer that real fans watch football with beers in hand, Alexander's also offers $15 microbrew buckets. 710 South Broadway, 410-522-0000
Kisling's Tavern: Kisling's is celebrating football season with 22-oz. Orange Crushes for $6 whenever the Ravens play. Catch the game on one of their numerous TVs and be ready to cheer whenever the Ravens score a touchdown. And no trip to Kisling's would be complete without an order of its famous chicken wings, made with their signature Buffalo sauce and Parmesan coating. 2100 Fleet Street, 410-327-5477
Mt. Washington Tavern: With $2 Narraganset Lager cans, $4 Old Hilltop drafts, and $6 Tito's vodka drinks, this neighborhood bar is popular for Ravens fans. And here, bar fare is taken to the next level: Try the $15 loaded nachos or the $8 slow roasted Buffalo wings. Hang on the outdoor patio or stay inside and meet other fans at the bar. 5700 Newbury St., 410-367-6903
JD's Smokehouse: If you haven't had a chance to check out this bar's new Canton location, this football season is the perfect opportunity. Swing by JD's every Sunday for game-day happy hour from 2-7 p.m., featuring $2 domestic bottles, $2 off all craft drafts, $3 rail drinks, and $4 glasses of wine. Other specials include $2 off decadent appetizers like the Smokehouse Nachos, onion rings, or baskets of hush puppies. 623 S. Luzerne Ave., 410-522-2266
Game Sports Bar: This verifiable adult playground is known for its collection and variety of games. But with 20 TVs and jaw-dropping drink deals like $3 Coors Light and Miller Lite, $4 Malibu cocktails, $6 Absolut cocktails, $10 Orange Crush buckets, and $10 32-oz. Natty Boh drafts every home game, this bar is conveniently located right near the stadium. Plus, there's no better way to cheer on the Ravens than with a room full of hyper-competitive, game-loving fans. 1400 Warner Street, 410-385-0100