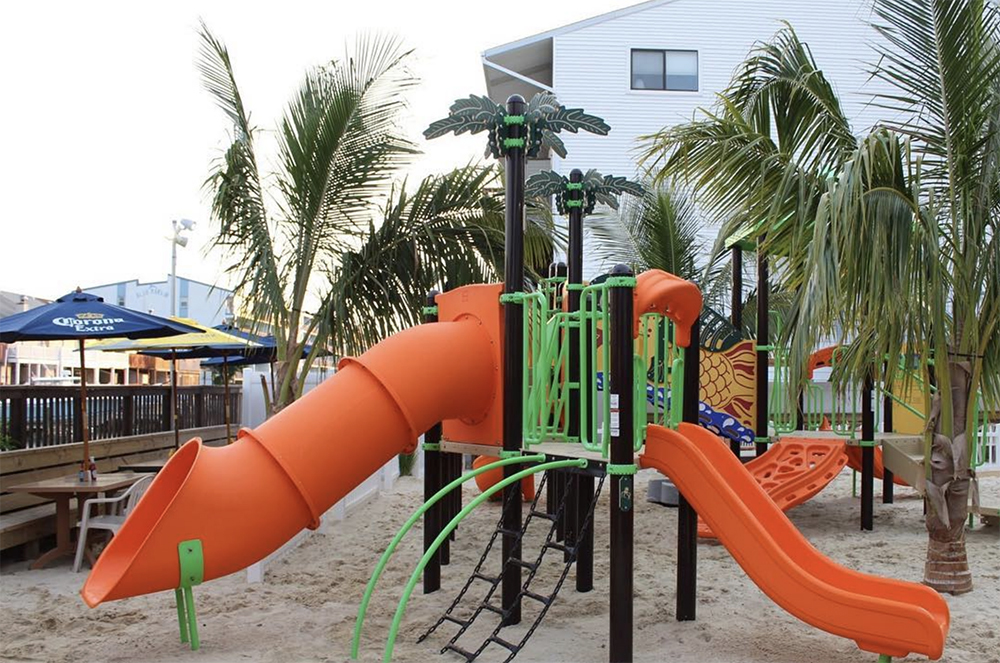 Tailchasers Restaurant & Dock Bar
When it comes to beach "vacationing" with kids, it's really a relative term. While we'd like to imagine it will be fun and relaxing, it's hard to enjoy your Rum Runner and that beautiful bay view while bouncing a toddler on your knee and shoveling a crab cake sandwich in your mouth at the same time.
Luckily, Ocean City isn't short on kid-friendly establishments with outdoor playgrounds so you can use your hands to eat and drink (which is really what they should be doing while you're on vacay anyway). When you're headed downey ocean with the kids, make sure you visit these family-centric spots:
Dead Freddies
This pirate-themed restaurant located on 64th Street and Ocean Highway is the perfect bayside dinner spot for the whole family. Not only is there an outdoor playground, complete with a fun pirate ship to climb on and slide down, it's easy to find a spot close to the action. Sitting right alongside the playground means you can enjoy your dinner by the bay and keep an eye on your mini-mateys at the same time. Kids will love the crab fritters and rockfish bite appetizers. Dinner options include salads, burgers, wraps, and little pirate favorites. Bonus points: Kids' meals come with complimentary eye-patches.
Ropewalk
O.C.'s Ropewalk on 82nd is another great spot for parents and kids alike. With its spacious atmosphere and playground out in the sand, parents don't have to rush through their meal or skimp on that gorgeous sunset view (which is reason enough to hit up this bayfront spot). Enjoy budget happy hour bites likes the Bada-Bing shrimp, which is always a winner. Kids meals are served on a souvenir frisbee, too. With an outdoor bar, fire pits and tons of room to roam, there won't be much to whine about when you take the family to Ropewalk.
De Lazy Lizard
You can't talk about kid-friendly beach restaurants without mentioning De Lazy Lizard, located on 1st and the bay. Not only does it have the most epic playground on the water with multiple slides and play-structures right on the dock, but it's fenced in, too. So you can enjoy your meal while knowing your kids are playing safe. There are also indoor arcade games for when the weather is amiss, cozy booths, tasty grub, and a newly renovated open-air tiki bar on the water. All of those perks means you'll never want to leave. Chances are, your kids won't either.
Fish Tales
Not only a fisherman's favorite, the 21st Street spot is always crowded with patrons of all ages from summer's start to end. With an awesome playground where kids run free and face-painters sometimes visit, tables right in the sand, and those amazing dock views, it's no wonder this O.C. spot fills up fast. Get there early to grab a spot by the action or grab a hammock in the shade. Also, be sure to check out the game room next to the playground- a little known spot that kids will also love. With a dock-bar, restaurant, arcade and spacious playground space all in one, really, there isn't much more you need to have a great family meal.
Abbey Burger Bistro
While they are known to have some of the best burgers around, there's more than just red meat at O.C.'s Abbey Burger Bistro on 126th Street. The menu also offers vegetarian options, fried pickles, spiked milkshakes, and more. With an arcade, playground, and tons of great food, this family-friendly joint is surely one to frequent. Happy hour is daily from 2-6 p.m., so get your brews and views in between nap schedules. Plus, while the kids bop, there's usually live music to be heard so you can do the same.
Tailchasers
Located on the bayside of 122nd Street, Tailchasers Restaurant & Dock Bar is the newest spot from Off the Hook's restaurant group. The food is a step above standard bar food with appetizer options like calamari, smoked fish dip, and a full raw bar. Dinner options include fish tacos, surf n' turf, and lobster pasta. But what makes this place a new O.C. standby is the laid-back, family-friendly vibe. Tables surround the outdoor playground so you can enjoy your drinks in the sand while the kids play close by (but not in your lap).