Greener Pastures
The vegetarian movement takes root in Baltimore.
Time was, the dining-out options for vegetarians were pretty bleak, with steamed rabbit food, tasteless tempeh and tofu, and blah, uninspired salads sprinkled with wheat germ as practically the only options. But these days, it's never been easier to follow a plant-based diet that would make even author Michael Pollan (who famously wrote, "Eat food. Not too much. Mostly plants.") proud. As veggie-centric meals move more into the mainstream, the options—from sushi rolls to noodle bowls to quiches and tarts—are better than ever in Baltimore, whether a spot is 100 percent vegetarian, vegan, or just vegetable-welcoming.
"Maryland is known for having amazing seafood," says Stall 11 co-owner Melanie Molinaro, "but what people don't know is that we also have great produce farms. Restaurants seem to be putting in the effort these days." "There's nothing worse than going out to eat with a bunch of friends when you're a vegetarian and everyone can eat but you," she continues. "What happens when you take away the protein from a plate? You can't just have mashed potatoes and green beans. Restaurants are getting way more creative about making it more of a meal." What follows are our picks for the best vegetarian restaurants and offerings in town.
The Big Bean T.H.E.O.R.Y
At the Big Bean T.H.E.O.R.Y, owner Eula McDowell takes a plant-lover's approach to satisfying soul food. As the name implies, protein-packed beans play a starring role in vegan burgers (black beans, lentils, and falafel), house-made stews, and even luscious, legume-based desserts. Veg Out: The soups taste like they're straight out of your grandmother's kitchen. Start with the gumbo—a spicy-smoky medley of lentils, okra, tomato, and corn—and end with the Mean Jean Bean Burger, bursting with beets, swiped with special sauce, and served on a pumpernickel roll. Table Tip: Grab a high-top at the window and watch the street go by. Mount Vernon Marketplace, 520 Park Ave., 443-955-1186
Encantada
Almost half the menu is vegetarian/vegan at this fanciful spot inside the American Visionary Art Museum. And while there are plenty of non-veg options here, should your carnivore companions decide to join you on your veg journey, we promise they'll never miss the meat. For instance, it's hard to call it anything but kitchen alchemy when presented with the deviled turnips—the root vegetable is hollowed out and filled with puréed chickpeas mixed with smoked paprika. (In a blind taste test, you'll swear you're eating an actual deviled egg.) Similarly magical is the portabello mushroom with fontina on a brioche bun. And no matter what else is happening in your life, say yes to every single sweet potato waffle fry on your plate. Veg Out: The Nashville cauliflower tossed in a spicy hot sauce looks like Buffalo wings but boasts its own flavor profile. We fought over the very last florets. Table Tip: Order a few shots of apple-beet and carrot-ginger juices while sitting outside and toasting to Vollis Simpson's whirligig. 800 Key Hwy., 410-752-1000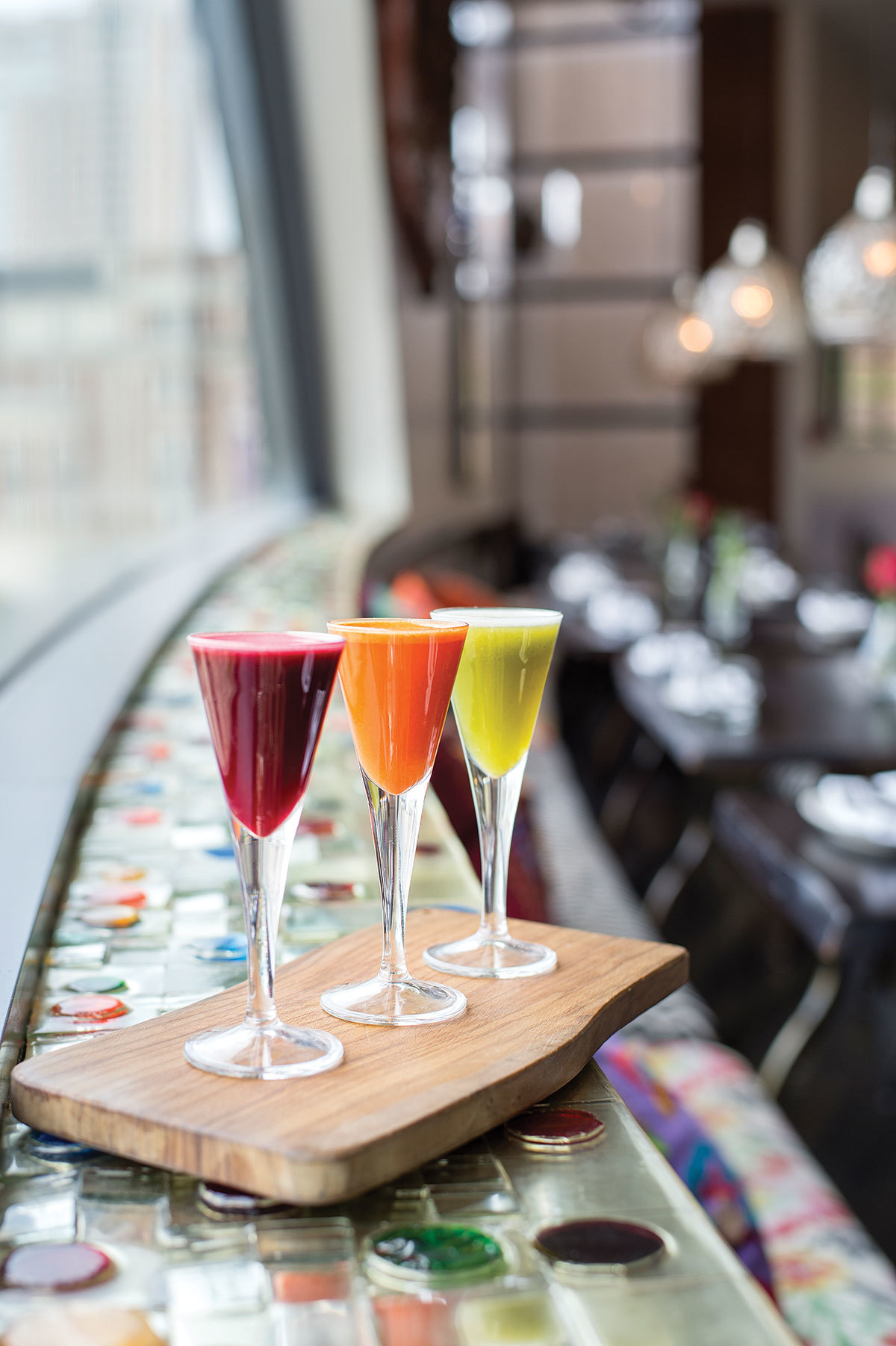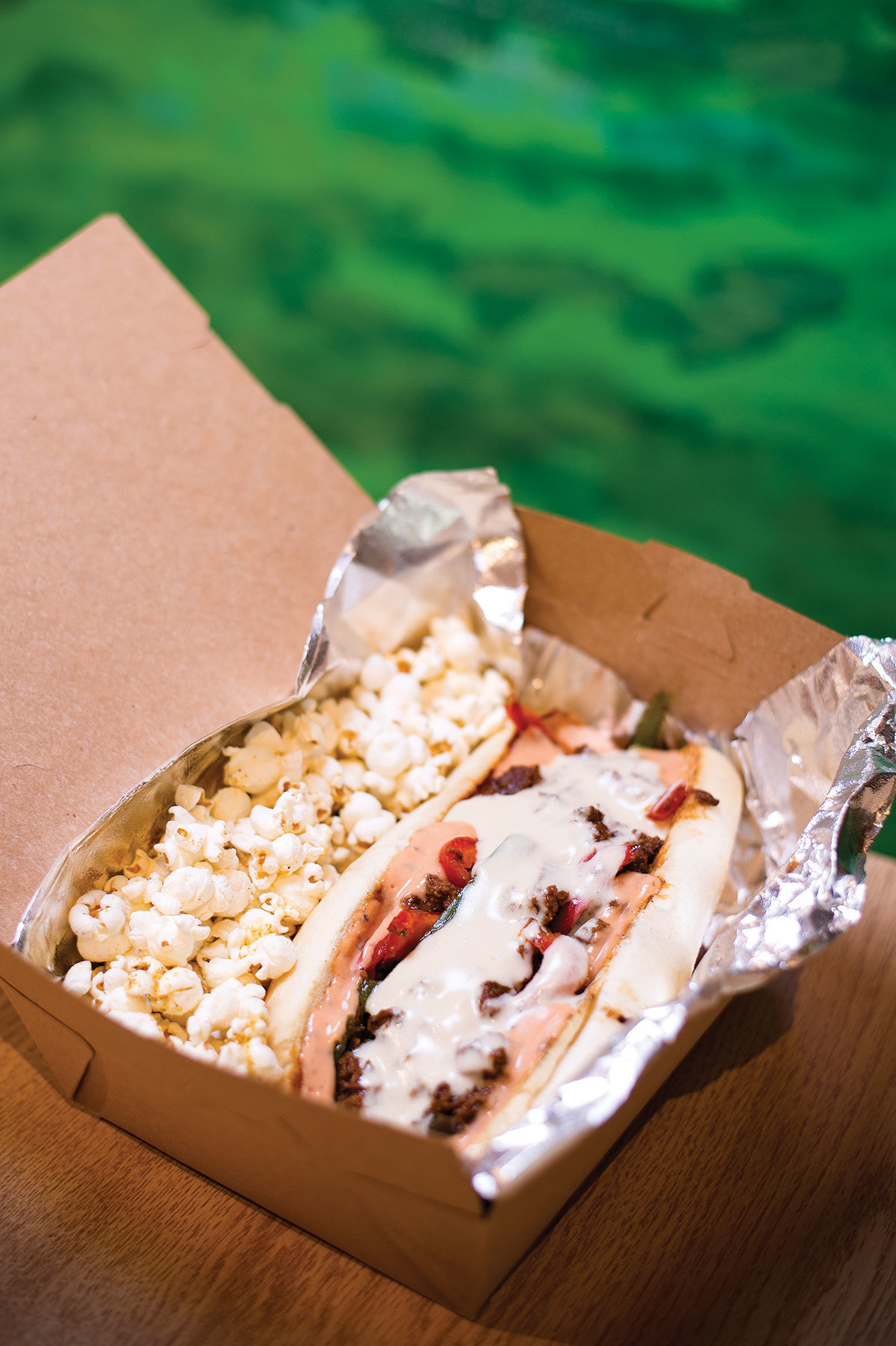 Juice shots at Encantada and the vegan "cheezsteak" at The Grub Factory. —Christopher Myers
The Flying Avocado Cafe
While The Flying Avocado sounds like something out of a futuristic farming flick, it is, in fact, an adorable sandwich shop that's both vegan and vegetarian friendly. Avocados find their way into many of the menu items, including the powerhouse wrap, black bean burger, and avocado-and-tofu wrap, though we also love the colorful raw rainbow salad with field greens, mandarin oranges, honey-coated walnuts, cranberries, and flaxseed, as well as vegetarian nachos topped with vegan chili. Veg Out: Put some South in your mouth with the Southwestern wedge salad garnished with house-made pico de gallo. Table Tip: Visit the adjoining homeopathic pharmacy for some unique finds. 10210 S. Dolfield Road, Owings Mills, 443-471-2600
Great Sage
Open since 2004, this wholly vegan HoCo staple opened long before the vegan/vegetarian/gluten-free trifecta became buzzwords in Baltimore. Great Sage is proof positive that following a vegetable-driven diet doesn't have to be limiting. Start with an organic spirit or glass of wine and a bowl of artichoke-spinach dip, then move onto any number of sustainable salads (we heart the couscous, featuring chickpeas, sweet potatoes, Brussels sprouts, pumpkin seeds, and a knockout pomegranate dressing) and the beet poké entrée tossed in ponzu sauce served with coconut rice. There are plenty of other options, too, such as a hearts of palm "crab cake" sandwich topped with caper-scallion rémoulade. Veg Out: The Tres Leches cake (made with soy, cashew, and coconut milk) is a highlight. Table Tip: A new coffee bar features house-made pastries, gluten-free bowls of oatmeal, smoothies, and even a tofu and aioli breakfast sandwich. 5809 Clarksville Square Dr., Clarksville, 443-535-9400
The Grub Factory
Not many spots could pull off a vegan cheese steak, but the "cheezsteak" creation (house-made seitan sauteed with peppers, onions, and a soy-free, Cheese Whiz-like sauce on a Stone Mill hoagie roll) at The Grub Factory could stand up to the real-deal big boys in the City of Brotherly Love. Other offerings include breakfast options such as rice flour pancakes with a tofu scramble side that mimics the consistency and taste of scrambled eggs. Veg Out: Don't miss the vegan "bacon," aka smoked coconut chips flavored to taste like the real thing. Table Tip: Pick a seat next to one of the many murals celebrating African heritage. 1210 N. Charles St., 443-602-7018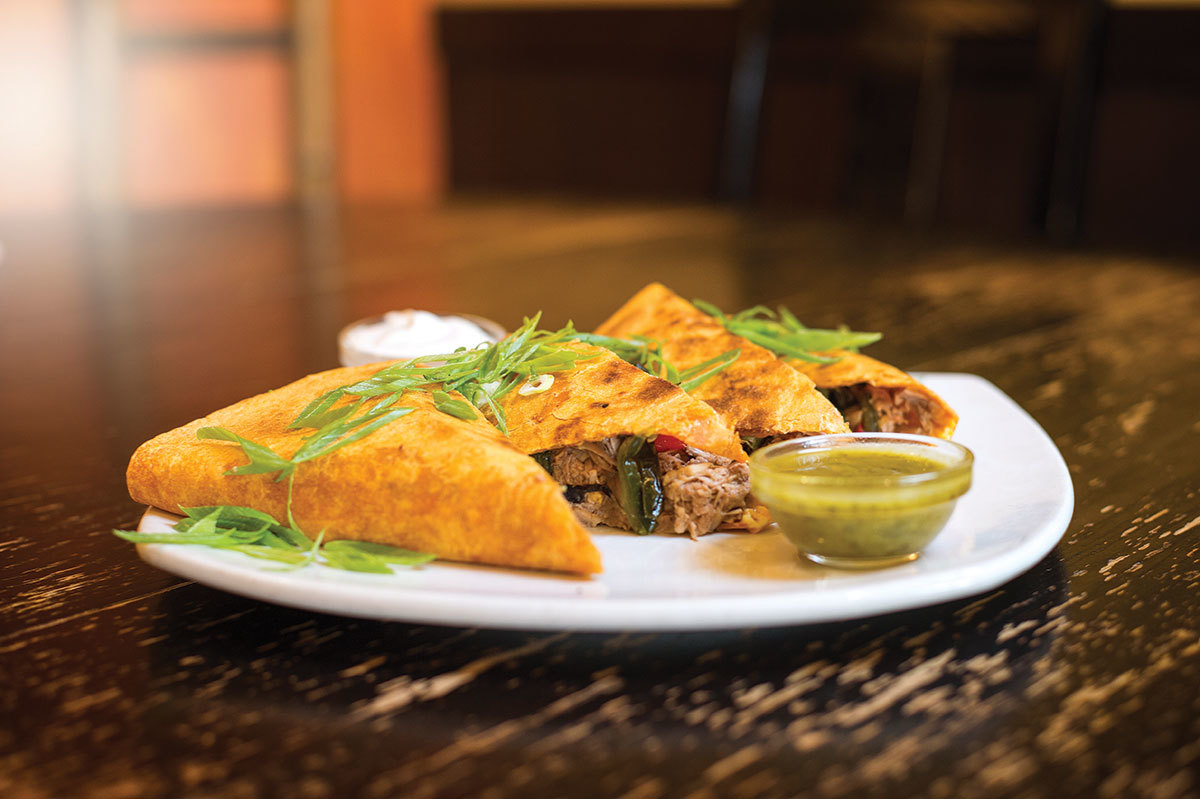 Harmony Bakery
Maybe it's the preponderance of hearts used as motif in this vegan/vegetarian Hampden cafe, but the love truly leaps off every plate. Yes, there's plenty of sweet stuff (lemon doughnuts, bliss balls) to sate those cravings, but we gravitate toward the savory house-made quiches, samosas, and tarts. Word of warning: The mouthwatering display case makes deciding difficult. Veg Out: The chickpea tart filled with caramelized onions and served with a side of coconut cilantro chutney really rates. Table Tip: This compact cafe fills up quickly at lunchtime. If need be, get your order to go. The friendly staff will happily provide the proper heating instructions. 3446 Chestnut Ave., 410-235-3870
Helmand Kabobi
This Afghani restaurant is a casual spinoff of the beloved Mount Vernon mainstay, The Helmand. With its mod stenciled walls, high warehouse-style ceilings, and concrete floors, the ambiance has been updated, but the menu is filled with many of the same vegetarian favorites you can find at the flagship restaurant, including the signature Kaddo Borani—baked baby pumpkin seasoned with sugar and drizzled with garlic yogurt sauce. Bowls also beckon such as a fragrant, almost stew-like option made with cauliflower and chickpeas and nestled on a bed of challow rice. Veg Out: Don't miss the Bowlawni appetizer—two turnovers, one filled with leeks, and the other with potatoes. Table Tip: We'll admit to fibbing that it was the birthday of a guest at our table just to see what would ensue. As we blew out the candle on a gratis piece of chocolate-hazelnut cake, we wished that the Veggie Gods would lead us back here sometime soon. 855 N. Wolfe St., 410-327-2230
The Land of Kush
When you think of soul food, you don't often conjure up words like "vegan" or "vegetarian," let alone "healthy." But The Land of Kush takes those delicious homegrown flavors and gives them a green spin. Let's be clear: At this Seton Hill eatery, all the food, from curry "chicken" to "crab cakes," is 100 percent vegan. But don't let that fool you—burgers, made with lentils, and the eggplant Parmesan, topped with vegan cheese, are as belly-filling as the real deal. Veg out: Fittingly, we dug into a bowl of barbecue "ribs," made with marinated soy protein in savory sautéed peppers, carrots, and onions. For a comfort food combo platter, we added smoked collard greens and whole-wheat mac-and-"cheese." Table Tip: Wash it all down with smoothies and fruit-and-vegetable juices. 840 N. Eutaw St., 410-225-5874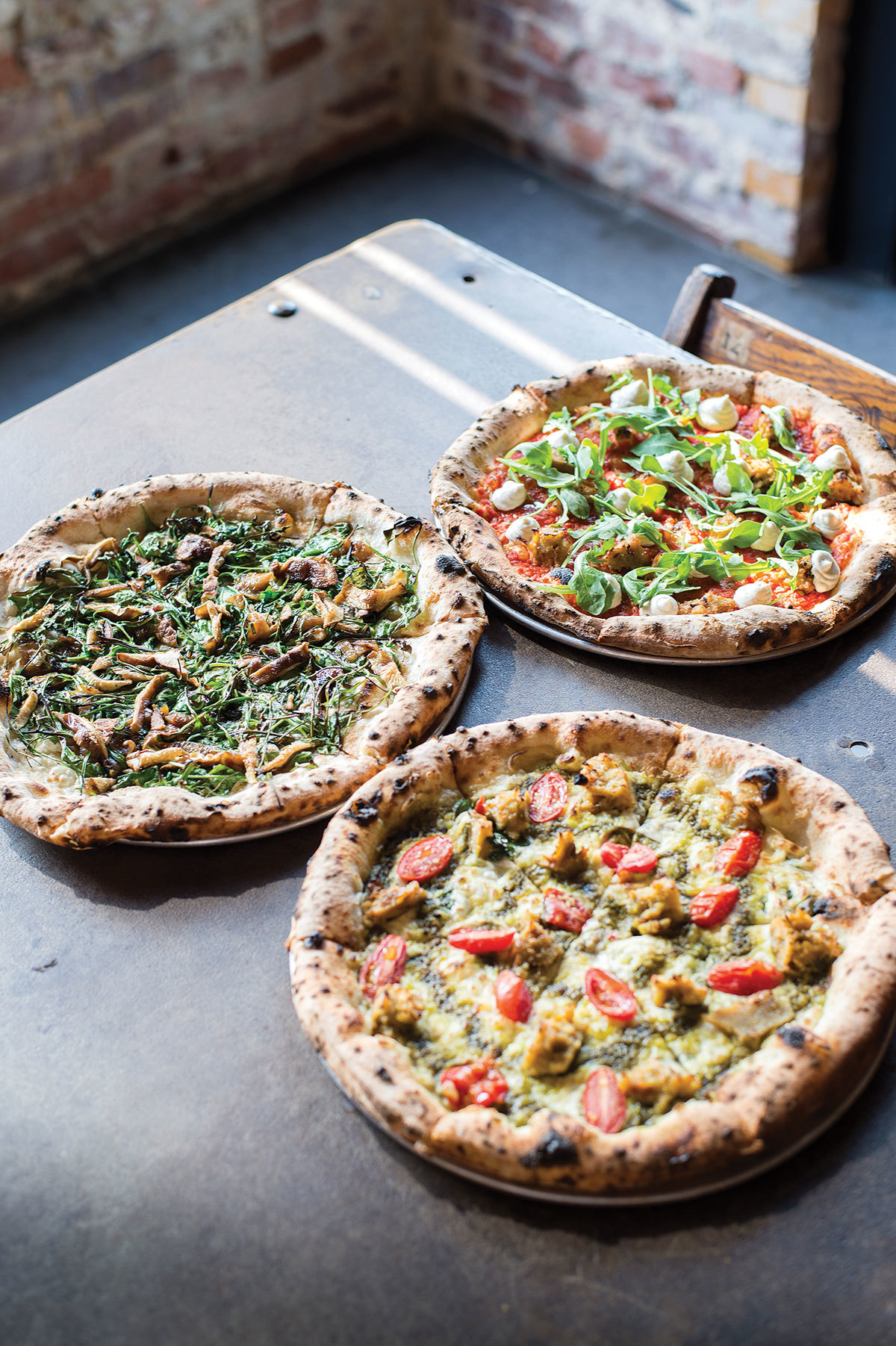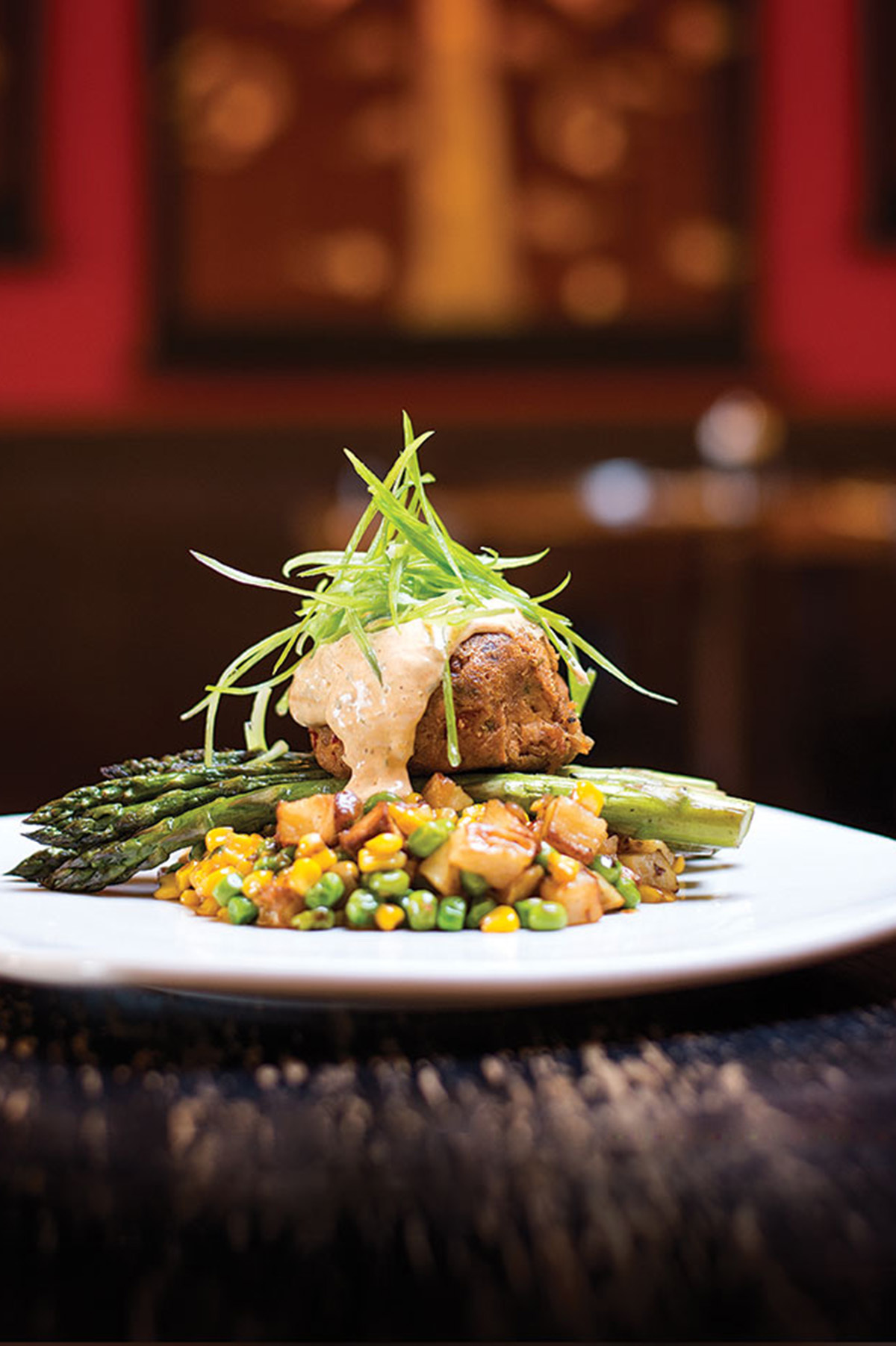 An assortment of vegan pizzas from Paulie Gee's, hearts of palm crab cake at Great Sage. —Christopher Myers
Liquid Earth
A funky ambiance and deeply delicious food have made this Fells Point hideaway a vegan, raw, and vegetarian staple for more than 20 years. While the neighborhood has evolved, owners Mike and Antonette Lippy have been able to sustain all comers with flavorful, wholesome foods and drinks derived from the freshest, largely organic local ingredients. Tofu stars in all its variations, whether marinated and thinly sliced (the loaded Filly Cheese Fake), or diced with veggies and Nayonaise (the creamy Tofu Salad sandwich). Greens also shine in sandwiches, salads, and raw items, while fruits and vegetables collaborate—sometimes with spirulina and bee pollen—in creative juices and smoothies. Veg Out: The Not Ham Sandwich, with raw red onion and spunky horseradish mayonnaise, is an ideal lunch. Table Tip: Don't skip Antonette's vegan oatmeal chocolate chip cookie. 1626 Aliceanna St., 410-276-6606
Mango Grove
With one of the lowest meat-consuming populations in the world, India's cuisine has long been known for its culinary focus on vegetables. Vegans and vegetarians alike will delight in the offerings at this South Asian oasis. The fare, including thalis, oothappams, and shorbas, is authentic, aromatic, and thanks to the absence of animal fat, a lot lighter than your typical strip-mall Indian-food greasy spoon. Veg Out: Zero in on the dosai section of the menu. A dosai is a jumbo (we're talking nearly 2-feet long) rice and white lentil crepe. Table Tip: The all-you-can-eat lunch buffet is a steal at $12.95. 8865 Stanford Blvd., Columbia, 410-884-3426
Naked Lunch
As one might expect, the lunch spot at MOM's Organic Market in Hampden takes its vegetarian and vegan food quite seriously. The fully organic grocery store touts a small corner cafe with healthy meals that, while not scientifically proven, could add years to your life. Brown rice bowls packed with tofu and seaweed and glistening with gluten-free dressings abound, but also try the cauliflower steak, marinated in lemon juice, olive oil, garlic, and dill, or the black-bean burger, a fiber-packed patty of black beans and sweet potato smeared with guacamole on a spelt bun. Everything is served in biodegradable to-go containers (duh), and if you're extra ecologically minded, the grocer even offers reserved parking for patrons driving fuel-efficient cars. Veg Out: The Pink Lady juice is an invigorating elixir of apple, orange, beet, lemon, and lime juices featuring the funky fizz of kombucha. Table Tip: Browse the grocery store's luxurious organic goods and start planning your next meal. 711 W. 40th St., 667-219-2500
On the Hill Cafe
This sweet and sunny spot sits in the shadow of the Maryland Institute College of Art, so it's not surprising to find a menu that's heavy on colorful and creative vegan and vegetarian gems, from seasonal summer rolls to a bowl of rice, beans, and crispy plantains to a chipotle black bean rice burger with corn. Veg Out: We can't stop oohing and ahing over the house-made tamale cakes. Served in a stack, these corn creations cavort with pico de gallo, guacamole, Monterey Jack cheese, and sour cream. One bite and you'll start planning your return visit. Table Tip: Bring extra spending money for a work on the walls by fledgling MICA artists. 1431 John St., 410-225-9667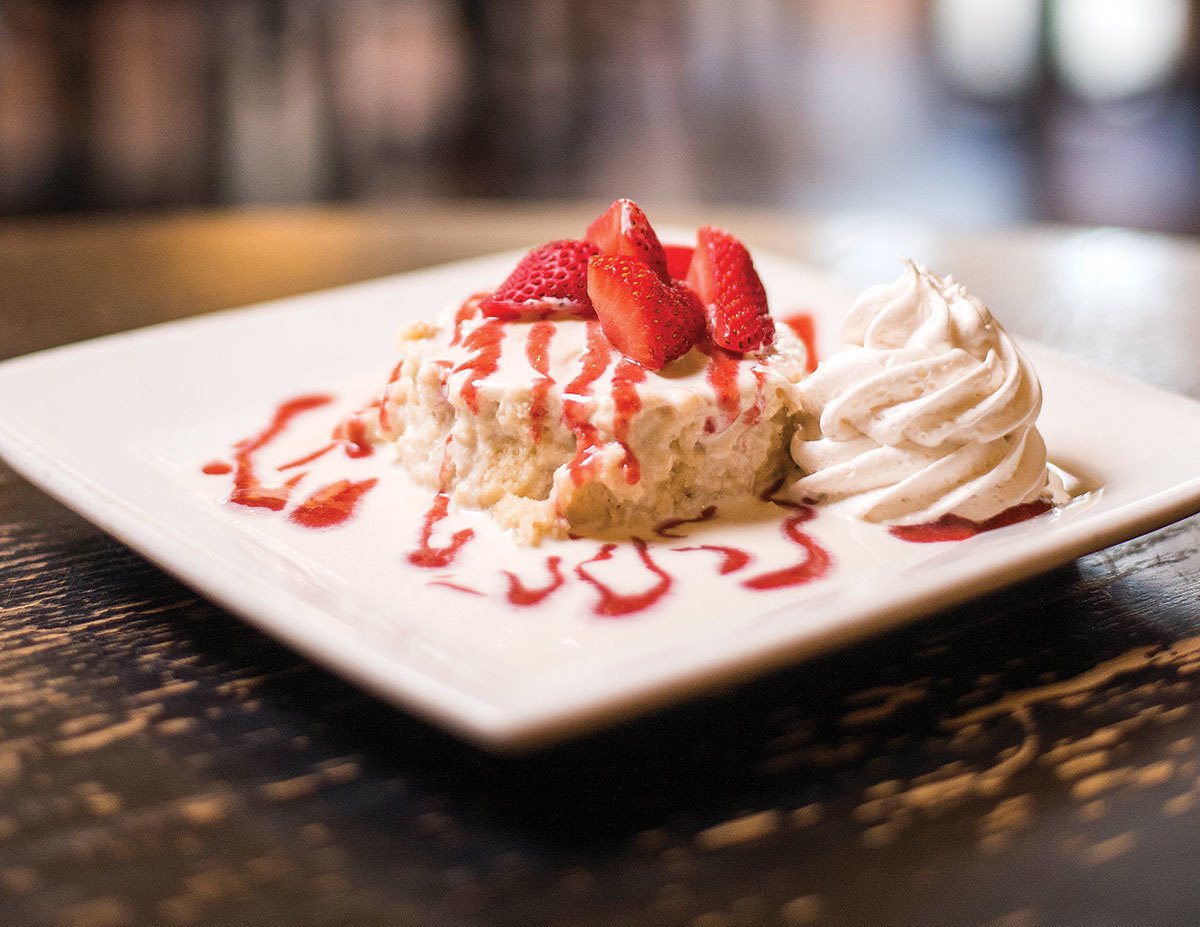 Paulie Gee's
A pizza pilgrimage can be tough when you're vegan, especially given that dairy, i.e. cheese, is a central ingredient. And while there are plenty of places with vegetarian pizza, few have this variety of vegan pizzas. This Hampden slice joint has dedicated half of its menu to vegan pies. Here, slices of perfection—topped with house-made cashew ricotta, vegan sausage, and vegan marinara—add up to way more than the sum of their parts. The Russell Bell, made with smoked vegan mozzarella, lemon slices, basil, and olive oil, is a good start. Veg Out: Pizza is the main event, but start with a salad. We enjoyed the cleverly called Grape to Meetcha—arugula with grape tomatoes, Parmigiano-Reggiano, and a quick coating of lemon vinaigrette. Table Tip: If you're more of the to-go type, consider take out, available only Tuesday through Thursday and Sunday. 3535 Chestnut Ave., 410-889-1048
Red Emma's
Anything goes at this bookstore-cafe, from the staff and the clientele (an eclectic mix of JHU film hipsters and MICA students) to the selection of books (Karl Marx's Communist Manifesto) to a menu on which vegan pastas (mushroom ravioli in herb butter) keep company with spanakopita, a kick-ass báhn mì, and colorful salads. Most menu items can be made vegan. Veg Out: Don't miss the rotating selection of irresistible Hvmble vegan doughnuts on display behind the glass. Table Tip: Pay it forward with a prepaid cup of soup ($3.50) and a cup of coffee ($1) for someone in need. 30 W. North Ave., 443-602-7585
Spice & Dice
Set aside your concerns when you see grilled pork and chicken on the menu here. We promise you'll find plenty of V's (vegetarian) and v's (vegan) on the lineup at this BYOB spot, where veggie versions of almost every dish can be made. With head chef-owner and Thai native Lawan Fuangphon in the kitchen, expect Siam staples such as eggplant with basil sauce, masaman curry, tofu with peanut sauce, and giant bowls of Tom Yum noodle soup. Veg Out: The crispy eggplant salad has just the right kick without starting a three-alarm fire on your palate. Table Tip: Enjoy live jazz on Thursday nights. 1220 E. Joppa Road, Towson, 410-494-8777
Stall 11
Don't be fooled by this simple stall in Remington's R. House. Behind the micro succulents, chef Melanie Molinaro takes an artistic approach to vegan and vegetarian cuisine, focusing on colorful local ingredients. Teaming up with the Urban Pastoral city farm, her creations are outright beautiful, be they smoothies (the radiant Raven, packed with beets, bananas, and a hint of orange) or starches (the Kyoto Bowl with udon noodles, broccoli, ginger sauce, and avocado). The well-lit spot also carries a cold case of salty and sweet treats like vegetarian chili-and-rice and chia seed pudding for herbivores on the go. Veg Out: Sure, it's not Geno's or Jim's, but the Funghi Philly, filled with mushrooms, peppers, caramelized onions, and faux Cheese Whiz, fashioned from creamy cashews, is a fun take on a Philadelphia cheese steak. It might sound sacrilegious, but it's surprisingly tasty. Table Tip: In season, nab a spot outside in the sun. 301 W. 29th St., 443-681-1911
Sticky Rice
This hole-in-the-wall, Asian-inspired hipster haven features an impressive array of novelty sushi, noodle bowls, soups, and starters, so whether you're vegetarian, vegan, or gluten-free, there's no need to miss out as your friends consume Crazy Calamari or Spicy Salmon Rolls. Mock chicken, tofu, sweet potato, umeboshi (pickled plum), oshinko (pickled radish), and innovative sauces (such as one with sambal and agave jalapeño) populate the menu. Veg Out: Go for the Garden Balls, aka great gobs of spicy rice and red pepper stuffed inside a tempura fried tofu pocket. Even vegans have their guilty pleasures. Table Tip: Hang out until the bar closes at 2 a.m. for some karaoke to go with your teriyaki tofu bites. 1634 Aliceanna St., 443-682-8243
Sweet 27
With its funky décor and accent lights, this Remington standby is known for its eclectic multi-cultural cuisine. As you dig into riffs on Asian (General Tso tofu, stir fry quinoa), Latin (black bean mole enchiladas), and Indian cuisines (see below), let your taste buds travel the globe. Regardless of origin, every dish is entirely gluten-free. Veg Out: We couldn't resist the "Indian tostadas," a Tex Mex-meets-Mumbai mix of chickpeas, potatoes, onions, tamarind, and mint atop crispy corn tortillas. Table Tip: Sit in the upper-level dining room and admire the mural that features an epic dinner party including Edgar Allan Poe, Thurgood Marshall, and John Waters. 123 W. 27th St., 410-464-7211