Where to Find the Best Soft Shell Crabs in Baltimore
Our eternal affinity for a peculiar, primal delicacy.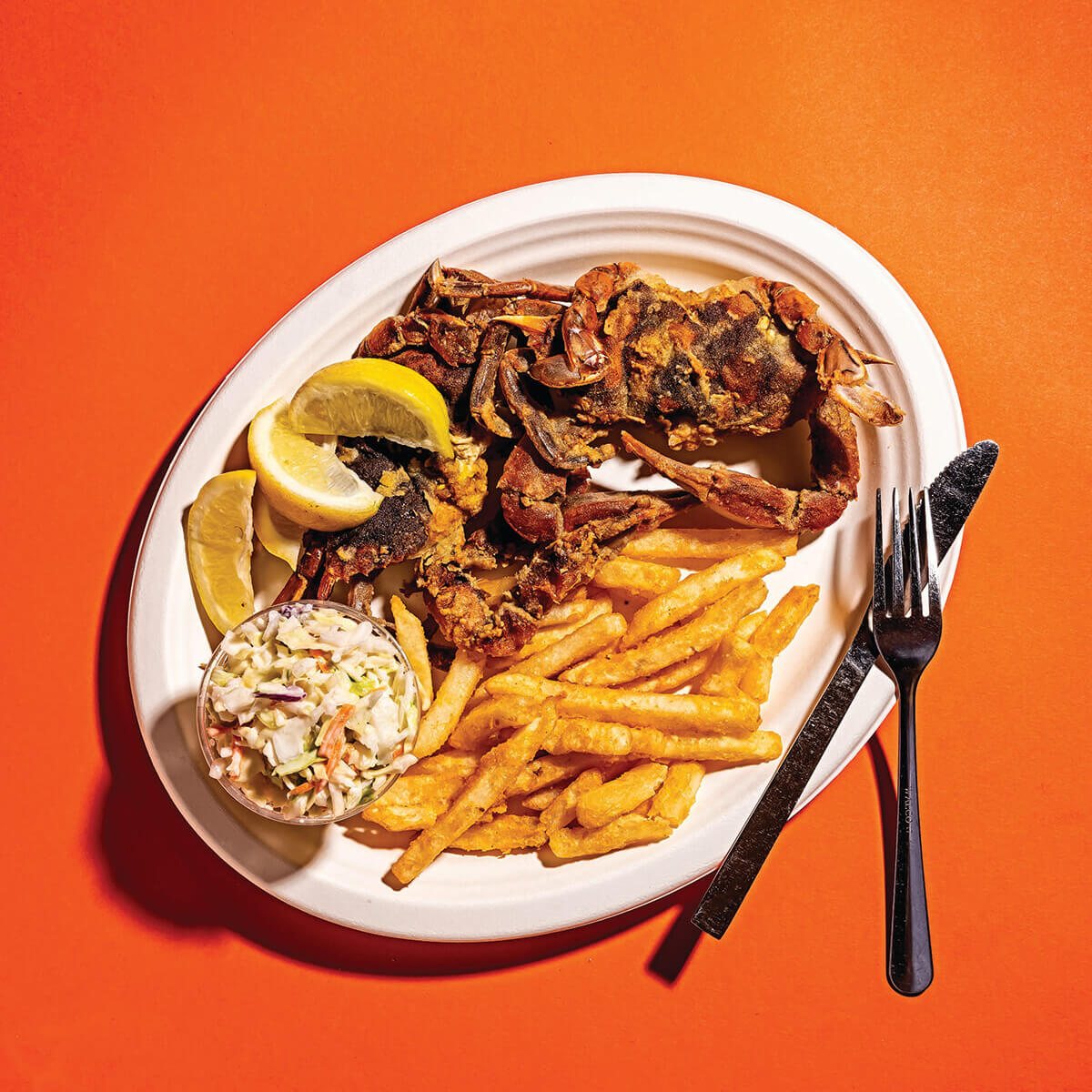 They arrive in the middle of spring, a few weeks earlier or later than last year, depending on myriad mysterious things like the moon and weather. A cold spell could push them off. As could a good rain. But eventually, the water will rise above 50 degrees, luring the Atlantic blue crab out of the bottom of the Chesapeake Bay tributaries and off on a great migration toward nearby shorelines for a cosmic event: becoming a soft shell.
Delicacies are often ephemeral foods—those still at the whims of Mother Nature—and few rival the seasonal treat of a soft-shell crab. In order to grow, crabs must molt their exoskeletons, and in that brief period before their tender bodies turn tough again—a matter of mere hours—they can be harvested and eaten whole. Plump, fragile, and flavorful, they allow us to indulge our most primal instincts, devouring the sweet meat with abandon, without the pricked fingers of hard shells.
For that, they've been coveted for centuries, sating the aquatic appetites of Native American communities and European colonists, appearing in early 20th-century cookbooks boiled, broiled, fried, steamed, and even curried, with one Cajun recipe calling the soft-shell crab "a dainty dish that graces the most aristocratic tables." Part of their rise in popularity arrived with the advent of aquaculture, with the first known soft-shell nursery appearing in South Carolina in 1885, though many credit the region around Maryland's Crisfield as the soft-crab capital of the world. Decades-old shedding docks still speckle nearby Smith and Tangier Islands, where, come spring, watermen patiently wait along the underwater grasses for crustaceans to shift their shapes, at which point they're plucked and rushed to market.
Today, these spider-like delights have found their way onto menus not just near the crab's natural waterfront, but across the country, and around the globe, embellishing everything from eggs Benedict to sushi. But in our eyes, there's only one way to eat them: dredged in J.O. and flour. Fried in butter. Served between two slices of white bread with a ripe July tomato and slather of mayonnaise. Simple. Perfect. Ambrosia of the Chesapeake.
Here are our go-to places to eat 'em:
Big Softy
For several years now, the Big Softy pop-up has been slinging soft-shell crabs around town, from R. House to John Brown's Butchery. Follow them on Instagram to catch their next location for classic sandwiches with spicy mayo on griddled sourdough.
Charleston
When chef Cindy Wolf has soft shells on offer, head to Harbor East—fast. Sit at the bar, order a martini, and treat yourself to at least one, which will likely arrive lightly fried in cornmeal and served simply with some seasonal salad and divine aioli.
Dylan's Oyster Cellar
Long live the soft crab sandwich at Dylan's. Every spring, we wait to hear that these little creatures have arrived in Hampden, where they're fried to the perfect crisp, double stacked on toast with butter lettuce and tomato, and topped with a tiny Maryland flag.
Ekiben
One of the most fun ways to eat soft crabs is however Ekiben decides to cook them. Each year, their inventive takes tantalize taste buds across the city, from spicy BLTs to Buffalo- style sandwiches with cheddar and blue cheese.
The Local Oyster
Beloved restaurateur Nick Schauman might have invented "food porn" with his ridiculous soft crab sandwiches in Mt. Vernon. Live a little and order the "Colossal Crab Sandwich," which is also piled high with a crab cake and bacon on Texas toast.
Check out the rest of our Crabs: A Love Story package for the top crab houses, crab cakes, and crabby dishes in the region.