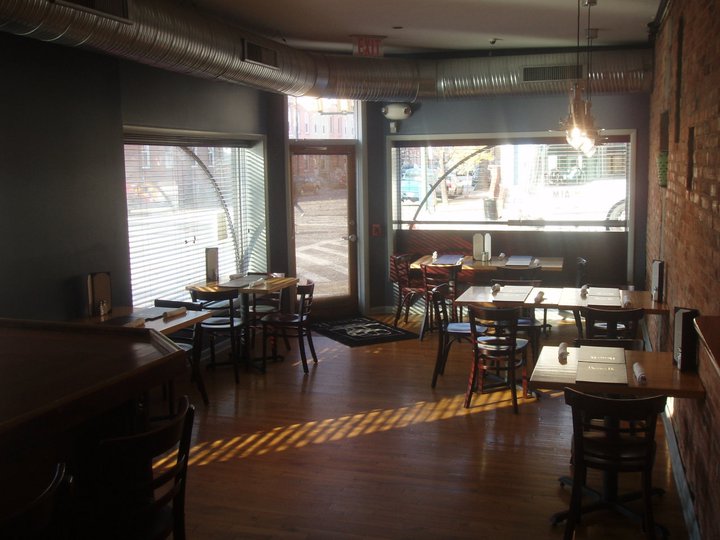 Bistro Rx Facebook
The location at the corner of Baltimore Street and Linwood Avenue has been empty since last December. But, last night the space was packed with people, as Bistro Rx opened its doors. The new bar/restaurant (with a name paying homage to the former Block's Pharmacy location) is being opened by Wayne Mahaffey, known for his eponymous Canton beer bar.
Businesses at this location have certainly struggled in the past, which is kind of a shock considering it's in an up-and-coming neighborhood, on the corner of two main thoroughfares, and across from bustling Patterson Park. But all of the mechanics of a restaurant/bar—management, chefs, menus, prices—have to work for it, too.
But, if last night's turnout was any indication, the neighborhood is ready to welcome a new business. The place was packed inside and out from 6 p.m. on. The overall structure of the place (and pharmacy-style layout) is still intact. But, there are some changes—the walls are a smoky blue-gray, wine racks were added, and the bar area is darker. The new image matches what Mahaffey is trying to create: a wine-centric bistro with a coordinating menu.
The place was incredibly organized for an opening night. The service was stellar and there were separate food, wine, and beer menus available. The food menu looks great, with most options in the $7-10 range, entrees a little pricier (most expensive dish was surf and turf for $25), vegetarian-friendly options, and a kids' section (very smart for the family-friendly area). Additionally, Bistro Rx is open on Saturdays for lunch and Sundays for brunch.
The wine menu includes 20 options by the glass (which you can also get by the bottle) and an additional 40 bottle choices. Bistro's happy hour is from 4-7 p.m., which includes $3 off wine bottles and $1 off everything else.
And, for anyone that knows anything about Mahaffey's, it comes as no surprise that the beer selection was on-point. There are 24 bottles available, like Lindemans Framboise Lambic, Chimay White, and Westmalle Triple. The menu included local selections, like Flying Dog Pale, Dogfish Head 90 Minute, and Loose Cannon. There were also seasonal beers on tap, like Paulaner Oktoberfest and Cape Ann Fishermans Pumpkin Stout. Most drafts were $5.
By 10:30, the place was still packed, which is an indication that the neighborhood is excited to have something back on the corner. The question is, will it suffer the same fate as its former tenants, Parkside and Three? I'm optimistic for a couple of reasons.
The prices are right ($9 burger with fries) and, in this neighborhood, it's key to keep your prices reasonable and be sure it's affordable for everyone. Also, the Mahaffey name is going to be huge. He's a proven, successful bar owner, and Bistro Rx might attract customers up from Canton. Plus, wine bars are all the rage these days (see the success of 13.5 and Vino Rosina), so their finger is on the pulse. With all of these factors combined, Bistro Rx might finally be able to break the curse.