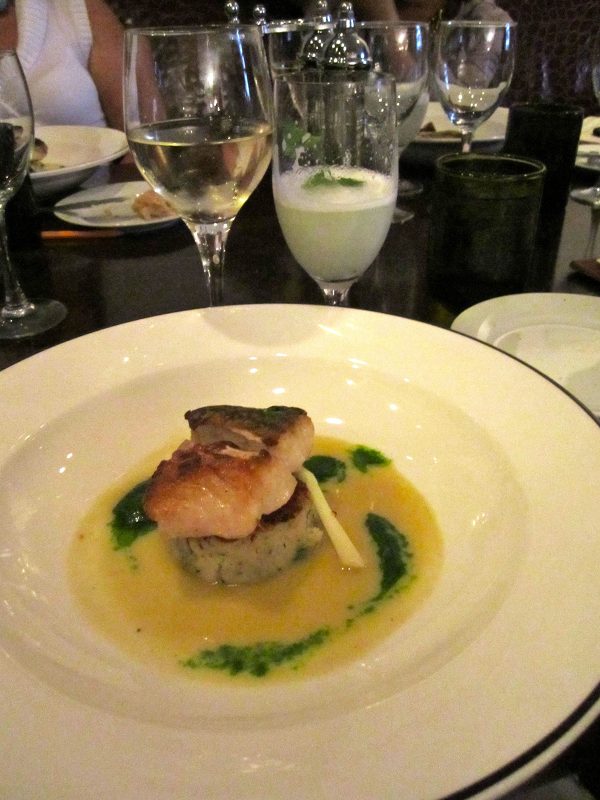 On Wednesday night I had the pleasure of attending an event called Bottle Battle at B&O American Brasserie. The concept of the event was really creative and fun: we were served dishes created by B&O chef Thomas Dunklin and, with each dish, we were served a corresponding cocktail (created by B&O's Brendan Dorr) and a wine (selected by Kimpton Hotels' Emily Wines—yes, that is her real last name). It was up to us, as the attendees, to vote for which drink paired best with each dish.
While the concept is simple enough, the actual decision-making wasn't so much, as all the drinks paired ridiculously well with the dishes. Our first course was a Maryland rockfish, pictured, served with bacalao, spring onion, and tomato jam. Wines selected an Etude pinot gris and Dorr made a cilantro gin fizz (Plymouth gin, cilantro syrup, lime, orange flower water, soda, and egg white).The pinot was a perfect pairing with the rockfish, accentuating the dish's flavor. The cocktail was also a refreshing complement, but seemed to mask the food's flavor altogether.
The second dish was a little more experimental (at least for me): cured rabbit, tasso loin, mustard rillete, liver mousse, and spicy head cheese. While I wasn't a huge fan of everything on my plate—I don't think my palette is refined enough—I did appreciate the pairings of Route 99 pinot noir and Dorr's agave apricot drink (Cazadores Reposado tequila, Velvet Falernum, Domaine Canton, apricot syrup, lemon juice, and orange bitters). Here, I chose the cocktail. While the zesty pinot noir went well with the rabbit, the spicy agave apricot complemented the rest of the flavors, especially the mustard.
For our third and final course, we were served a rack of lamb, braised lamb belly, split pea stew, and goat cheese gnocchi. Now, I am no food expert (I leave that to Suzanne), but this was an amazing dish. The lamb was cooked perfectly (and barely) and the goat cheese gnocchi were flawless melt-in-your-mouth pillows.
To accompany this amazing dish was a Kunin "Pape Star," an earthy red, and a rye cardizian cocktail (Rittenhouse rye, Byass Solera sherry, lillet, Peychauds bitters, and Fee Bros. orange bitters). This one was a bit of a draw for me. Lamb goes so classically well with red wine and whiskey. The Kunin wine had smoky, peppery notes, which worked extremely well with the dish. The cocktail had a bold, musty flavor with a bit of sweetness that stood up well against the lamb.
In the end, the wine won over the cocktails by a narrow margin. The outcome was to be expected, as wine has always been an ideal match for food. But Dorr showed that cocktails shouldn't be counted out either. The excellent execution aside, it struck me that the entire format is a great idea for an event—whether it be a casual party or a charity gala. Of course the most difficult part would be wrangling up experts, like those on-hand at the B&O.