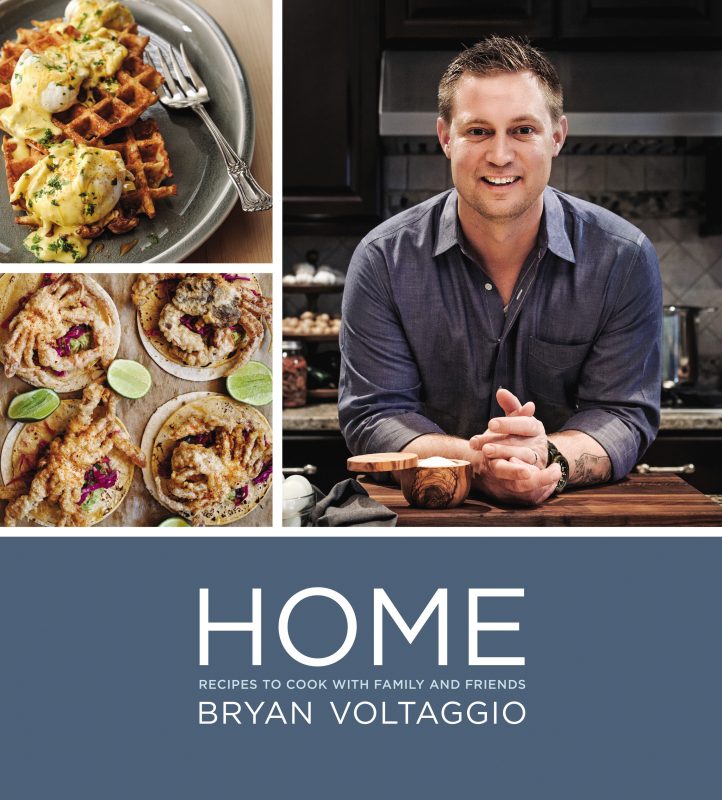 Courtesy of Little, Brown and Company
Most cookbooks, like home exercise equipment, are beautiful dust collectors that guilt us into using them every now and again.
But Top Chef runner-up Bryan Voltaggio's first solo cookbook, Home, is a tome that you'll want to refer to regularly when deciding what's for dinner.
"I wanted to give people a window into what it's like to be a chef and cook at home," says Voltaggio, while sitting on a train headed to New York, as he gets ready to promote the book on the Today show this Wednesday. "I don't want this to be a coffee-table book. I want people to reference it and to cook from it in between making reservations at my restaurants," he adds laughing.
Unlike his for-experts-only collaboration cookbook Volt ink with younger brother, Michael, this book is for anyone who likes to cook. "I purposely kept the technique low," says the James Beard Award finalist. "To cook with this book, you don't need any specialized equipment or training."
Published by Little, Brown and Company, Voltaggio's book hits stores (and mailboxes for those who pre-ordered) today.
Between researching, refining, and writing recipes, the cookbook has been more than a year or so in the making. Now that the day is finally here, Voltaggio can't contain his excitement.
"Yesterday I ran over to our offices and got to see the books as they were coming in," he says. "It was pretty exciting—it felt like Christmas Day."
Home includes comfort foods such as spaghetti and meatballs, meatloaf, and waffles and blue crabs with "beernaise" (see recipe below), as well as adaptations of recipes from Family Meal.
The married father of three is very much a family man, and though he's not home every night to break bread with is high-school sweetheart wife, Jennifer, and their three young children, when he is at his Frederick home, he cooks many of the dishes that are featured in the book.
"This is a chef's life wrapped up into a book," says Voltaggio, "though my wife jokes that the book should be called Occasionally Home, because I'm not home for every meal."
When he is at home, the peripatetic chef, who just opened his ninth restaurant, including Aggio and Family Meal in the Inner Harbor, makes cooking communal. "The kitchen," he says, "is a place where we not only share in conversation, but work together on creating a delicious meal—I want my family to experience what I do for others at home."
Fans of Family Meal's signature fried chicken recipe can try their hand with Home.
"The secret is in the way we brine the chicken for 12 hours," explains Voltaggio. "The brining process yields this delicious, juicy chicken. But it's not a rushed recipe that your can cook in 35 minutes times. It involves some forethought and preparation. This is my life as a home cook and chef. I want to show people that this is what it's like to plan ahead and enjoy time in the kitchen. My advice is to put other people to work and let them help you. Rely on your family as sous chefs."
Signed copies of Home are available at Family Meal and Aggio, as well as all of Voltaggio's restaurants.
Ever more reason to rejoice, on April 25 Voltaggio will be signing copies of the book at Camden Yards when the Orioles go up against the Boston Red Sox. "I'll be throwing out the first pitch," says Voltaggio.
---
No time like the present if you want to have breakfast for dinner tonight or try your hand at cooking like Voltaggio. This recipe, excerpted from Home, comes courtesy of Little, Brown and Company. Copyright © 2015 by Bryan Voltaggio
Crab waffles Chesapeake
Serves 6 To 8, Depending On The Size Of Your Waffle Iron
OUR BAY SEASONING BLEND:
1 dried shiitake mushroom
1 tablespoon / 7 grams black peppercorns
4 bay leaves
1 tablespoon / 3.5 grams coriander seeds
1/8 teaspoon / 1 gram yellow mustard seeds
½ teaspoon / 1 gram red pepper flakes
½ teaspoon /1 gram piment d'Espelette
2 teaspoons / 2.5 grams onion powder
21/4 teapoons / 6 grams paprika
2½ teaspoons / 7.5 grams celery seeds
½ teaspoon / 1 gram garlic powder
2 tablespoons plus 1 teaspoon /
42 grams fine sea salt
WAFFLE BATTER:
½ cup / 113 grams lukewarm water
1 package / 8.75 grams instant yeast
1 tablespoon / 12 grams sugar
2½ cups / 375 grams all-purpose flour
½ teaspoon / 3 grams fine sea salt
¼ teaspoon / 1.25 grams baking soda
2 cups / 480 grams buttermilk
2 large eggs
2 teaspoons / 8 grams vanilla extract
½ cup / 113 grams unsalted butter, melted and cooled
BEER-NAISE:
1½ cups / 350 grams pilsner
or ale of your choice
¼ cup / 55 grams malt vinegar
1 medium shallot, thinly sliced
4 sprigs tarragon
1 cup / 225 grams unsalted butter, sliced
3 large egg yolks, room temperature
2 teaspoons / 6 grams Our Bay
Seasoning Blend
½ teaspoon / 3 grams fine sea salt
Juice of 1 lemon