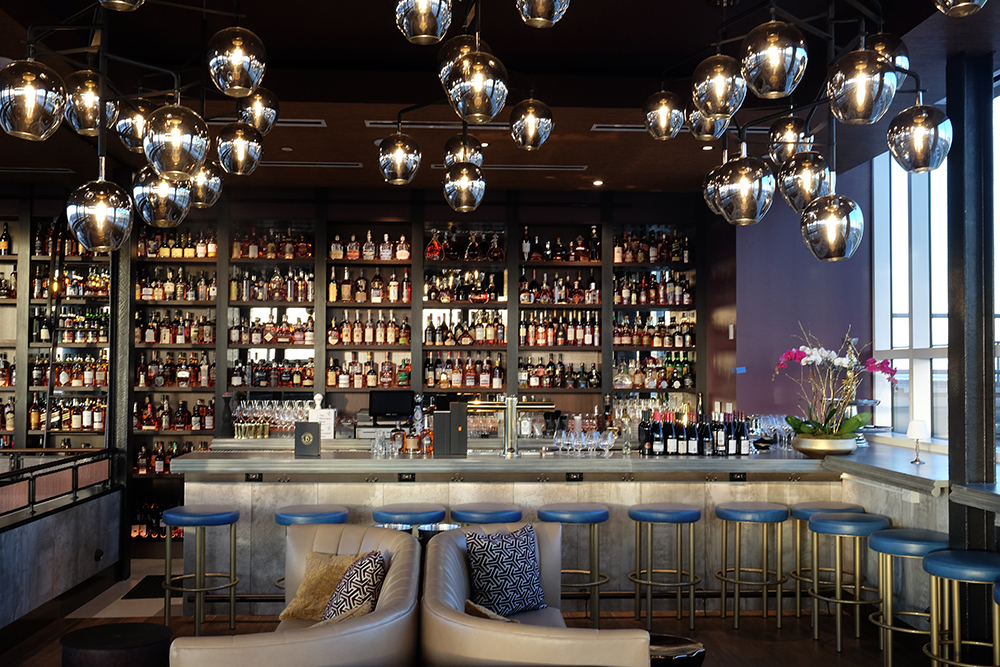 Meredith Herzing
The Atlas Restaurant Group's new Bygone at the top of the Four Seasons Baltimore is certainly staying true to its title. With silver-plated platters of caviar, gold-rimmed Lenox plates, hand-blown Austrian crystal stemware, Champagne, flambé and cigar guéridons, and the state's largest whiskey bar, the opulent new space on the luxury hotel's 29th floor, evokes what co-owner Alex Smith calls a "Gatsby-era grill" that's something straight out of a period piece by designer Baz Luhrmann.
"We were looking for a use of Harbor East that the neighborhood doesn't already have," says Smith. "We thought high-end, classic American grill, not quite a steakhouse or a seafood house, but something to offer the best of both worlds. We wanted to go upscale because it's the rooftop of the Four Seasons, and we thought it would be cool to have this classic space on top of a modern hotel."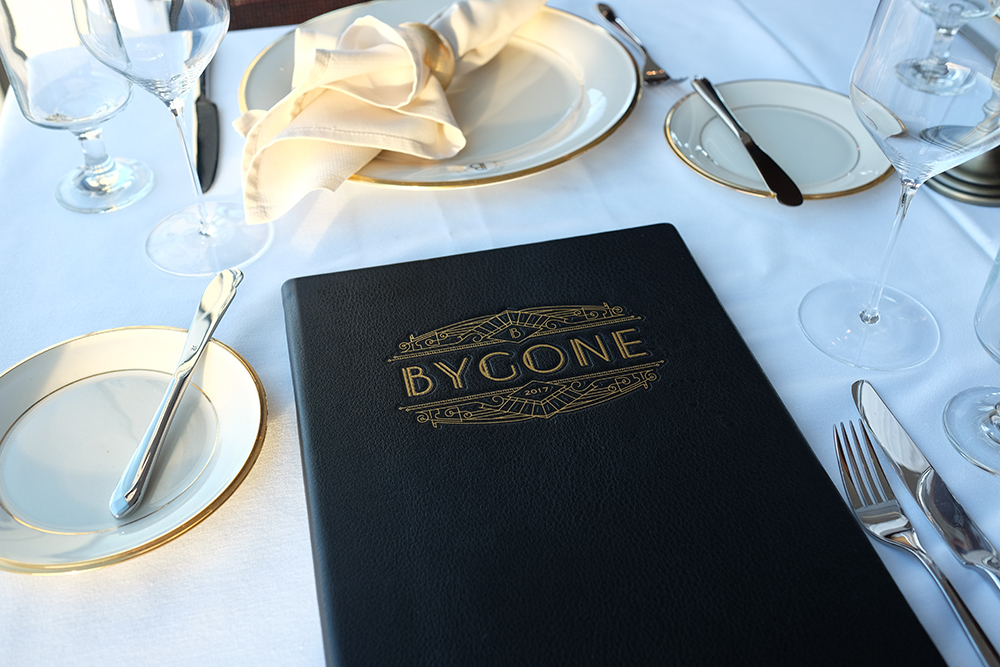 The space certainly evokes the luxury Gatsby-esque aspect, as well as offers panoramic views of the city—looking east to the Key Bridge and north to Towson. There's a certain nostalgia here, like you've stepped back into Windows to the World in New York City or SkyCity at the top of Seattle's space needle. But the Domino Sugars sign and Camden Yards reminds us where are, indeed, in Baltimore.
The menu itself, developed by Atlas corporate chef and Bygone executive chef Matthew Oetting, also harkens back to an earlier time, with dishes such as Lobster Newburg, duck flambé, Beef Wellington, and Dover Sole Meuniere front and center on the menu. A rotisserie oven for cooking ring-necked pheasant, ham porcelet, and hand-carved rib roast is a centerpiece of the open kitchen. Desserts are equally impressive and rich, crafted by pastry chef Cynthia Ruane. 
As Oetting proudly shows off an inspiration binder of menus from classic restaurants such as The Empire Room in Beverly Hills and The Golden Lion in Seattle, Oetting explains that his menu and recipe development were many months in the making. 
"We're not trying to make a French restaurant here," says the chef,  "but in the research I did most of the prestigious restaurants in America at that time were manned by French chefs and there was a lot of French influence on their menus."
For the classically trained, award-winning chef, a "continental" menu presented a unique opportunity. Although Oetting has always had a love for classic French cuisine, his culinary training at Le Cordon Bleu was at odds with what was actually happening in restaurant kitchens. 
"Cuisine had become more modern with molecular gastronomy and sharing plates," he says, "but I had a love for what was traditional French technique and cuisine and put that on the back-burner as I made my way through my culinary career." 
Now that's finally able to exercise his passion, the challenge for Oetting has been to blend the old with the new. "The question becomes, 'How can we make that a little bit better and still preserve the era of the late '40 early '50s,' but still make the food modernist enough for the modern palate?" he says.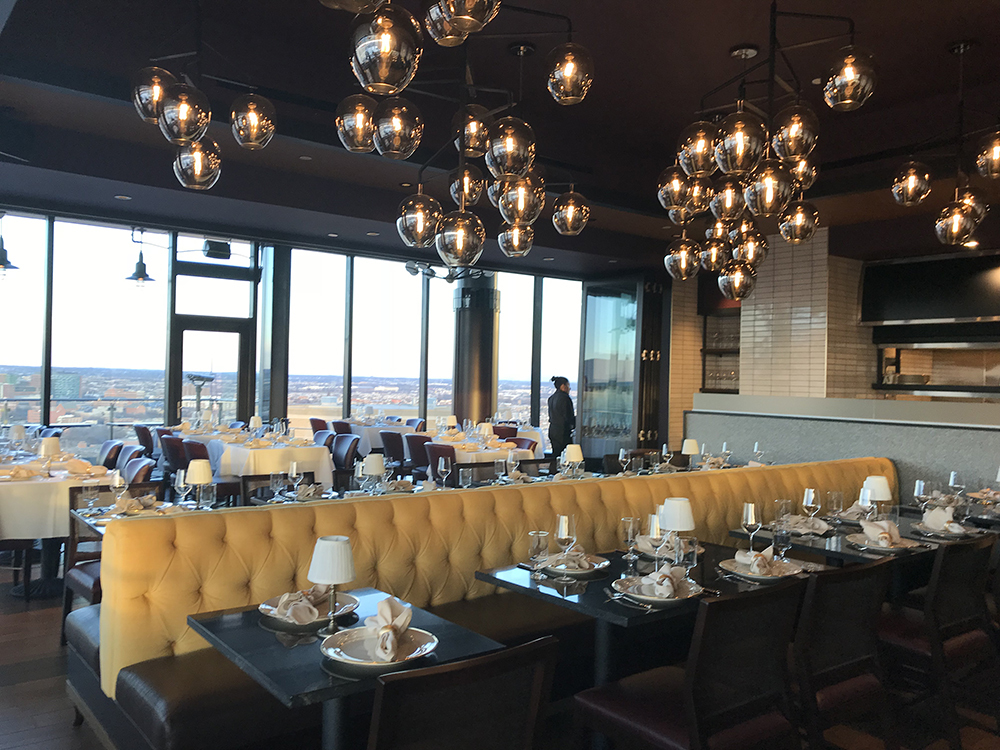 The bar program also echoes retro stylings with a contemporary and luxurious twist. Bar manager Will Escalante moved over from Ouzo Bay to head up the cocktail program at Bygone, which consists of a horseshoe-shaped bar with incredible waterfront views and a mezzanine bar above it that boasts dark woods, a library ladder, and an unprecedented whiskey selection. 
In fact, Bygone will have the largest whiskey selection in the state with 775 total bottles including some rare finds like more than a dozen varieties of Armagnac brandy, an Absinthe fountain for four, and two tableside cocktails inspired by vintage recipes. There will be a menu of 18 classic cocktails, with history and anecdotes for each. 
"I studied recipes in the Savoy Cocktail Book and guides by [bartender] Jerry Thomas," Escalante says. "Some of these cocktails people might not be familiar with at first, but they each have a unique story to tell."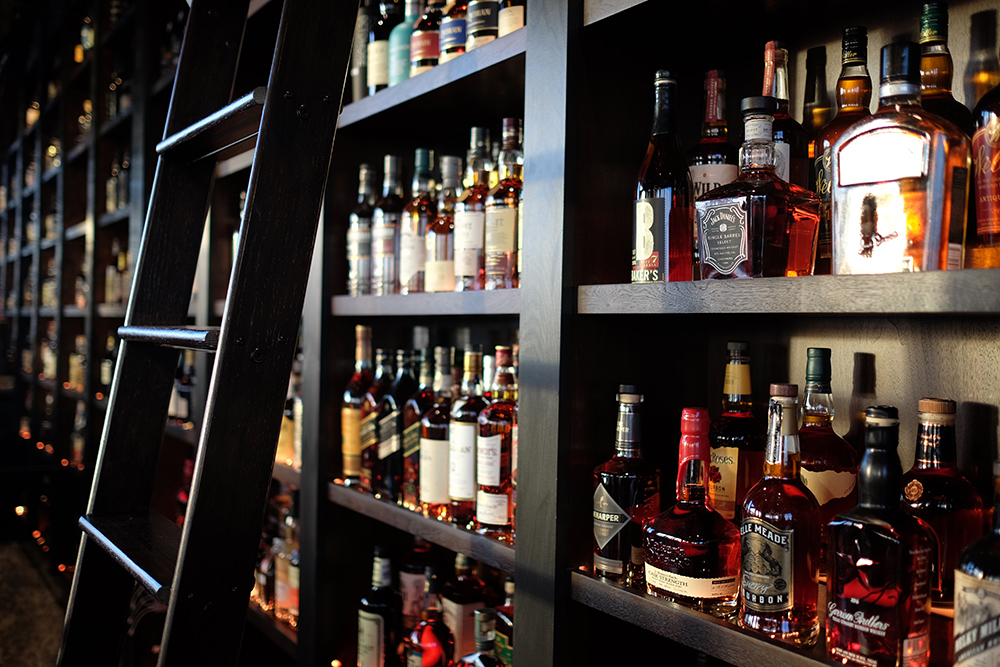 With 450 reds and 250 whites, the wine selection is mostly French—pairing well with the cuisine—and is poured in hand-blown Zalto glasses. Smith says the champagne collection is the "largest in the state," which will be on full display at Bygone's New Year's Eve bash, a sort of grand opening for the restaurant itself.
Bygone is the Atlas Restaurant Group's eighth venture, including Habor East hotspots Ouzo Bay, Azumi, Loch Bar, Tagliata, The Elk Room, Harbor East Deli, and Ouzo Bay in Boca Raton, Florida. Smith says that Atlas plans to open three more properties "within a two-mile radius" of Harbor East in 2018. 
"Our restaurant group is my love letter to Baltimore, because I love the town so much," Smith says. "We are trying to raise the bar by creating unique experiences for the people of Baltimore that they can only get in other cities."