Café Campli Owners Want Diners to Feel Transported to Italy's Abruzzo Region
Last year, the Hampden couple ditched their jobs to work toward opening the Lauraville cafe inspired by their travels.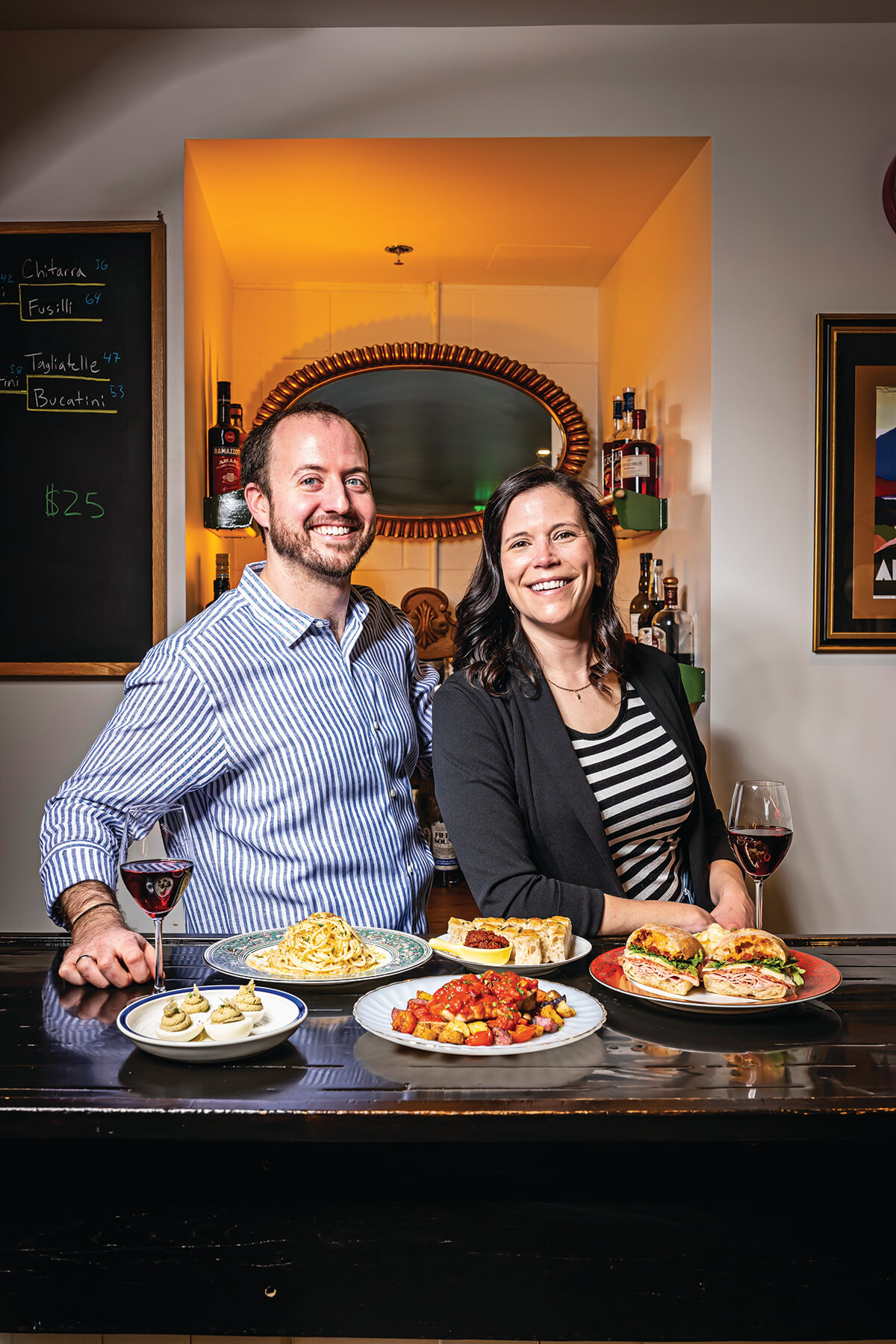 When Sam and Paul Mincarelli traveled to the Abruzzo region in 2019, it was a life-changing experience.  "It was love at first visit," says Paul, whose family hails from Campli in the Abruzzo region.
Sam was equally smitten. "Abruzzo is untouched by American tourism," she says. "That kind of travel experience is incredibly hard to find—and of course the food is incredible."
The duo was so taken, they ditched their jobs with an eye toward opening a restaurant inspired by Abruzzo cuisine. Before opening their own place, they worked as managers at Allora to learn the fundamentals of running an Italian cafe. "We approached [Allora owner-chef] Brendon Hudson, who catered our wedding, and asked if we could work for him," says Sam.
After a year at the Mt. Vernon cafe, they made a go of it on their own and leased a space inside a new condo complex in Lauraville. By mid-November of last year, they opened Café Campli, featuring the foods of Abruzzo and open for lunch and dinner.
Before going into hospitality, Sam and Paul had other careers—she's an architect (and now double-times at the restaurant), he spent four years working for the Baltimore Police Department as a policy writer—but their true passion was food. "This was a dream come true," says Paul.
What's distinct about this region?
Paul: It's a geographically and biologically diverse region. In its western frontier, it's the Apennine Mountains and the high plains. There's a lot of room for grazing, but the weather is such that you're only going to grow things like legumes and lentils and that cascades down to the Adriatic, so you have more land for olives and wine cultivation. Then you have the Adriatic coast, so there's this bountiful seafood harvest. There is something for every season.
Talk about the concept.
Paul: We knew we wanted to do an Italian cafe, a place where you could go at any point in the day.
What did you want to do with your menu?
Paul: We wanted to highlight dishes that we enjoyed in Abruzzo but keep in mind that true Italian cooking is using what's nearby. This summer, for example, we will do seafood from Abruzzo, but will use Chesapeake and Mid-Atlantic ingredients such as striped bass or rainbow trout, so thinking of those roots but not ignoring local ingredients. What the Italians do is sleight of hand. The fewest ingredients possible put together simply but perfectly.
What did you learn at Allora?
Sam: I watched how Brendon stayed calm and moved with deliberation, even under pressure.
Talk about the design of the space.
Sam: You can combine different vibes and have them feel harmonious. I was inspired by Pescara, a midcentury modern mecca, but  there's also a beachy vibe. I am also a big fan of antiques, so there are some items here that reflect that.
How do you hope to set yourself apart on the scene?
Paul: We want to have this Mediterranean feel here. Don't order online—come and enjoy the space.