Smooth as Silks
Canton's newest pub is a winning bet.
Jockey Victor Espinoza wore shiny purple silks as he crossed the finish line aboard California Chrome at the Preakness. Across town, patrons catching the race at one of Canton's newest bars wore big, saucy smiles. Most hadn't even won bets, but a Saturday spent at Silks, a stylish pub whose name pays homage to jockeys' garb and whose menu features a blend of craft and down-home beer, delicious cocktails, and tasty food, is always a winning ticket. For years, the bar on the corner of Hudson Street and South Lakewood Avenue with the tacky sporting-goods mural outside was an enigma. It never seemed open. Was it a speakeasy? A private club? A dive with unusual hours? Who knows? And now, who cares? When new owners renovated, they rid it of practically everything but the name. A lacquered, dark wood bar, staffed by talented and jovial bartenders, runs practically the length of the building. With open windows allowing in plenty of sunlight and a cool breeze on a nice day, it's one of the most outdoor-like indoor places to drink in the neighborhood.
There's also a small dining room, but make no mistake, Silks is more bar than restaurant. Which is not to say that its kitchen doesn't turn out classic tavern fare that's a cut above. Start with an order of wings (10 for $9.99), prepared confit-style for an interesting twist. You'll find burgers (the Juicy Lucy, with the cheese on the inside, is $10.19), cheesesteaks ($9.80), and chicken sandwiches (topped with crab dip and cheddar for $10.50), along with entrees like fish and chips ($11.99), Cajun salmon cakes ($11.99), and even a prime rib. While it's not quite Capital Grille-quality, the steak, served with a vegetable and garlic mashed potatoes, is a bargain at $19.99.
Whatever you order, it's wise to grab a side of fries. Sidewinders, as they're called, are a delicious hybrid steak and curly fry, doused with salt and served piping hot. They're plump and flavorful, and a plate of them makes a perfect side or snack. The cocktail menu features an array of sublime libations. The blueberry margarita, made with Avion Silver tequila, fresh-squeezed lime juice, muddled blueberries, triple sec, and agave nectar, is one of the most refreshing drinks—in one of the most refreshing new/old bars—in the city.
---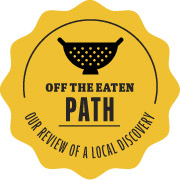 ›› Silks, 2641 Hudson Street, 443-708-0317. Hours: 4 p.m.-2 a.m. Mon.-Thurs., 11 a.m.-2 a.m. Fri., 10 a.m.-2 a.m. Sat.-Sun. Appetizers: $6.80-10.50; sandwiches: $6.80-11.49; entrees: $11.99-19.99.
---
Mike Unger is a senior contributing writer for Baltimore.