George Dailey Talks About Turning His Bolton Hill Concepts Into a Hybrid Café/Market
In the months ahead, the CookHouse owner is hoping to recast the spot as a full-service restaurant, as he'd always intended.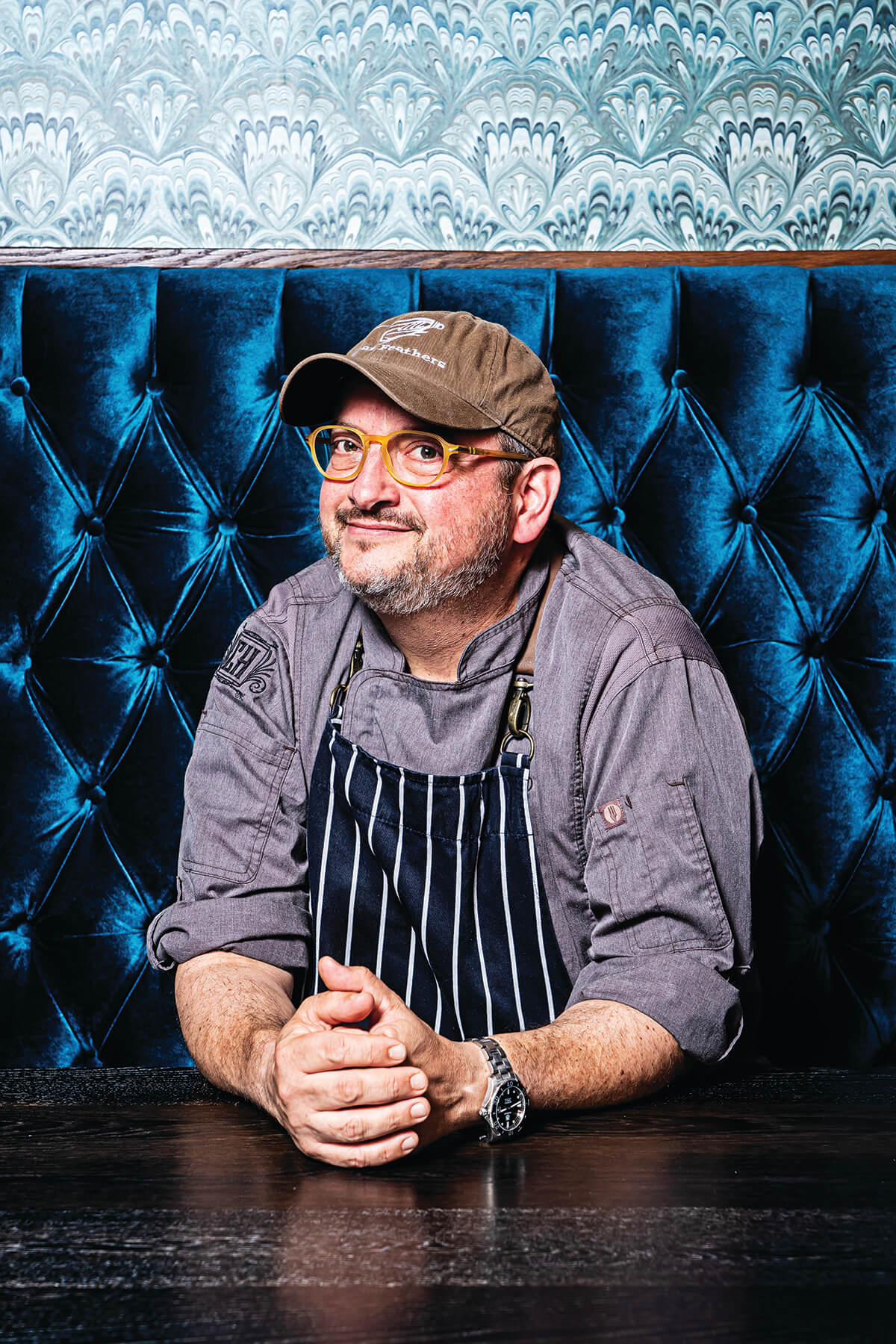 Before George Dailey opened CookHouse on the site of the former B Bistro, his hope was to offer an everyday cafe for Bolton Hill denizens and visitors. "Then the pandemic happened," he says.
In fact, mere weeks after opening CookHouse, the England-born, Venezuela-raised chef, who also owns the nearby On the Hill Café, consolidated his operations, as they struggled for survival.
"I married On the Hill with CookHouse, which has more space," he says.  It also has a liquor license, so "we can sell liquor and wine."
In all the uncertainty, Dailey was forced to let go of most of his team. To date, he is one of three people on staff and the only person handling food preparation, from smoking his own salmon to making lasagna family meals.
Tables, once used ever-so-briefly for indoor dining, are now pushed aside for a hybrid café/market. In their place are baked goods in a display case, to-go soups in the cold case, and dry goods like pasta and wine stocked high on the shelves.
In the months ahead, Dailey is hoping to restore On the Hill as an all-day café and recast CookHouse as a full-service restaurant, as he'd always intended.
"I have to start from zero," he says. "Hopefully it will work out."
Where did the name CookHouse come from?
One hundred years ago or so, kitchens were not in the same building as the house because of fire. They called it the "cookhouse."
What was your plan when you reopened?
When I reopened, I didn't have a plan. I just went into the restaurant and reorganized everything and made a little market. I started working and people were coming in to get coffee. What they were really missing was a latte, so I started making that and added pastries.
With so many varied offerings, how do you decide what's on the menu?
I was raised in Venezuela, so I know a lot about Latin cooking, and I thought, "Let's make something that people can grab and go that's easy." I make hand pies and pot pies and things that people can take to go. I'm not saying I'm happy that this happened, but it actually opened my mind to making other things, like doing 10,000 gallons of tomato sauce and selling it in the jar or smoking my own salmon. I make whatever I want.
How did you learn to cook?
My mom, who passed away in 2019, was my inspiration for cooking. She taught me everything. She lived in England for many years and did a lot of English cooking. She made her own mango chutney. I found her recipe in her apartment and started making it. Now, I have quart jars and pint jars. I'm making curries for family meals and making curries for pies. Also, reflecting the Latin part of my upbringing, I make empanadas. But I don't have many set menu items. One day it might be Cubanos, another day it might be a Swedish meatball sub on a pretzel roll.
Can you share a favorite memory of your mom?
She was an amazing cook. She had a black pot with a blue lid. You knew that when you saw it, something good was cooking. She taught me a lot about many things, like how not to burn the garlic and how to brown meat. She had people saying, "My god, this lady cooks like heaven."