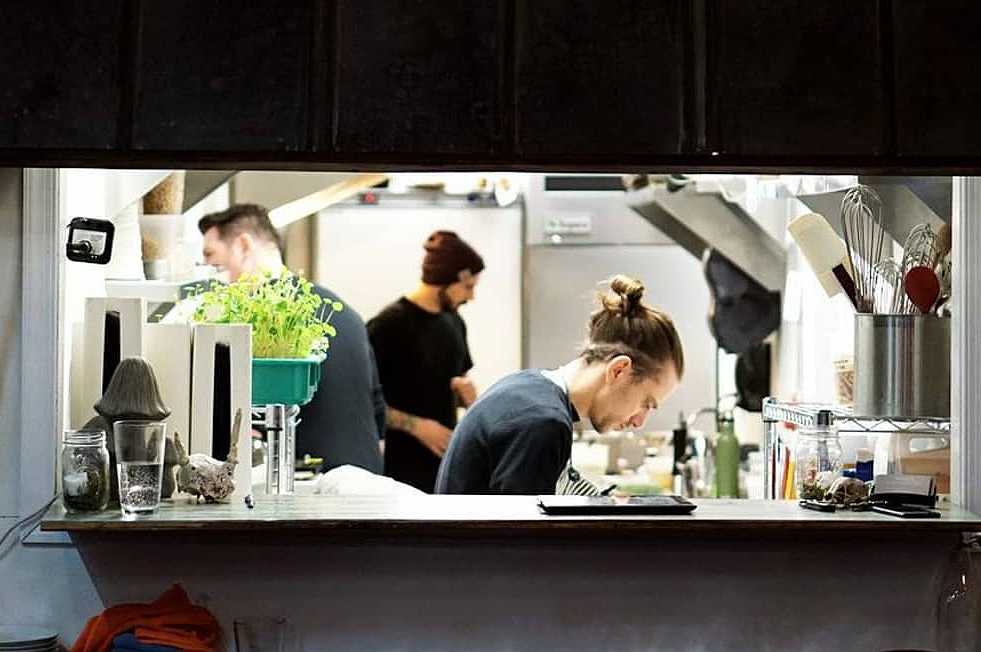 Foraged
When Chris Amendola moved to Baltimore to work as a chef for Fleet Street Kitchen, he figured it would just be another via point on his way back home to St. Augustine, where he had grown up.
"Something about Baltimore captivated me," says the chef who has worked in celebrated kitchens from Dan Barber's famed Blue Hill at Stone Barns in the Hudson River region, as well as Sean Brock's McCrady's in Charleston, SC. "I've never lived anywhere this long since I left Florida, and now it's been 15 years."
With the opening of first eatery, Foraged in Hampden, Amendola has decided to lay down roots. "When I got this restaurant, I was like, 'Yes, let's do this,'" he says. "I guess I'm here for a while."
Why did you want to open a restaurant?
It was always a dream of mine to have my own restaurant one day, although I never thought it would be here in Baltimore. I've never lived anywhere this long since I left Florida, but Baltimore captivated me.
Were you concerned about opening in the same spot as a place that had struggled?
There's always that question, 'What if we fail? What if I go completely bankrupt?' At Foraged, I can see the dining room from the kitchen and it's crazy to think that people are coming in to this restaurant and really enjoying it—it is mind-blowing to see people enjoying what we're doing to be completely honest.
What did you want Foraged to look like and feel like? What was your mission?
I wanted this to be a fun place a lot the place. I've worked in some very stressful and demanding kitchens. With everything that was going on in them, it took away from the fun of cooking. After my job at Waterfront Kitchen didn't work out, I thought about getting out of the industry, maybe farming or foraging full-time, but after really thinking about it for a while, I was like, 'I love cooking and the restaurant industry. I'm not ready to give up on this yet.' I really just wanted to have fun cooking again and tie in everything that I loved about the industry. I just wanted my restaurant to be relaxing, but we are still executing on the same level as a fine-dining restaurant.
What went into naming the restaurant?
It took me forever for me to decide on a name. Literally, two weeks before opening, I still didn't have a name and then I looked up the definition of 'foraged,' that's when I saw 'to obtain food and provisions from a place that's unspecified.' That's literally describing what we do here to a tee—whether getting food from the farm or ocean or the woods. The name fit the ethos of the restaurant perfectly.
So how did you learn to forage? You were practicing foraging long before it was a "thing."
I started working for Sean Brock at McCrady's. Through that, we had our own farm for the restaurant and I would help out. Sean and I went out to the woods one day, and he was showing me stuff. The whole experience of working at McCrady's really opened my eyes to a whole different world of cooking. Sean piqued my interest in cooking with wild foods. Then, later in my life when I was living in Massachusetts, I met the forager for the Momofuku group and he took me out to morel hunt quite a few times. We also went hunting for maitake in the fall. Ever since then I just started going out to the woods.
Why does foraging appeal to you?
I enjoy getting away from society and being in the middle of the woods. I love that I can go out to the woods and find mushrooms that people spend up to $60 a pound for and I get them for free. A big part of that whole thing is trying to help open people's eyes to their surroundings. So you can get this 60-pound mushroom from California, but did you know you could go into the woods outside of Baltimore and get it yourself?
How do you know where to find them?
It starts with the time of year. Each season has their own mushrooms or plants and then once you know what you're looking for that specific time of year, I'm looking at the microclimates of the woods. Is there a lot of ground coverage or older trees with no ground coverage, which is what I'm looking for? The once I find an area that looks good, I start looking at trees. Specific mushrooms have specific relationships with trees.
For instance, here in Maryland, you'll find chanterelles under hardwood trees like oaks and maples. Black trumpets you'll find under beech trees. Morels you'll find under popular trees. Chicken mushrooms you'll find a lot on dying or alive oak trees. Ninety-percent of foraging is wandering through the woods. There are times when I've wandered for countless hours and not found anything.
I know that you're particularly fond of foraging mushrooms. Why mushrooms?
Mushroom foraging falls in line with what I love about cooking. With cooking, it doesn't matter how much you know—you will never know everything. Whether it's techniques or different products, it's the same with mushrooms. For every green plant that you see, there are nine different varieties of mushrooms and funguses. There are so many different varieties and it's one of those things that you can continuously keep learning about them and still not know everything.