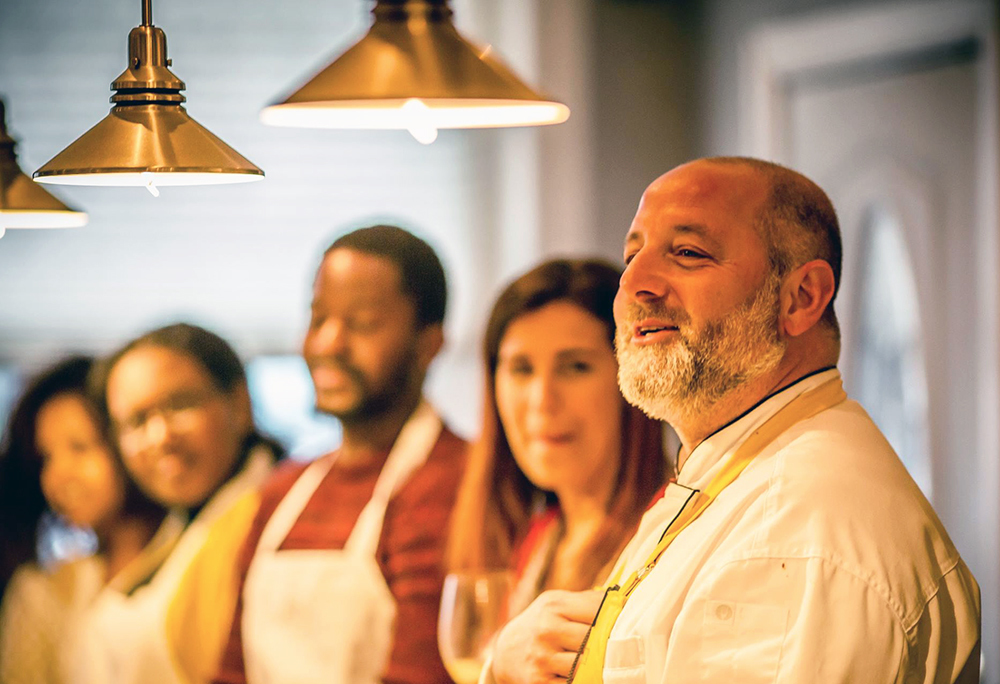 John Michael Photography
Jerry Pellegrino splits his time between Strickland Hollow Farm & Distillery in Upstate's Merridale, NY—where he ferments hard cider and makes apple brandy and grappa—and his home in Baltimore where he co-owns the cooking school Schola. We caught up with the former Corks owner to talk about cooking, the Baltimore food scene, and molecular biology.
Why did you decide to move Schola to a new space?
When we started three years ago, it was unclear that Schola would make it through its first year—no one ever done it in Baltimore before. There was no space dedicated seven days a week to doing cooking classes—Chef Shop opened six months after us. Initially, we decided to go into a smaller space with lower overhead so that if it didn't work out, it wouldn't be such a tragedy.
If we added a class like one on Chinese cooking, we'd literally be buying a wok on Amazon two days before the class until we knew the class was sold out. By year two, we realized that people were very supportive and that we'd probably get a bigger space. We haven't upped the number of people coming to classes, but people are more comfortable. Now there's a prep area and a separate dining area.
Why was the time ripe for a cooking school in Baltimore?
Of course, everyone is into cooking channels, but we are not teaching anyone to cook—I call it a drinking school with some cooking. We are providing an experience. People bring wine and we throw an apron on them. It might be the only time of year they cut an onion. It's a different version of dinner theater.
What have you learned from running a cooking school?
I underestimated the community and social aspect. At Schola, 24 people who don't know each other cook together and eat together and by the end of the night, they are high-fiving and hugging. It has created incredible social interaction where people come together and changed the way people think about cooking together. It's powerful. We need to think of some new classes because we have regulars who've taken every one of our classes.
So what new class concepts have you come up with?
We're going to do a class on cast-iron cooking. Everyone is afraid of cast iron. People want to know what to cook in them and how to scrub them. We've partnered with Lodge Cast Iron so every participant will get a brand new 10 ¼-inch skillet. We're also going to be doing classes on Hawaiian cuisine and Vietnamese cuisine.
What's your process of preparing for a class?
For Hawaiian cuisine, for example, we go on Amazon and buy every cookbook we can find, read through them, study them, and get a feel for the culture then pick some recipes and make them. We have two things that limit us: We only a few hours to get things done, so we can't be too elaborate. Also, we have to be able to source the ingredients.
Is running a cooking school harder or easier than running a restaurant?
There are two challenges. One is getting the employees, the other is managing food costs—we have the luxury of knowing how many people are coming each night. The last year I owned the restaurant I prayed every day, 'Dear God, let it be the day that everyone shows up on time and let no one ask me for money and for one year.' My prayers were never answered.
You were pursuing a PhD at Johns Hopkins in molecular biology. How did you get to cooking from there?
For six years, I cloned a bunch of genes and worked on fetal alcohol syndrome. I found being in the hospital a very depressing place all around—I didn't enjoy walking the halls of the hospital. I found my way into the lab. When I was growing up, we had dinner together every night. My mom was a stay-at-home mom and my parents would have a glass of Gallo burgundy jug every night.
When I was getting my master's thesis, my adviser was a wine aficionado who turned me on to nice wines. At Hopkins, I ended up being the kid driving to Broadway Liquors to pick up wine for wine tastings we would have like cabernets around the world. We'd talk science and drink wine. I got into cooking when I decided that science wasn't my gig, so wine and food was the logical progression. Modernist cuisine is really all about science—it's colloidal chemistry when you're making vinaigrette, for example. I think I had an advantage over the people who went to culinary school, where they teach you the how, not the why.
What do you think of the food scene these days as someone who has been around Baltimore forever?
The food scene is off the hook, but the dilemma is that there's no one to enjoy it. We need people to move into town. The population declines every year and as I watch new restaurants open every year that slice gets smaller and smaller.
Any spots you think are doing a particularly good job?
Mark Levy at Magdalena is doing a killer job. Tony Foreman is the best restaurateur in the city. Mad props to Chris Amenolda at Foraged and Alex Smith's Atlas restaurants are really good. You can't talk about food in Baltimore without saying Chad Gauss's name or Sergio Vitale [of Aldos], where you can't find a higher quality Italian dinner. These places are institutions. The Prime Rib and Tio Pepe don't have the exclusive on being institutions anymore.