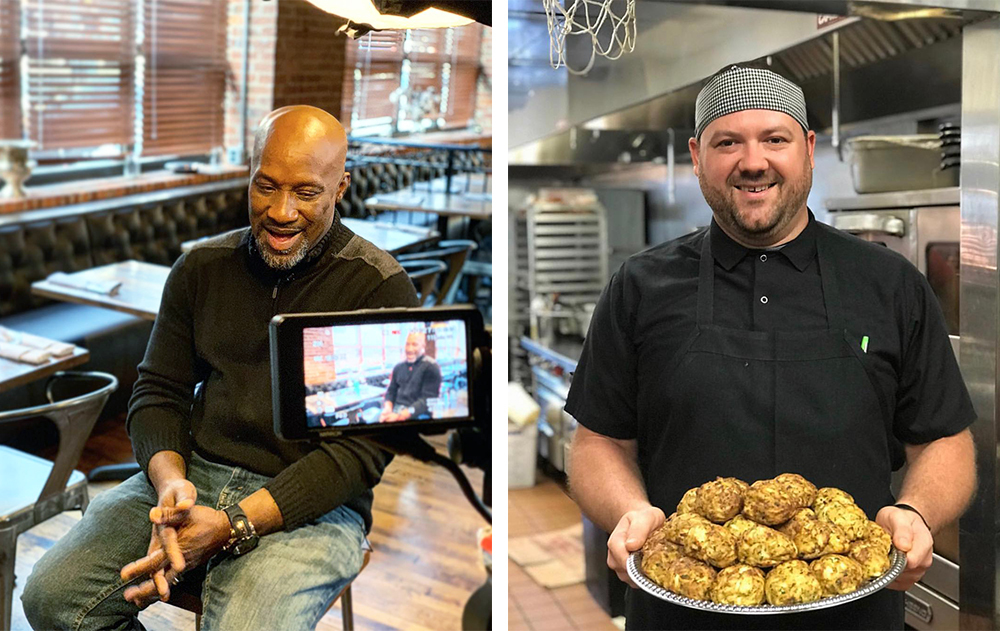 Ida B's Table and La Food Marketa
Chef Dave Thomas, owner of the modern soul food spot Ida B's Table in downtown Baltimore wowed judges Ted Allen, Martha Stewart, et al for a Thanksgiving-themed episode of Chopped on The Food Network, while chef Johntay Bedingfield of Pikesville's La Food Marketa bested the competition for a recent tailgate-inspired episode.
Both chefs took home $10,000 in prize money and plan to travel with their winnings—Thomas and his wife, Ida B's co-owner Tonya, are hoping to taste test their way through Africa this fall; chef Bedingfield is making plans to take his soon-to-be-wife, Alexa Pancza, on a honeymoon to Italy in May.
The wins were well deserved, as both "cheftestants" trained in their own way for the competition. "I did two training sessions here in my restaurant," says Thomas, whose dishes included mac-and-cheese with fried turkey liver, deep-fried turkey breast with kouign-amann pastry and spoonbread stuffing, and spoonbread hand pie with port and cranberry reduction.
Thomas invited Ekiben's Steve Chu (who himself recently won $16,000 on the Food Network's Guy Grocery Games) to two "training sessions" at Ida B's. "We did a head-to-head to get ready," says Thomas. "We brought in some local judges and did a whole competition. For me, the cooking wasn't the problem, it was the clock. I was more concerned about time constraints than not knowing the ingredients. But practicing certainly helped."
Thomas also heeded to the advice of Tonya. "She said to me, 'When you go up there, don't be anyone other than yourself.' Often, what seals the fate of some of the chefs who go on is that they try to go above and beyond to impress the judges—and they lose their souls while they are doing it." Inspired by his grandmother's soul-food cooking, Thomas kept it real by invoking his ancestry. "I found my calling in southern food," he told the judges. "You take that first bite and you can taste the history. My grandmother had a 13-acre farm. I grew up watching her cook. I'm chasing her recipes to this day."
Chef Bedingfield took a different tact. Instead of cooking on the clock, he prepped for the competition by watching episodes of the show. "The night before I went to New York for the competition, I binge-watched a few episodes to see if there was anything that the chefs were doing wrong," says Bedingfield. "I knew to stay away from the ice-cream machine, for instance—that's one thing I caught on to right away. Things go really well or really horribly at the ice-cream machine."
Bedingfield's father, a fan of the show, also warned him about kumquats—ironically, an ingredient that ended up in his dessert basket. "When I told my father that I was going to New York to be on Chopped, he said, 'Watch out for the kumquats.'"
Each of three courses presented different challenges for the chefs. "The first round was the most intimidating," says Bedingfield, whose dishes included potato chip nachos, a red cabbage taco, and soft pretzels stuffed with mascarpone cheesecake. "As soon as I opened the basket, I saw pickled avocado, cheesecake, nachos, and wagyu beef and I assumed that the wagyu was a whole piece of steak, but instead it was ground beef. I wasn't anticipating having to render it down and the time on that round is only 20 minutes as opposed to the 30 minutes on the second and third rounds—I wasn't trying to win the first round, I was just trying to get on four ingredients on the plate and not be last."
The dessert course was particularly taxing for Thomas. "I was struggling with this puff pastry," says Thomas. "When I went to remove it from the paper, it just stuck. It was warm, but it should have been refrigerated."
For both cooks, their star turns on the show have left them with a renewed sense of purpose and energy.
"Being on the show made me unafraid to take risks," says Thomas. "If you're able to cook on the fly with a bunch of ingredients that you didn't see before you started cooking, and you're able to cook a dish with these great chefs from around the country tasting your food and judging you while you're on national TV, it feels like there's no risk you can't take."
Bedingfield, similarly, says that the experience was a major confidence booster. "I've always been fairly confident anyway," he says. "But it has been heightened. To compete and have a stint on The Food Network, which I've watched as a kid, was just so cool."