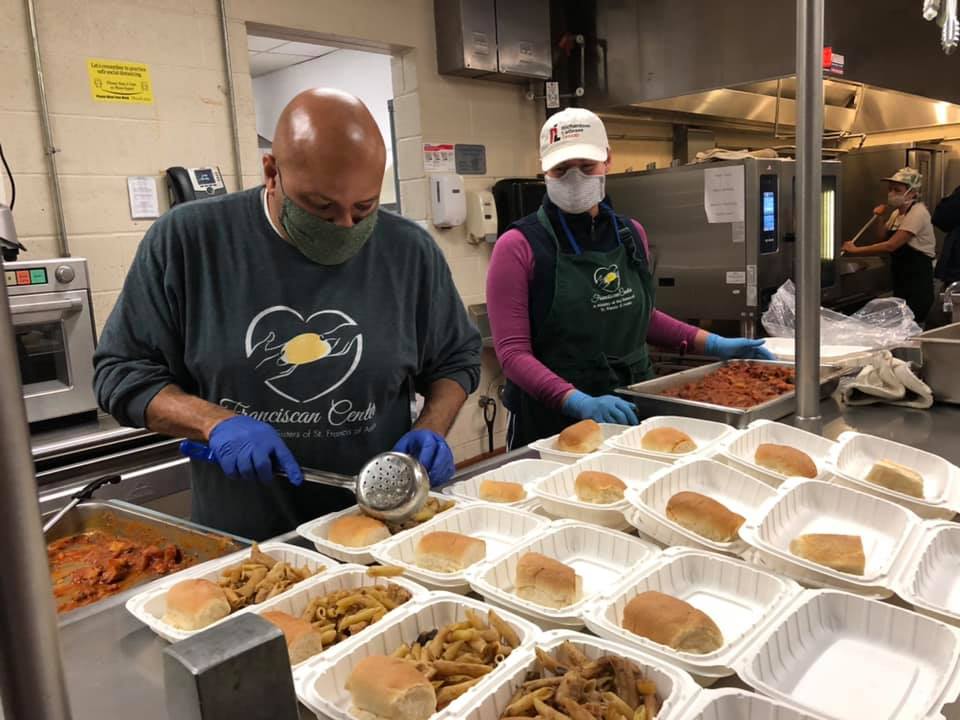 —Courtesy of the Franciscan Center
Chef Helena del Pesco has been working with the Franciscan Center—the largest soup kitchen in Central Maryland—since she opened her restaurant, Larder, across the street from the facility on Maryland Avenue more than a year ago.
So when the Franciscan Center's executive director Jeffery Griffin approached her with the idea to organize a special restaurant week for clients in need, Del Pesco immediately jumped on board. And a half a dozen other local restaurants followed suit.
"All of them said yes," Griffin says. "In fact, we had to turn down one or two."
The Franciscan Center has been providing Baltimoreans in need with hot meals, clothing, health screenings, and counseling services for decades. But when COVID-19 hit, the Old Goucher-based facility felt a greater responsibility to provide those essentials to the community. Since March, its team has produced more than 260,000 meals, working six to seven days a week to feed as many people as possible.  
This week's event—running Nov. 2-6—invites chefs from Larder, Aldo's, Red Star, Bo Brooks, and Terra Cafe to take over the center's kitchen for a day and prepare dishes for clients in need. 
Though the restaurants have been given creative freedom to put their own signature spins on the meals, the main ingredient of the week will be chicken, in an attempt to utilize the center's recent poultry surplus. For example, Larder is preparing a saffron chicken with basmati rice and a winter salad on Wednesday, Bo Brooks is incorporating seafood into a Chicken Chesapeake on Thursday, and Terra Café will serve jerk chicken with rice and sautéed greens on Friday. 
Del Pesco says that, as diners continue to eat at home due to the pandemic, piling up on surplus food has become more common. 
"When things shut down, we were getting some pretty big donations from some of our vendors who just needed to move product," she says, "and it was more than we could use." 
Larder used some of the excess food to provide meals for workers on the front lines, and also began donating to the Franciscan Center. In exchange, the center shared some of its excess produce from local farms. It blossomed into a mutually beneficial partnership, and a great example of how local dining establishments continue to support one another during these challenging times.  
"They had more produce than they could give away or cook for people and they didn't want it to go bad, so they've been sharing that with some of the restaurants," Del Pesco says. "It's been really helpful for us."
Not only will the restaurant week allow these spots to gain exposure and serve those in need, but it's also an opportunity for some of the center's workers to get a little break, too.
"In many ways it's outreach to the restaurants to let them know about a great place," says Red Star owner Chris Hannon, who also co-owns Bo Brooks with his sister, Tracey Newman, and has been working with the center for four years.  
Inspired by other dining destinations throughout the city, the center has established heated outdoor tents to help clients feel more comfortable while dining at the facility. Steven Allbright, the Franciscan Center's culinary director, says that clients are excited to try meals from other chefs, and that they are highly anticipating the week's dishes.   
"Just being able to come in from the cold for 15 to 20 minutes to eat a meal is going to have an impact on how they feel each day," Allbright says. "That's the great part—to know that they can come here and get that."