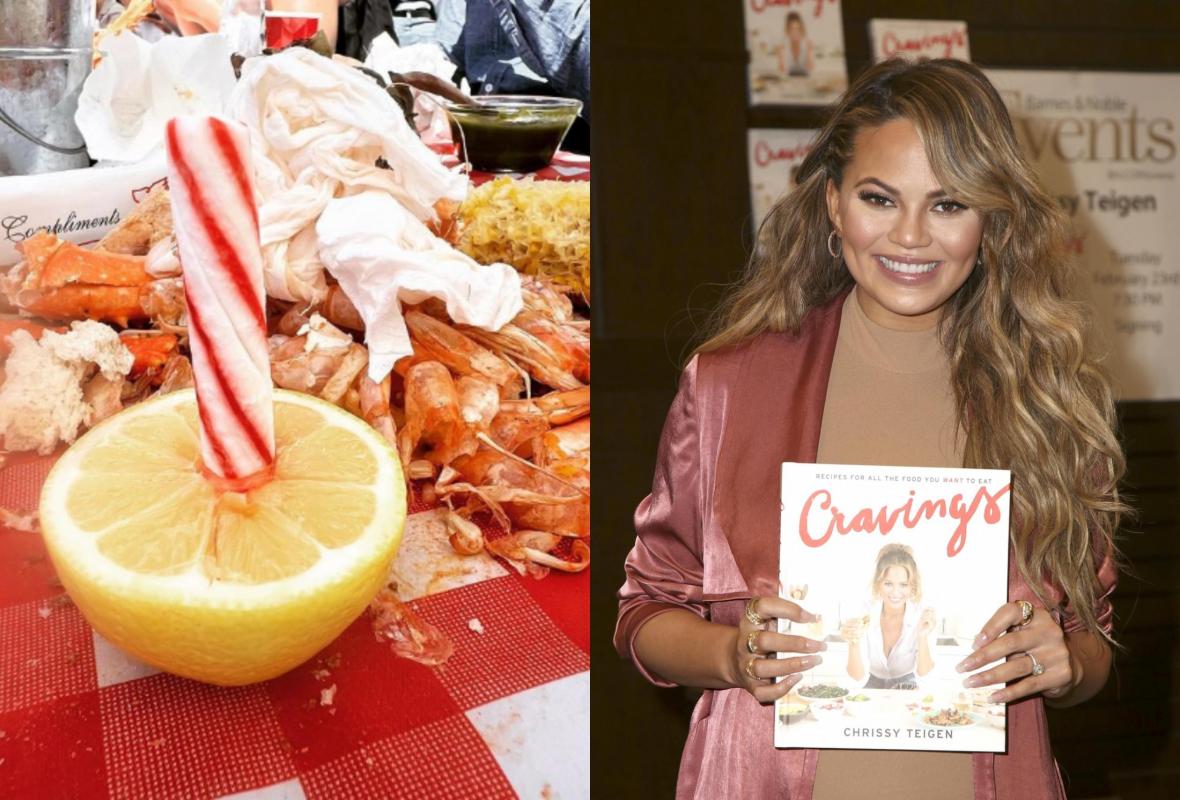 —@chrissyteigen via Instagram/Shutterstock
Well, it's a good thing they grow on trees (sort of), because Baltimore's own lemon sticks are bound to start a frenzy, thanks to one new, ultra-famous follower. 
Last night, the signature Flower Mart treats—our own halved lemons jammed with soft peppermint sticks that become melty, syrupy-red straws for slurping—appeared on model and cookbook author Chrissy Teigen's Instagram grid.
From what appeared to be her home, the mom of two and wife of singer John Legend snapped a photo of the snack atop a checkered tablecloth, reflecting on her first taste of the Charm City tradition.
"Holy shit this is so good! @chefpaulbarbosa served us these little lemon sticks at today's @cravingsbychrissyteigen crab boil and I had no idea these little Baltimore-born dreams existed!!" Teigen wrote, before offering her own poetic tips on how to best enjoy the zingy, handheld novelties:
"Take the stick out, give it a lick and experience sweet peppermint lemonade deliciousness. The hole in the middle begins to fill up with a sweet juice. Oh my god this is all so vulgar just try it!" she added, stressing the importance of a soft peppermint stick, which "melts down nicely and isn't too pepperminty," before asking her nearly 40 million followers to share their hometown's best-known simple snacks.
IG users did their thing, expressing fondness for Seattle and Sonoran-style hot dogs (the latter, a southwestern, bacon-wrapped staple), Allentown Fair-famous shoofly pie, and Minnesotan "Juicy Lucy" burger patties stuffed with melty cheese. One even said the version of a lemon stick they ate throughout their childhood used oranges (no judgment here).
And as to be expected, along with praise for steamed crabs (here, we do crab feasts, not boils, as one user kindly pointed out) and Berger cookies, Baltimore was quick to share some love for the original:
@oh_godwhy: @flowermartbmore your lemon sticks have reached Chrissy Teigen
@visitbmore: Obsessed. 🍋❤️
@bekaplum: Aw yeah gotta have a lemon stick at all spring and summer festivals in Baltimore hon
@madisonrshort: @chrissyteigen a Baltimore tradition! so happy you loved this weird little treat!❤️🍋 
@beckethitch: @thecharmery in Baltimore has a lemon stick ice cream right now that is OUT OF THIS WORLD! Might be worth a trip to Bmore to try it out!!
@katiemerzwalsh: Oh my goodness. I have been eating them since I was young.. at the fairs in Baltimore! Crabs and lemon peppermint treats… move on the crab chips by Utz.. and you must try Berger cookies and Fisher's popcorn!!!!
@mel13p: Thank you for posting this! My mom passed away 4 years ago but she always made us this as a treat. She was from Baltimore, I had no idea it was a Baltimore thing! I just wish I could ask her about it!
@bmore_savvy: Bmore classic! Church fairs and always at HonFest!!
@charmcitytable: The lemon peppermint stick 😍😍😍
@thebaltimorefoodie: Ahhhhhhhh 🔥🔥🔥🔥🔥
@smiggart:  Lemon stick love yessssss 🍋♥️
@naturallychefcat: Come to Baltimore we will show you a good time!
@casidhewalker: Omg!!! I'm from Baltimore and we ALWAYS served these at our elementary school fairs!!!
@em_jacqs: Come to Baltimore Chrissy and I can take you to all the best lemon peppermint stick places!!! Esp @thecharmery and their lemon peppermint stick ice cream!
@dawndiffbaker: For a really fun boozy version, I soak the lemon halves in different flavored liquors like raspberry vodka, honey whiskey, etc and serve in cupcake liners at parties! I'm a true blue Baltimoron (heh) and loved this twist on a hometown fav!
@_plittlaura_: If you love this, you should try @thecharmery ice cream version of it! Wish others would realize what a foodie city Baltimore is! @bravotopchef – we're next, right?
@cbanigan12:  I saw this and IMMEDIATELY knew she had to be in Balmore, hon!
@kellieforsythsimard: Yesssss bmore for life 🙌🏻 we also have snowballs and pit beef!!
@mysticartbypatti: Baltimore here! We grew up eating those delicious treats!
@kycarter1525: Yes!!! Found at festivals & fairs all over the Baltimore area! (And @thecharmery just made an ice cream out of it!)
While we'll have to wait and see if Teigen takes us up on offers to explore our city's food scene (and perhaps, swing by The Charmery) you can bet our fingers will be stained hot pink with peppermint and lemon juice all summer long.