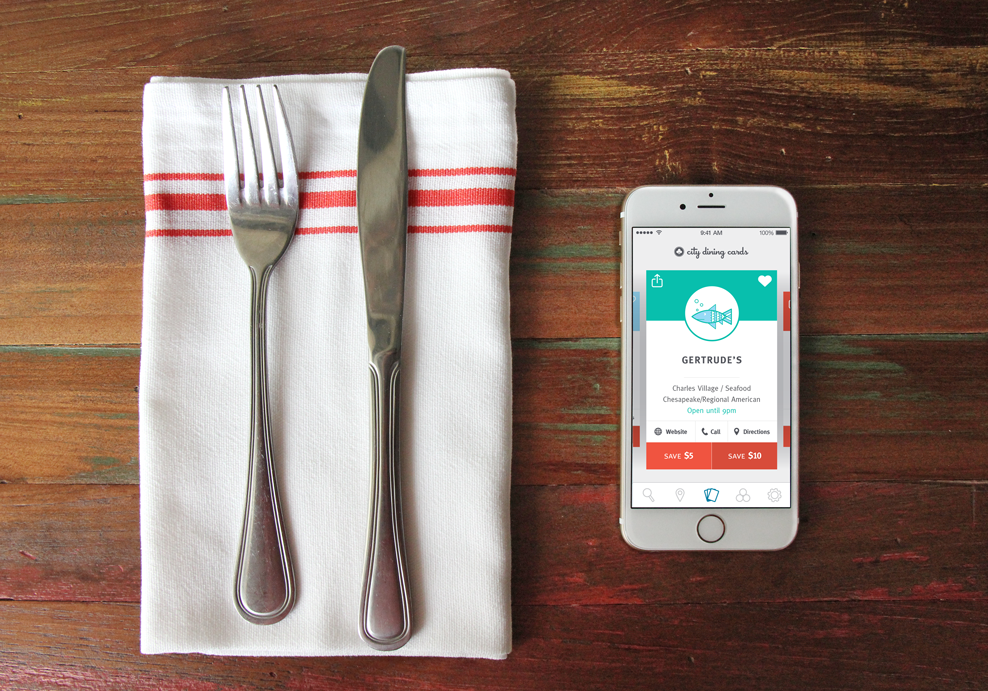 Courtesy of City Dining Cards
With the help of a brand new mobile app, locals no longer have to shuffle through their decks of City Dining Cards in order to receive discounts at area eateries.
New York-based City Dining Cards, a brand known for its handy packs of coupon-like cards that are redeemable for deals at restaurants across the country, has recently launched a mobilized version of the concept in Baltimore.
"The physical decks expire at the end of 2015, so in moving forward we went back to our customers and merchants and most people said that they wanted [the cards] on their phones," says Will Glass, vice president of sales for City Dining Cards. "Baltimore has a great underrated food scene, and we wanted to show it love."
Although the mobile version makes using the cards more accessible, the same rules still apply when it comes to raking in discounts. Diners can choose from a rotating list of 52 locally owned restaurants—which includes spots like The Food Market, B&O American Brasserie, Gertrude's, Farmstead Grill, and Canton Dockside—and receive $5 off of a $20-food purchase or $10 off of $40-food purchase by using the app during their visit.
Additionally, in keeping with the brand's theme, City Dining Cards now allows users to collect a chip every time they stop in to one of the restaurants. Gathering 12 chips unlocks a $20 credit to any participating eatery across the country.
Glass, a Baltimore native himself, says that the concept is not only ideal for local food lovers, but also for tourists.
"A lot of people that travel really want to support local businesses, but don't know where to go," he says. "Now, they can have access to a curated list that is location-based, so it shows you where you are and what's around you."
The app is free for iPhone users to download, (the company is still working out the kinks with the Android version), and charges the restaurants a fee every time a card is used.
To celebrate the launch, City Dining Cards is hosting an exclusive event at the yet-to-open Mt. Vernon Marketplace on September 16 at 5:30 p.m. In a "Dinner Lab meets The Emporiyum" type of setting, guests are invited to get a sneak peek of the marketplace while sipping cocktails and tasting dishes from a handful of the app's restaurant partners.
Glass says he's excited to use the event to preview the marketplace while also spreading the word about City Dining Cards: "It's nice that people don't have to say, 'Oh darn, I forgot my card at home,' anymore."