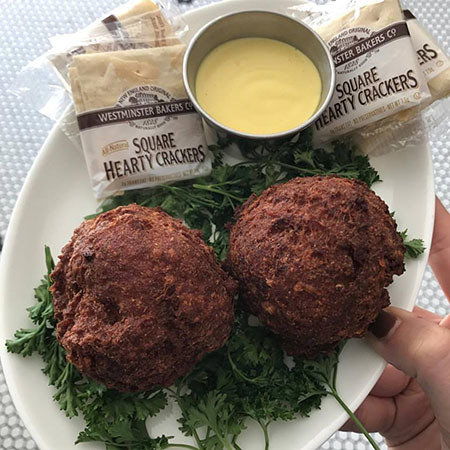 Courtesy of Dylan's Oyster Cellar
If Baltimore were a flavor, it would taste like melted marshmallow over a snowball, lemon juice from a peppermint stick, a fudgy Berger cookie, and all things crab. Both newbies and life-long locals alike pride themselves in Charm City's fair share of native dishes, but there's one in particular that has been forgotten over the years and is known to be quite the catch: the coddie.
The indigenous dish—a fried salt cod and potato cake sandwiched between two saltine crackers with a side of yellow mustard—traces back to the early 1900s when the Cohen family sold them in trucks all around Baltimore. The treat became an instant hit, and almost every business in the area had coddies for sale until the 1970s.
"Often they sold it as a snack, and [you] saw them on bars, that nature," said Nancy Faidley Devine, owner of Faidley's Seafood in Lexington Market. "They've been around for a long time. Of course, salt cod came over on the ships. I'm sure it goes way, way back when the sailors came across. They salted the fish to preserve it."
But in their heyday, coddies were practically served everywhere, like candy shops, bars, and hot dog stands. While not as prevalent as they once were, the traditional snack still shows up on area menus.
Devine, 82, has been serving coddies at her restaurant since the 1960s and prepares them as traditionally as possible, using only onion, pepper, and parsley in the salt cod and mashed potato concoction just as the original did. They sell at least 300 coddies per week, and even though most people nowadays concentrate on the crab cake, they still have their share of die-hard customers who order eight coddies at a time.
Although she refuses to revamp the recipe in any way, Devine has exclusively considered creating something new out of the original that she thinks will do well with the public.
"It's a delicious dish and a wonderful snack, and I keep thinking, 'Boy, for somebody that would serve breakfast and serve a poached egg on a codfish cake, that would be delicious,'" Faidley said. "Codfish benedict, my new recipe."
Other restaurants have also gotten creative with the classic dish including Dylan's Oyster Cellar, whose owner, Dylan Salmon, frequented Faidley's as a teenager for his coddie fix. He was drawn to the dish's history and tradition, and has been serving it in his restaurant since the day it opened in lieu of the crab cake, which he joked he's made too many of in his lifetime.
"I think it's something that doesn't pop off the menu to the eye, but once it's ordered and tasted, you'll remember it and you'll come back to get it," Salmon said. "It sits on the menu pretty boringly—with the salt and the mustard, none of that sounds good—but when you put it all together, it's amazing."
Unlike Faidley's, Salmon's coddie recipe is a bit more decorated. He adds paprika, onion powder, mustard powder, garlic, and other "secret spices for some love"—but not to the point where the original flavors are lost. He says the most important ingredient is the salt cod, which takes about two days to soften in a pot of water, and he is particular about keeping the potatoes fluffy. Salmon says maintaining the integrity of the core ingredients is key.
"I've seen some other places that have tried to like gild the lily," he said. "But I'm used to having it on a paper plate with a packet of yellow mustard and a pack of saltines, and that's the way I like it."
Sean Fisher, chef at Mama's on the Half Shell, also takes a special interest in the coddie, which he remembers having as a child when visiting his grandmother in Baltimore. She would make them herself and tell Fisher how she used to get them from candy stores in the '20s for a couple of pennies each.
The coddie was one of the first items Fisher added to Mama's menu, and just like Devine and Salmon, he serves them with saltines and mustard. He makes them similarly to the way his grandmother did, except he uses diced potatoes as opposed to mashed and rations the cake with more fish than what she did. Plus, he adds a bit of green onion for color.
"We keep it traditional at Mama's because it's a staple on the menu," Fisher said. "We wanted to be a Baltimore chowder house, and we thought that would be the best staple, besides chowder of course."
Fisher has tried messing around with a modernized version of the native treat— attempting fried codfish cake tacos at sister restaurant Nacho Mama's—but customers are not fond of the change.
"People are drawn to it because of its simplicity," he said. "Who doesn't like a deep fried cod and potato cake served on saltine crackers with yellow mustard?"