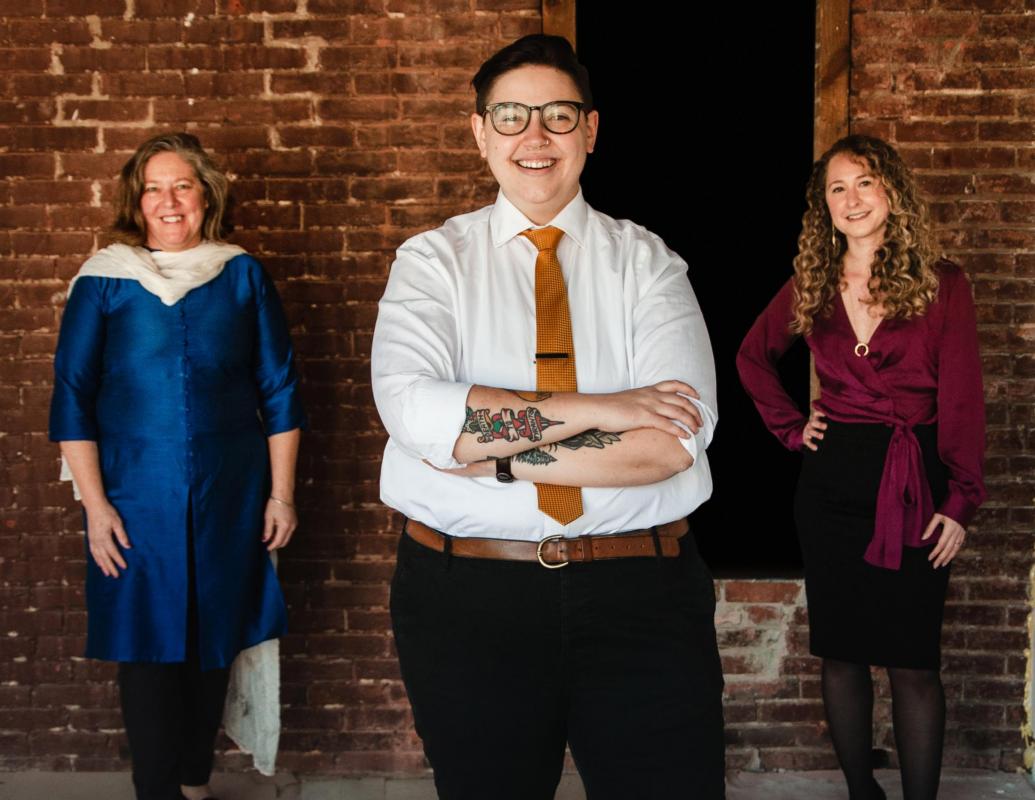 Industry veterans Martha Lucius, Chelsea Gregoire, and Marisa Dobson are opening Church in Old Goucher. —Photography by Shandi Chester
[Editor's Note 9/28/22: Church, located at 2219 Maryland Avenue, will open for its first-ever service tonight at 5 p.m. Opening hours will continue from 5-10 p.m. Wednesday through Sunday. For more details on the bar's cocktail lineup and seasonal chef residency program, be on the lookout for this week's Open & Shut column of food news, slated for 9/29.]
Hospitality industry veterans Chelsea Gregoire, Marisa Dobson, and Martha Lucius have partnered to open their own bar at 2219 Maryland Avenue in Old Goucher.
The bar, named Church, is a project that has been many years in the making for Gregoire—who holds a Bachelor of Science in religion and a Master of Arts in theology from Liberty University.
"As with many concepts, ideas, and hopes in my life, church and the community we seek to foster is based on my philosophy that hospitality is the business of caring for souls," Gregoire says. "Drinks, food, and a cool space are just vehicles for finding new ways to meet people where they are. Calling my first bar 'Church' is a succinct way for me to point to this philosophy and ask, 'Where do we go from here? How can we reshape hospitality and Baltimore together?'"
Each of the individuals will bring their diverse talents to the job. Named Esquire's Beverage Director of the Year in 2019, Gregoire has developed a national reputation as a consultant specializing in restaurant operations, beverage programs, and staff education, with a resume including stints at area spots including Ida B's Table Topside, and Charm City Meadworks. Dobson is a veteran restaurant consultant and the founder of food and lifestyle public relations firm Scintillate—one of the driving forces behind community events such as Charm City Night Market and B-More Kitchen's Battle of the Brands. Lucius is a restaurant strategist who owned and operated Boheme Café and Chesapeake Bagel Bakery for many years.
"I'm someone who has two decades of running a restaurant, and I thought I might never open anything again," Lucius says. "Talking with Chelsea and Marisa made me realize that I missed it. I miss growing and building community in a physical space."
New York-based chef Taylor "Tay" Threadgill, of the much-lauded pop-up Lyaness, will provide the bar's small plates and be a partner on the project, as well.
"We are doing it just the four of us as partner-owners," Dobson says. "There's no money from dad, or other partners, or silent backers. We are doing it through our own sweat equity and trying to pull together a diverse team of investors."
The project was originally supposed to get off the ground last year, but was shelved due to the pandemic.
"In the intervening months, this space came to our attention," Dobson says. "And with Dutch Courage, Fadensonnen, Sophomore Coffee, and Our Time Kitchen just around the corner, there's so much great energy in Old Goucher right now."
The space itself is an older brick building with a front porch, an outdoor deck, and "a lot of beautiful natural elements," says Dobson. Tiffanni Reidy—whose work includes stunning stalls Crust By Mack and Wight Tea Co. at Whitehall Market—is on board to design the spot.
In addition to being a bar, "Church," like its namesake, will have a mission to serve staff and community.
"It's definitely supposed to be about the big tent concept of church in terms of it being an open door for anyone, a place where you come in and get renewed," Dobson says. "What we are hoping the word signifies is the stuff we will be doing for our staff and the community—from staff enrichment and a higher hourly wage to tip pools and financial literacy classes. And any staff member can come to our monthly meeting and see what the sales are. Everything will be transparent."
Church will also offer a free gathering space, known as "Fellowship Hall," for the community at large. "The hall will be a free, bookable place for nonprofits like Hungry Harvest or Our Time," says Dobson.
As a whole, says Dobson, "the space will express the themes of community, togetherness, and transparency, and show a different way of how to run a hospitality business in Baltimore."
While the space is slated to debut in late summer, even before it opens, Dobson is hoping to christen Church when she marries her partner Jamie Sumague—with Gregoire as the officiant. The wedding was originally supposed to happen in Majorca off the coast of Spain last year, but was cancelled due to COVID.
"Not only is it so perfect and would be our space," Dobson says, "but it would put good juju in the walls."