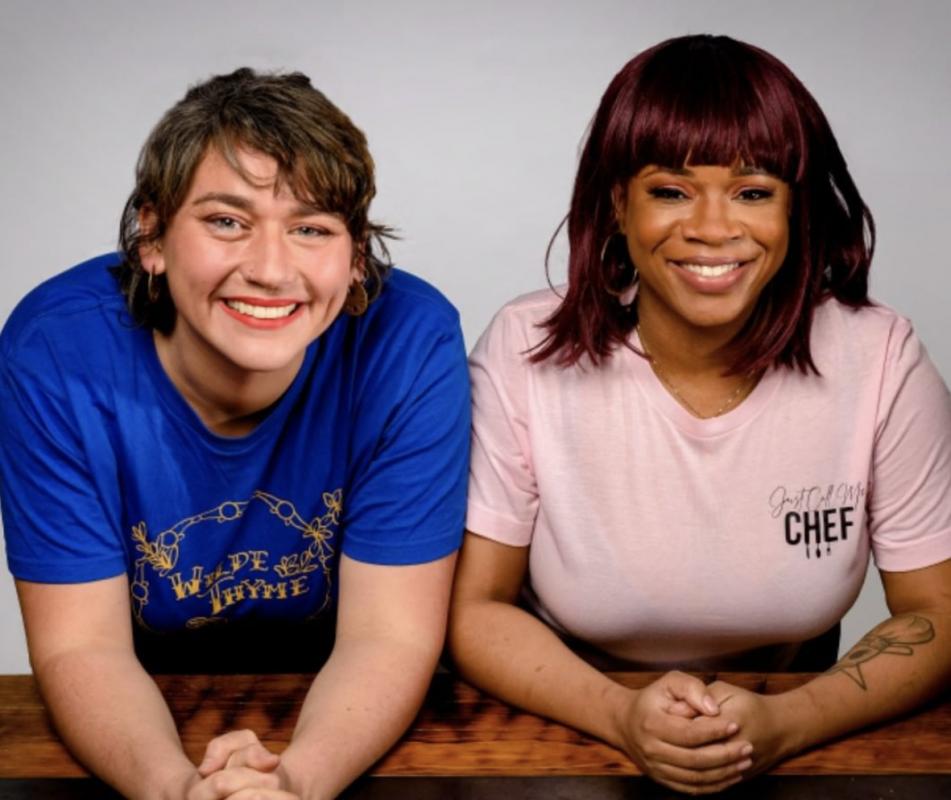 Kiah Gibian and Catina Smith announce plans for a share kitchen in Old Goucher. Photography by Daniel McGarrity
COMING SOON 
Our Time Kitchen: In their separate endeavors, Wilde Thyme food truck owner Kiah Gibian and Just Call Me Chef founder Catina Smith have done so much good for the local food scene—whether it means organizing meal distributions throughout the pandemic or empowering female chefs of color through education and mentorship. So it shouldn't come as a surprise that, together, they've dreamed up a project that is going to change the game for small food businesses. The duo recently announced that they will soon be launching Our Time, a shared commercial kitchen that will provide prep space for womxn-owned food startups. Featuring an accessible, by-the-hour rental program, a to-go window, childcare, a venue for pop-up events, cooking and business classes, and food truck rental, the hub is meant to "lower systemic barriers and create access to resources in a supportive environment." 
"Our tribe is women," says Smith, who was featured in a New York Times piece about the role of Black female chefs in fine dining spaces earlier this week, "especially women of color, minority women, and those in the LGBTQ community. We need to open up a safe space for us that is accessible…Especially with COVID and the ghost kitchen trend that we're seeing a lot of right now. Many people are turning into entrepreneurs and private chefs, so this is the perfect time…Our time is now."
Though the project is still in its early stages, its founders are hoping to unveil the space in the Old Goucher neighborhood by fall 2021. In the meantime, they will be hosting weekly "Chat and Chew" discussions on Instagram Live and organizing fundraisers (including an upcoming virtual cooking class on January 27) to help spread the word about their mission. 
Bar ONE: Bravo fanatics will be stoked to hear that Peter Thomas, former husband of Real Housewives of Atlanta regular Cynthia Bailey, is expanding his Miami-based restaurant with a new location in Harbor East. Taking over the former home of Gordon Biersch, the lively lounge will offer Afro-Caribbean and Southern-inspired cuisine such as Jamaican oxtail with butter bean stew, Louisiana barbecue shrimp, and jerk chicken penne alfredo. Slated to open in the first quarter of 2021, the luxe spot will also serve a lengthy list of tropical martinis, mules, and sangrias on its outdoor patio overlooking the waterfront. In a statement, Thomas said that he hopes to bring his "Yacht ONE" experience—a private dining cruise available for charter—to Baltimore, as well. "We are excited to open our doors to introduce our unique and craveable cuisine to an entirely new Baltimore clientele."
Busboys and Poets: The wait is almost over, bibliophiles. This Washington, D.C. favorite announced that it had its sights on Charm City months back, and now, owner Andy Shallal is preparing to open in the 9 E. 33rd St. development in Charles Village this spring. Taking over the former Red Star Charles Village space, the famed bookstore-cafe chain will offer its menu of breakfast and brunch staples, as well as paninis, burgers, flatbread pizzas, and, of course, a robust menu of coffees and teas. Another Maryland location is slated to open in Howard County's Merriweather district later this year. 
OPEN
The Canton Local: While many diners are still reeling from the loss of beloved Irish pubs like James Joyce, The Life of Reilly, and Ryan's Daughter—which have all sadly closed throughout the years—there's a new spot to quell cravings for traditional gastropub fare that pays homage to the Emerald Isle. This Canton newbie has opened its doors on South Decker Avenue, serving up all of the classics with a unique twist. Dishes to look out for include fish and chips in eggroll form with a Chesapeake remoulade, fried Brussels sprouts with Jameson honey mustard, a pit beef reuben, and Shepherd's pie topped with a choice of mashed potatoes or cauliflower mash. 
NEWS
Foreman Wolf Takes Over the Milton Inn: In perhaps one of the greatest pandemic revivals we've seen thus far, Foreman Wolf Restaurant Group owners Tony Foreman and Chef Cindy Wolf have partnered with Petit Louis Bistro's executive chef Chris Scanga to reopen The Milton Inn in Sparks this spring. The plan is to breathe new life into the storied restaurant, which is housed in an 18th-century mansion, by creating a more relaxed atmosphere. The team has brought on interior designer Katie Destefano to upgrade the space, while Scanga will revamp the menu. 
"It is his time to shine," Foreman said of Scanga, a Culinary Institute of America grad, in a statement. "The Milton Inn is a natural extension of our overall brand." Wolf calls it a "dream restaurant," adding that the countryside location and expansive property for growing fresh herbs and flowers feels "meant to be." For Scanga's part, he's looking forward to continuing his career with Foreman Wolf in this new venture: "I have grown as both a chef and as a person during my seven years at Louis," he said in a statement. "To breathe new life into the historic Milton Inn is an unbelievable opportunity, a dream of mine for over a decade and a half. I am excited for this new chapter and will continue to make people happy by doing what I love."
Local Spots Benefit from the Barstool Fund: By our count, there are now four Charm City establishments that have been chosen as recipients of Barstool Sports' national fund to provide relief to small businesses in the wake of the pandemic. Among the local owners who have gotten the call from Barstool's president Dave Portnoy are John Leonard of Don't Know Tavern in Federal Hill, Jeff Carter of Dough Boy Fresh Pretzel Co. in Dundalk, Michael Clarke of Claddagh Pub in Canton, and Russ and Marigot Miller of Abbey Burger Bistro—which operates locations in Fells Point, Federal Hill, and Mt. Washington. We couldn't be happier to see that the fund, which has raised more than $23 million for small businesses nationwide, will help some of our most beloved spots avoid layoffs and stay afloat. 
EPICUREAN EVENTS
1/15 and 1/17: Baltimore Restaurant Relief Fund Feed The Industry Events
Founded by local restaurant publicist Dave Seel, the Baltimore Restaurant Relief Fund has been supporting the industry since the earliest days of the pandemic. And now, in the midst of the second restaurant shutdown since March, that important work is continuing with meal distribution for restaurant workers. Thanks to generous funding from MileOne Autogroup, businesses like The Lunchbox Lady, Liberty Delight Farms, Urban Burger Bar, Sally O's, and Don't Know Tavern have been able to support their fellow hospitality workers by serving family-style meals to those in need. Upcoming distributions this weekend will be held at Max's Taphouse on Friday, Jan. 15 and Golden West Cafe on Sunday, Jan. 17. 
1/18-31: Howard County Restaurant Week
While Baltimore City Restaurant Week has been canceled this winter (organizers are encouraging locals to safely dine at a distance instead) Howard County is hosting a COVID-friendly week of culinary deals from January 18-31. More than 25 spots are on board to offer special menus that will be available for curbside pickup, delivery, or socially distanced dine-in. It's a great opportunity to take a drive and support an old standby, or try out a new spot like Bushel and a Peck Kitchen & Bar, Koshary by Misteka, The Periodic Table, Walker's Tap & Table, or Xenia Greek Kouzina. Check out all of the special menus, here.